Lansdowne Lecture: Robyn Maynard and Leanne Betasamosake Simpson discussing Rehearsals for Living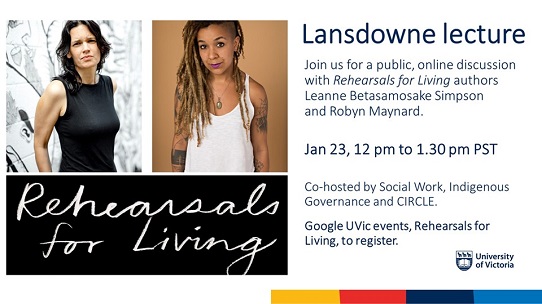 Update: Recorded Lecture Video is available on UVicSpace.
https://dspace.library.uvic.ca/handle/1828/14776
Please join us for the Lansdowne Lecture with Rehearsals for Living authors Robyn Maynard and Leanne Betasamosake Simpson. 
Rehearsals for Living is a revolutionary collaboration about the world we're living in now, between two of our most important contemporary thinkers, writers and activists. When the world entered pandemic lockdown in spring 2020, Robyn Maynard, influential author of Policing Black Lives, and Leanne Betasamosake Simpson, renowned artist, musician, and author of Noopiming: The Cure for White Ladies, began writing each other letters—a gesture sparked by a desire for kinship and connection in a world shattering under the intersecting crises of pandemic, police killings, and climate catastrophe. These letters soon grew into a powerful exchange about where we go from here. Rehearsals for Living is a captivating and visionary work—part debate, part dialogue, part lively and detailed familial correspondence between two razor-sharp writers. The book is a national bestseller and was a finalist for the Governor General's Literary Award for non-fiction. 
This Lansdowne lecture is online, free and open to the public. It is co-hosted by the School of Social Work, School of Indigenous Governance, and the Centre for Indigenous Research and Community-Engaged Research (CIRCLE) at the University of Victoria. 
January 23, 2023, 12:00 - 1:30 pm (PST)
Online, Zoom Registration Required.
Please register here: https://uvic.zoom.us/webinar/register/WN_GctUdUalR5KkzCnUPuj4cA

Other events included in this series include: "Commune: Researching, Organizing, and Dreaming New Worlds, A SAGE Workshop for UVic BIPOC Graduate Students", hosted by CIRCLE on Jan. 24 (registration required); and "HSD Reads", hosted by HSD's Dean's Office on Jan. 16, for HSD faculty and staff only. 

Robyn Maynard is an author and scholar based in Toronto, where she holds the position of Assistant Professor of Black Feminisms in Canada at the University of Toronto-Scarborough in the Department of Historical and Cultural Studies. She is the author of Policing Black Lives: State violence in Canada from slavery to the present (Fernwood 2017). The book is a national bestseller, designated as one of the "best 100 books of 2017" by the Hill Times, listed in The Walrus's "best books of 2018," shortlisted for an Atlantic Book Award, the Concordia University First Book Prize and the Mavis Gallant Prize for Non-fiction, and the winner of the 2017 Errol Sharpe Book Prize. Her most recent published work, co-authored with Leanne Betasamosake Simpson, is Rehearsals for Living. Maynard is the winner of the "2018 author of the year" award by Montreal's Black History Month and was nominated for Writer's Trust Dayne Ogilvie Prize for LGBTQ Emerging Writers. She has published writing in the Washington Post, World Policy Journal, the Toronto Star, TOPIA: Canadian Journal of Cultural Studies, Canadian Woman Studies, Critical Ethnic Studies Journal, Scholar & Feminist Journal, as well as an essay for Maisonneuve Magazine which was the "most-read essay of 2017". Her writing on borders, policing, abolition and Black feminism is taught widely in universities across Canada and the United States, including her most recent peer-reviewed publication "Police Abolition/Black Revolt," published in TOPIA.
Leanne Betasamosake Simpson is a renowned Michi Saagiig Nishnaabeg scholar, writer and artist, who has been widely recognized as one of the most compelling Indigenous voices of her generation. Her work breaks open the intersections between politics, story and song – bringing audiences into a rich and layered world of sound, light, and sovereign creativity. Working for two decades as an independent scholar using Nishnaabeg intellectual practices, Leanne has lectured and taught extensively at universities across Canada and the United States and has twenty years' experience with Indigenous land-based education. She holds a PhD from the University of Manitoba, and teaches at the Dechinta Centre for Research and Learning in Denendeh. Leanne is the author of eight books, including A Short History of the Blockade and the novel Noopiming: The Cure for White Ladies which was short listed for the Governor General's Literary Award for fiction and the Dublin Literary Prize. The Accident of Being Lost was a finalist for the Rogers Writers' Trust Fiction Prize and the Trillium Book Award. Leanne is also a musician. Her latest release Theory of Ice was named to the Polaris Prize short list and she is the 2021 winner of the Prism Prize's Willie Dunn Award.
Updated: March 2, 2023