Congratulations 2021 SOCW Grads!
Dear BSW and MSW Graduates, we congratulate you on your accomplishments and achieving your respective credentials. A special praise to you all, your friends, and your families, as you were able to continue to navigate your studies during the pandemic to successfully complete your degrees.
We wish we were able to witness you all cross the stage and provide you with a celebratory meal. Please see the below messages as a token of our congrats to you all. We wish you the best.
Congratulations!
This slideshow is our way to honor you! Click the image to view.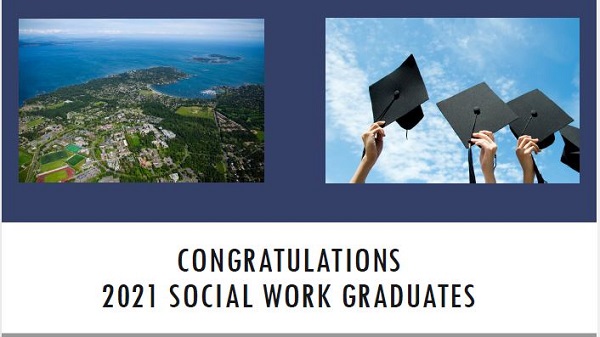 https://www.uvic.ca/hsd/socialwork/assets/docs/graduation/gradslideshowjune2021.pdf
Message from our Director, Kundoqk, Jacquie Green
The same video link availalbe in the PDF file above.
The Indigenous Recognition Ceremony video from IACE
Social Work section starts at 46:23.