Elias 10 Year Legacy
A UVic Educator's Legacy in Ethiopia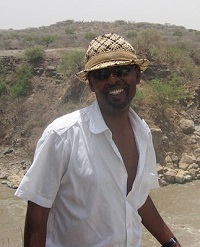 Dr. Elias Cheboud; photo provided by David Turner, Associate Professor Emeritus


A six year old boy in Ethiopia's Rift Valley was tired of herding cows all day long. So he rounded up all the kids who were also looking after cattle and led them up the steep escarpment (like the Pied Piper) to attend the school at the top. Parents were furious at this "devil-child" since he had deprived them of farm help and they ostracized his family. Forty years late he returned to the village to be greeted by joyous cries of "devil-child has come back." A man about his age embraced him tearfully and said if it had not been for the child march, he would never have gone to school. He was now the head teacher.
Dr. Elias Cheboud
was that child-leader. A graduate of UVic and UBC in Social Work and Education, we recently remembered the 10 year anniversary of his untimely death. He was a teacher and peacemaker in Canada and Ethiopia and his legacy lives on. Many students from Ethiopia have interned at UVic and gone on to contribute greatly to their home country.

Here are the comments of a few about that experience. The first is from Tsion Tadesse Abebe, a protégé of Elias at the UN University for Peace in Addis Ababa. The second is from her daughter, writing in English as her second language, who came to Canada supported by Elias' legacy fund.


Dr. Elias - the man behind my successful research and publication life!!

Tsion Tadesse Abebe @tsionta
2020 has been a great year for me! I have managed to continue publish and thrive despite COVID-19 pandemic. On June 1, 2020, I have been
appointed to the editorial board
of Refugee Survey Quarterly (RSQ), which is published by the Oxford University Press. My publications continue to lead to influence policy. I also continue to speak in big fora.

One of them was the first inaugural meeting of the Aswan Forum (11 – 12 December 2019), where I moderated a session on, 'forced displacement and mixed migration in Africa: time for a paradigm shift?' Key global and continental actors on refugees and migration issues spoke in the session including Hamza Said Hamza, Minister of Humanitarian Affairs and Disaster Management, Somalia, Cessouma Minata Samate, Political Affairs Commissioner, Department of Political Affairs, African Union Commission; George William Okoth-Obbo, Assistant High Commissioner for Operations, United Nations High Commissioner for Refugees (UNHCR), and Amara Konneh, Manager of the World Bank Group's Fragility, Conflict and Violence (FCV), World Bank Group. This was a major continental meeting where 9 heads of states took part.

My research work enabled me to sit down with the global and continental giants on forced displacement. Many people know the current me but not how I began. For the first time, I wrote a research concept note to compete for the 2008 'Women's Rights, Citizenship and Governance in Sub-Saharan Africa Training Institute', which was run by the University of Witwatersrand, South Africa and funded by International Development Research Center (IDRC) of Canada.

I remember, the call was very interesting – it provided training opportunities and a seed funding of 10,000 USD.

Trained on gender and peacebuilding and as someone already teaching a course on women, peace and security, there was a strong dedication in me to compete for the opportunity. Thus, I developed a concept note of a research and shared it with Dr. Elias Cheboud, who was a Research Coordinator in my office at the time, the Africa Programme of the United Nations mandated University for Peace (UPEACE). Dr. Elias was a Canadian trained academic, had worked at the University of Victoria, who had dedicated his life to mentor and support young Ethiopians including enhancing their research skills.

I remember he read the first few paragraphs and his face has changed.  I realise that I did not get it at all. He requested me to show him the call for applications. I did. He was like out of words!!! Then, he dedicated lot of time in guiding me in the writing process ensuring that it reflects what I wanted to research on. After a lot of back and forth, I finalised the application and submitted it. After few weeks, I heard the response.  My application was selected. I would say, that was the time the door to my whole profession on research has opened in my life.     

Since the application required to submit the application as a team, other three Ethiopian academics also joined the project. I was the team leader.

The institute was six months long and consisted of intensive practical training on research and research proposal writing by high caliber professors from the University of Witwatersrand.  A mentor was also assigned for us. As part of the process, we developed a full-fledged research proposal, which was really critiqued many times. We attended the training institute together with research teams that came from other African countries such as Uganda, Zambia, Madagascar, among others. That was quite an experience, where I gained an eye-opening research skills exposure. At the end of the institute, the research proposals from the 5 teams were submitted to IDRC for a 100,000 USD research grant. 
The proposal of our team focused on assessing the impact of the increasing number of women parliamentarians in Ethiopia on the lives of women in the constituencies. Interestingly, our proposal won the 100,000 USD grant. In the final technical report of the institute,
our project was also highlighted as one of the successes. 

This was how my journey to research and publication started.

12 years down the line, since Dr. Elias showed me how to write a research concept note, a lot has happened in my life. I become one of the leading African researchers on refugees and migration issues in Africa. I am working for one of the leading think-tanks in Africa, the Institute for Security Studies (ISS) based in Addis Ababa, Ethiopia. I have extensively published on issues of migration and refugees. I offer briefings to different governments on policy directions of migration and refugees. I speak in major global and continental meetings. Many look up to me and ask me, 'I would like to be like you.'
It has been 
exactly
ten years Dr. Elias departed this world. I am sure he is very happy seeing me progress well in my research and publication from heaven!!! As I have learned from him, I make it my responsibly to support those  less fortunate.
My unforgettable visit to Canada

Yosan Kisut
My name is Yosan Kisut. I am a 14 year old girl from Ethiopia. English is my second language. In the summer of 2019, my brother (aged 12) mother and I visited Victoria, British Columbia, Canada. It was the trip of a lifetime!!  We got to Victoria on 7th of July after traveling for more than 30 hours from Addis Ababa, Ethiopia. The trip was really tiresome but it was a lot more than worth it.

In Summer 2017 and 2018, we'd travelled to Mombasa, Kenya and USA respectively just for leisure. However, the latest trip was very different from our other travels. We came to learn about Victoria and Canada since we were offered a scholarship, and accommodation overlooking the sea, by Professor David Turner (SOCW Associate Professor Emeritus). Through the scholarship, named Dr. Elias Cheboud Memorial Scholarship, my brother and I attended swimming and biking lessons.


Places I visited in British Columbia
During the first week of our visit, we went to the Raptors Park, located in the center of Cowichan Valley, north of Victoria, which was my favorite part of the trip. This is an organization with the goal to educate, illuminate and encourage a sense of personal responsibility for the future of these essential creatures we share the planet with. It was filled with rescued birds of all types that were all nurtured and fed. There, we were told about their feeding habits, their life skills and their endangerment rate.  We enjoyed watching a show with the different types of birds doing natural tricks in order to get their food. We visited an IMAX, where we watched a documentary on black bears and spirit bears. We also explored the Royal BC museum. There, we learned about the history of Canada and about Indigenous Canadians (known as Aboriginal). We observed different artifacts from the Indigenous Canadians.

In addition, we went to Goldstream forest where we walked on the nature trail. It was filled with hundreds of different trees, each with its own unique structure and height. Finally, we visited the Butchart Gardens with Selam, my mom's friend. The gardens turned out to be one of the best experiences I've ever had, filled with the most beautiful types of plants I've ever heard of. The flowers were all so differently structured and colored, with incredibly good lighting. 

On the second and third week, we joined a swimming camp, where my brother and I worked on our speed and diving skills. Our camp was for one hour every day.   On the third week, we had biking lessons with David. We attempted to bike properly while David patiently tried to keep us motivated and repeatedly told us that we were doing good, and our mom would encourage us.

We did lots of fun activities. We took our first water taxi ride and ate many ice-creams. Nolan, (David and Janet's grandson) also showed us virtual reality. We  watched lots of good films through the virtual reality googles.

We had a memorable stay in Selam's house too, where we had our own floor!!  

On the second week, we went to Vancouver with my mother's friend, Selam, for a night. We drove into the ferry with Selam's car, and sailed to Vancouver. That was our first trip by ferry. (Ethiopia is landlocked). In Vancouver, we stayed at Selam's friend's house. We drove to a big mall for lots of  shopping.. After breakfast, Selam took us to play Laser Tag, which was my first time to play. Although my brother had  played the game before, I beat  him in the second round.

On the first day of my trip, I'd heard the name Dr. Elias about a dozen times. So obviously, I got curious and asked my mom who he was. She explained that Elias was an Ethio-Canadian scholar that she had met and worked with in Ethiopia at the UN University for Peace in Addis Ababa. My mom explained to me that he was a very generous man that helped her to learn about research. He mentored her while she was writing her first research grant proposal, which led her to win 10,000 CAD to fund her research proposal on "Ethiopian women parliamentarians.'

He also initiated the process of my mom's very first trip to Victoria, Canada in 2011, where she came to the University of Victoria and got the chance to co-teach courses with Prof. Barbara and human rights educator Moussa to improve her teaching skills. Further, Mom told me that Dr. Elias helped many other Ethiopian students go to school by paying their school fees. I learned that he helped change many lives for the better. But unfortunately, he passed way at age 53 in December 2010.

In honor of his good deeds, Prof. David Turner established a scholarship fund to support Ethiopian students. My brother and I have been lucky enough to be the first children to get the scholarship. This trip has been life changing to me in several ways. It has widened my very limited range of experience, because the lifestyle in Canada is unlike the one in Ethiopia. I met so many new and different people, sailed on a ferry for the first time and visited lots of different places. We also got so much more information about Canada.

We had also many new experiences like bowling and biking. I also bought many books through the scholarship money. I love reading but buying English books is very difficult and expensive in Ethiopia.  I also got a laptop through the scholarship, which I found very helpful for my studies and for writing my book. I also got my first phone.  I paid part of the money from my savings from doing house chores, while the balance was covered by my parents. The laptop and the phone helped me to start publishing my first book on Wattpad. On January 18, 2020, I started publishing a chapter a week.

But above all, I witnessed firsthand the generosity and kindness of our host couple - Janet and David.  They treated us as if we were family. We also enjoyed the hospitality of the good-hearted Selam and her lovely family.


Canada has changed the way I look at people and countries. Since returning to Ethiopia, my brother and I often speak about going back to that beautiful country and its good people.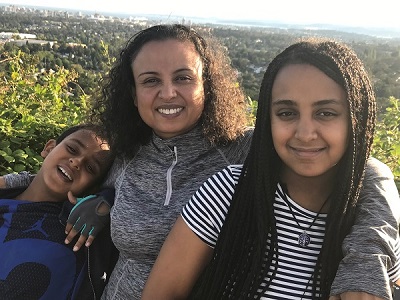 Tsion Tadesse Abebe (centre), Yosan Kisut (right) and Ezana (left); photo provided by David Turner, Associate Professor Emeritus