Carli and Julie Kennedy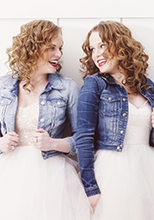 Position
Performers
Twin Kennedy
Credentials
Canadian powerhouse duo Carli and Julie Kennedy have been making music together for as long as they can remember. In their youth, the twins took piano, guitar and violin lessons and honed their skills in a family band, playing country music and fiddle tunes at community events.
Their classical chops took them far – Julie was named Concertmaster of the 2007 National Youth Orchestra of Canada and Carli's guitar playing achieved third prize at the Canadian Nationals – but they both felt their true country folk roots calling. With Carli on vocals and guitar and Julie on vocals and violin, Twin Kennedy has developed a sound that is all their own: a fusion of their background in country, folk, jazz, and Celtic music.
Carli and Julie recently completed their "Country Life Tour" of BC, commanding 20 stages across the province. The Kennedys have over 15 Nashville performances to their credit and had the privilege of representing Canada's Society of Composers, Authors and Music Publishers as the SOCAN Artist of the Month on the Billy Block Show in February 2012. They released their first EP of four original songs in 2008 and in 2011 recorded their second EP, "Small Town Stories," with the 2011 BCCMA Producer of the Year, Paul Shatto (The Higgins).
Nominated for five 2012 BC Country Music Awards, Carli and Julie were also nominated for 2013 Roots Album of the Year and 2012 Best Live Act at the Vancouver Island Music Awards.