Graduate studies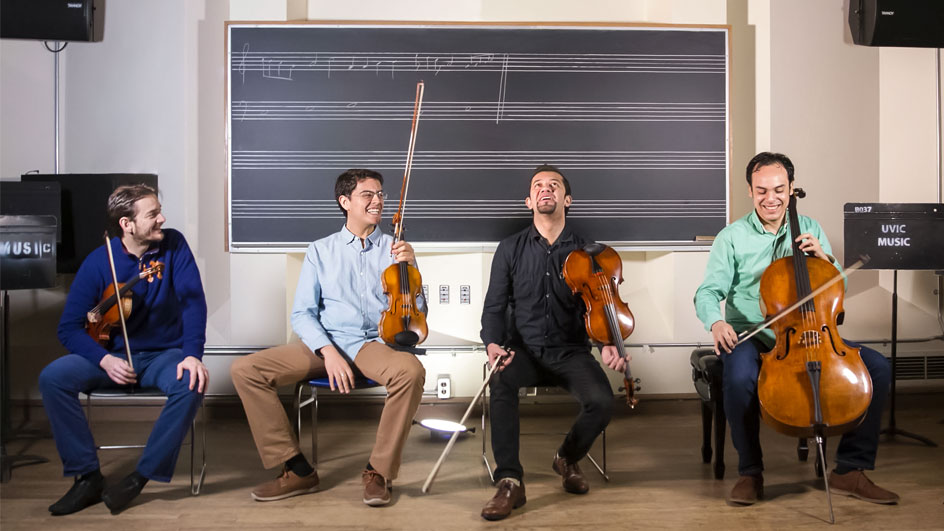 The UVic School of Music offers a unique, two-year experience to prepare students for the professional realm of performance, administration, and research. All students receive exceptional training and custom-tailored projects, performance opportunities, and research agendas to support their independent ideas and goals.
Our programs guide students to achieve a foothold in professional positions in and around Victoria and the Pacific Northwest, from work in artist collectives and media groups to music technology development and arts administration.
For a hint at the success of our graduates and their entrepreneurial spirit as performers, organizers, administrators, and scholars, see our community connections and alumni profiles.
General information
We offer master's degrees in Performance, Composition, Musicology, and Music Technology.
We also offer specialized degrees, including Performance with String Quartet Emphasis, a combined Musicology with Performance degree, and special interdisciplinary degrees at the master's and PhD level.
Our university calendar lists admission requirements and course requirements.
All of our graduate degrees require a specific affiliation with a designated department and instructor; interested students should inquire directly with an instructor in their area (see personnel below).
We offer one of the most affordable graduate degrees in North America.
Scholarship requirements are standardized across campus. UVic also offers additional funding that graduate students can apply for on their own.
We strive to provide fellowships to cover the cost of tuition (or more) for all students with GPAs above an A-, or 7/9 (see our "GPA Calculation" tab). Many receive additional support.
Most students also receive some form of teaching assistantship to help with living expenses. These positions are not determined until after acceptance into the program.
We typically admit 12-20 students into our graduate program per year.
Most degrees are two years, which suggests a cohort of 20-40 graduate students during any given period.
Most academic seminars range from 4-12 students.
Start by reviewing the graduate school admission requirements; then view the additional requirements for our graduate music programs.
Some programs have audition requirements.
Applicants are generally expected to have a BMus or BA in Music.
Applicants should have at least a B+ (or 6/9) average during the last two years of undergraduate study; all students must meet the University minimum academic requirements.
Most of our degrees require two years of resident study, a final project/recital, and an oral examination (see our detailed course requirements).
All non-native English speakers are expected to pass the TOFEL, including a minimum score on the Test of English as a Foreign Language (TOEFL) of 575 on the paper-based test or 90 on the Internet Based TOEFL (IBT), with the following minimum section requirements: Listening 20; Speaking 20; Reading 20; Writing 20. See UVic's requirements.
Application deadlines (Sept. entry)
New! The deadline to submit supporting documents (transcripts, essays, composition samples, and letters of recommendation) is December 15 for domestic and international applicants. 
All recorded video auditions are due by December 31. You may upload your recording to YouTube or the streaming service of your choice and send the link to: musi@uvic.ca. Auditions may be recorded in one take, or in separate takes for each piece (played through). MMus Composition students may upload their scores via the online UVic Graduate Records application.
Later applications will be considered if space is available; however, this is highly unlikely for applications received after February 15. Those applying after February 15 cannot be considered for a university fellowship.
Personnel
Interested in graduate studies? Please contact the faculty head of your area of interest:
See our complete faculty listing for a full list of Music contacts.
Definition of Full-Time Status
Any student who is registered for a single term in Winter Session (September to December OR January to April) OR Summer Session (May to August) is defined as full-time if:
enrolled in courses totaling a minimum of 3 units, or
enrolled in a Candidacy Exam (693), dissertation (699), thesis project (598 and 296), approved exchange (502), jointly supervised doctoral program (601-2) or co-operative education work (800+).
Definition of Part-Time Status
A part-time student is defined as any student who does not fall into any of the above categories with the exception of graduate students registered with the Centre for Accessible Learning who have been granted permission by the Dean of the Faculty of Graduate Studies to pursue 693, 699, 599, 598 on a part-time basis and to be levied part-time fee installments.
The program requirements vary and depend on whether you are studying Performance, Musicology, Musicology with Performance, Composition or Music Technology. School of Music program requirements are outlined in the current UVic Calendar.
To register for classes, log in to My page and follow the steps below:
Access the class registration page, click add or drop classes, then select the appropriate registration term from the drop-down list.
Enter the "CRN" (course reference number), if known, into the "add classes worksheet" or click on class search to enter search criteria.
When you have entered all desired CRNs, choose "submit changes." To search for more sections, click "add to worksheet." You will be returned to the add or drop classes page and you'll see the CRN you chose in one of the boxes in the "add classes worksheet." To add additional classes click class search or use "CRN."
Courses excluded from online registration:
  Courses requiring permission
  Courses requiring a pro forma
  Co-operative education work terms
  Courses to be taken as audit
  Undergraduate courses (if you are a graduate student)
If you want to register for one of these courses, you must complete additional documentation for manual registration. Please contact Graduate Admissions and Records for more information.
Further resources:
You should register for a minimum of 6.0 units (3.0 units per term) in your first year to be eligible for full-time status.
All entering Master's students are required to take
MUS 503 Introduction to Graduate Study and Music Bibliography
in the
first term of study
. You may also be requested to take one or more music theory courses based on the results of the Music Theory Placement Test at the beginning of September.