Accountability & development
Learn how accountability will be upheld as the goals of the Equity Action Plan (EAP) are advanced and how this plan was developed.
Accountability
Throughout the campus-wide engagement, we heard a lack of trust from the UVic community that this plan will lead to action. Based on this engagement, goal 5 of the EAP was developed to highlight the following priority:
Institutional accountability: Conduct ongoing, transparent evaluations of this action plan with continued opportunities for meaningful engagement and feedback with/from the community.
Throughout the fall of 2022, we are working to develop the EAP Accountability Framework that aligns with our ongoing commitment to equity-centred design.
While we recognize that specific actions in the EAP will need their own on-going evaluation and accountability processes, the EAP Accountability Framework will focus on reporting out on the high-level advancement of the university's 5 universal goals.
Development process
Between January and May 2022, UVic conducted four phases of campus-wide engagement to create the EAP. During this time, the UVic community shared stories, experiences, advice and recommendations for building a more equitable university.
Engagement began by asking how we could best consult our campus community. This phase determined the methods of engagement used throughout the next phases (including online surveys as well as face-to-face meetings and peer-led discussions).
Next, we invited the UVic community to share what it would look like for equity, belonging and diversity to exist at UVic.
During phase 3, we asked our campus community to share their stories and ideas for solutions to the barriers they were experiencing.
Finally, a phase 4 survey gave the UVic community an opportunity to provide feedback on the draft EAP goals and determine priorities for action.
Engagement was co-led by the Reflection and Challenge Committee (RCC), a group of 25 diverse faculty, staff and students from across the university, and Equity and Human Rights.
Artistic responses
During the development of the EAP, RCC members invited student artists to respond to the ideas generated by the campus community about what equity, diversity and belonging could look like at UVic.
RCC membership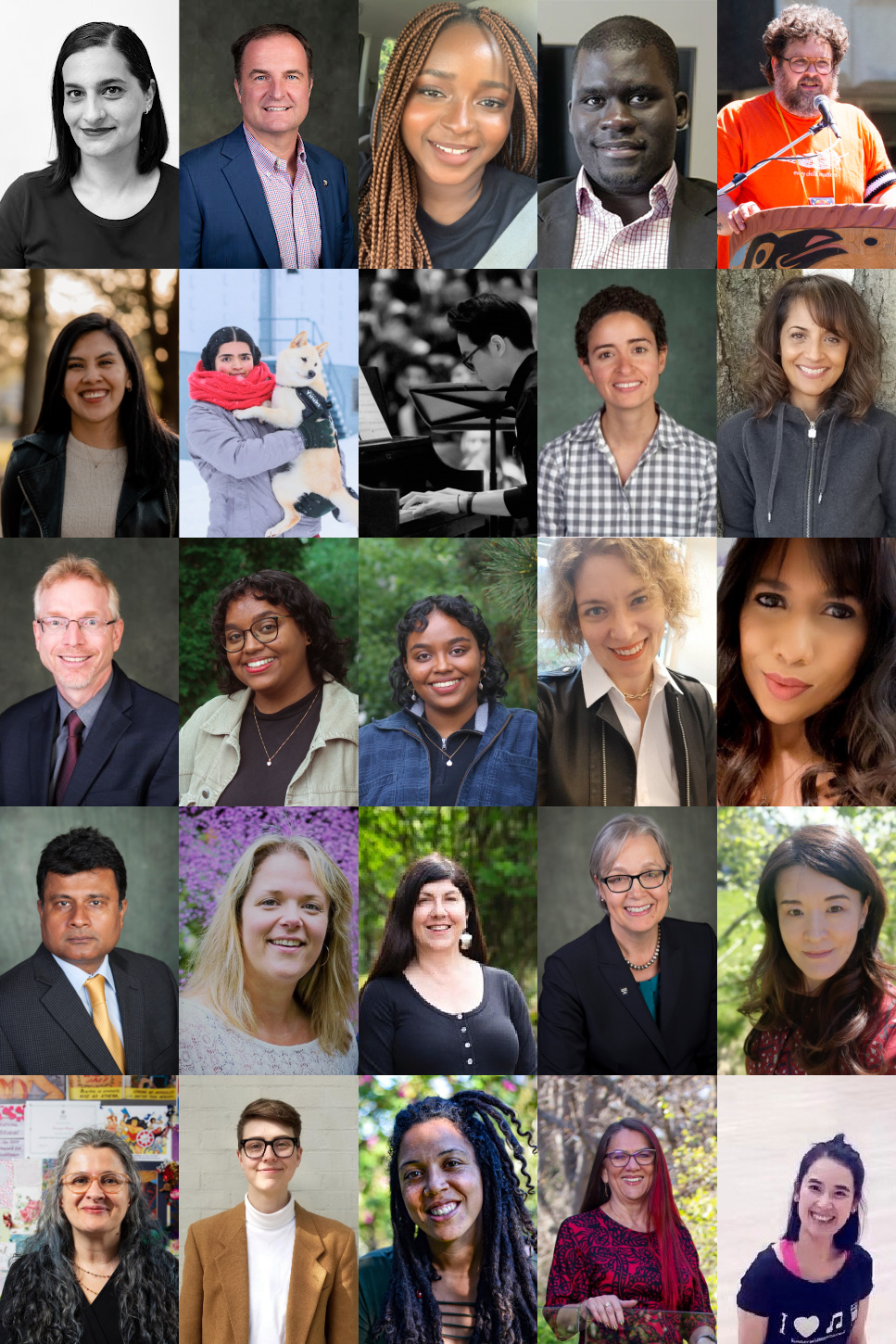 The RCC was formed in April 2021. Through careful selection, 25 UVic staff, faculty and students were appointed* who:
are passionate, experienced in and/or prepared to learn more about equity, diversity, inclusion and anti-racism;
are connected to the UVic community through leadership roles, existing engagement practices, research, advocacy or social groups;
are willing to work together to consider the needs of the entire university and serve as justice, equity, diversity and inclusion champions; and
bring lived experiences and/or awareness of issue(s) related to equity, diversity, inclusion and anti-racism.
Considerations were also made to diversify the RCC membership by bringing together a range of lived experiences, perspectives and networks.
*Members were appointed as individuals not as representatives of specific unions or groups.
Students & alumni
| Name | Relationship to UVic (2021-2022)  | Area of study  |
| --- | --- | --- |
| Adaezejeso Ezeaku | Alumni/staff (grant funded research assistant) | Psychology |
| Mariel Hernandez | Undergraduate student/University of Victoria Students' Society (director of student affairs)  | Political Science |
| Navinder Hundal  | Undergraduate student  | Biochemistry and Chemistry  |
| Lucas Hung | Undergraduate student  | Music  |
| Rachel Lachmansingh  | Undergraduate student | Writing  |
| Sarah Lachmansingh  | Undergraduate student   | Writing |
| Subodha (Su) Liyanage  | Graduate student/staff (co-op placement coordinator)  | Social Dimensions of Health  |
| Chelsea Thomas  | PhD candidate  | Education  |
Staff
| Name | Relationship to UVic (2021-2022)   | Department/unit |
| --- | --- | --- |
| Kam Cheema | Associate director, total compensation and recruitment  | Human Resources |
| Zubaida Khan  | Law student support coordinator  | Faculty of Law |
| Mami Schouten  | Equity diversity and inclusion research officer | Vice President Research & Innovation |
| Orvis Starkweather | Collection management systems coordinator  | Legacy Art Galleries  |
| Xianjing Zhang | Global engagement officer | Office of Global Engagement |
Faculty
Name
Relationship to UVic (2021-2022)  
Department/faculty 
Moustapha Fall
Assistant teaching professor 
French
Rob Hancock

Assistant professor 

Associate director academic

Anthropology 

Centre for Indigenous and Community Engagement 
Yasmine Kandil 
Associate professor
Theatre 
Phalguni Mukhapadhyaya
Professor
Civil Engineering
Maureen Ryan
Associate dean academic
Faculty of Human and Social Development
Georgia Sitara
Assistant teaching professor

History 

Gender Studies
UVic leadership appointed to the RCC
| Name | Relationship to UVic (2021-2022) |
| --- | --- |
| Jim Dunsdon | Associate vice president student affairs |
| Kane Kilbey | Associate vice president human resources |
| Susan Lewis | Acting vice-provost |
| Pamela Richards | Director of faculty relations and academic administration |
| Rachael Scarth | Associate vice president research and operations |
| Qwul'sih'yah'maht Robina Thomas | Vice president Indigenous/faculty member |
Questions?
If you want to know more about the EAP development or implementation, send us an email at equityaction@uvic.ca.