Our award-winning faculty are global leaders in research and teaching. They are widely recognized in leadership, inspired teaching and community engagement. Their research has a vital impact locally and globally.
Note: our record of awards and honours begins with the year 2000. For earlier records, please contact us.
Recent winners
On Sept. 6, the Royal Society of Canada announced seven scholars from UVic are elected to Canada's highest academic honour.
Seven UVic researchers in the fields of science, social sciences, humanities, engineering, and human and social development have been elected to Canada's highest academic honour.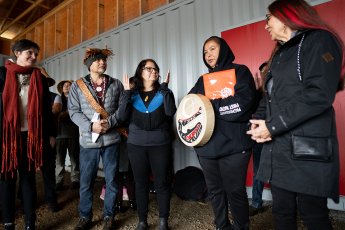 The CUFA BC honours exceptional academics with its Distinguished Academics Awards. And this year, two of the three awards go to UVic scholars: Sarah Wright Cardinal and Colin Bennett.
Social Sciences Teaching award
| Recipient | Department | Year |
| --- | --- | --- |
| Bruce Ravelli | Sociology | 2021/22 |
| Erin McGuire | Anthropology | 2020/21 |
| Simon Glezos | Political Science | 2019/20 |
| Colette Smart | Psychology | 2018/19 |
| CindyAnn Rose-Redwood | Geography | 2017/18 |
| Erica Woodin | Psychology | 2016/17 |
| Catherine Costigan | Psychology | 2015/16 |
| Brian Starzomski | Environmental Studies | 2014/15 |
| James Rowe | Environmental Studies | 2013/14 |
| Janni Aragon | Political Science | 2012/13 |
| April Nowell | Anthropology | 2011/12 |
| Warren Magnusson | Political Science | 2010/11 |
| Ian O'Connell | Geography | 2009/10 |
| Kara Shaw | Environmental Studies | 2008/09 |
| Quentin Mackie | Anthropology | 2007/08 |
| Matt James | Political Science | 2006/07 |
| Stephen Lindsay | Psychology | 2005/06 |
| Martin Smith | Psychology | 2004/05 |
| David Giles | Economics | 2002/03 |
| Michael Webb | Political Science | 2001/02 |
| David Lai | Geography | 2000/01 |
Early Career Teaching Award
| Recipient | Department | Year |
| --- | --- | --- |
| Will Greaves | Political Science | 2021/22 |
| Jessica Rourke | Psychology | 2020/21 |
| Darcy Mathews | Environmental Studies | 2019/20 |
| Louise Chim | Psychology | 2018/19 |
| Garry Gray | Sociology | 2017/18 |
| Melissa Gauthier | Anthropology | 2016/17 |
Research Excellence Award
| Recipient | Department | Year |
| --- | --- | --- |
| April Nowell | Anthropology | 2021/22 |
| Maycira Costa | Geography | 2020/21 |
| Guoguang Wu | Political Science | 2019/20 |
| Bonnie Leadbeater | Psychology | 2018/19 |
| Robert Gifford | Psychology | 2017/18 |
| Tim Stockwell | Psychology | 2016/17 |
| Oliver Schmidtke | Political Science | 2015/16 |
| Michelle Bonner | Political Science | 2014/15 |
| Kees Van Kooten | Economics | 2013/14 |
| John Volpe | Environmental Studies | 2012/13 |
| Trisalyn Nelson | Geography | 2011/12 |
| Rob Walker | Political Science | 2011/12 |
| Stuart MacDonald | Psychology | 2010/11 |
| Avigail Eisenberg | Political Science | 2009/10 |
| Malcom Rutherford | Economics | 2008/09 |
| William Carroll | Sociology | 2007/08 |
| James Tanaka | Psychology | 2006/07 |
| Eric Roth | Anthropology | 2005/06 |
| Cecilia Benoit | Sociology | 2004/05 |
| Zheng Wu | Sociology | 2003/04 |
| Michael Masson | Psychology | 2002/03 |
| Neena Chappell | Sociology | 2001/02 |
| Colin Bennett | Political Science | 2000/01 |
Distinguished Lansdowne Fellow
| Recipient | Department |
| --- | --- |
| Ann Stahl | Anthropology |
| Amy Verdun | Political Science |
Lansdowne Early Career Scholar
| Recipient | Department |
| --- | --- |
| Min Zhou | Sociology |
| Natalie Ban | Environmental Studies |
Early Career Research Excellence Award
| Recipient | Department | Year |
| --- | --- | --- |
| Alison Murray | Anthropology | 2021/22 |
| Brianna Turner | Psychology | 2020/21 |
| Felix Pretis | Economics | 2019/20 |
| Randy Scharien | Geography | 2018/19 |
| Simon Springer | Geography | 2017/18 |
| Natalie Ban | Environmental Studies | 2016/17 |
Community Outreach Award
| Recipient | Department | Year |
| --- | --- | --- |
| Jutta Gutberlet | Geography | 2020/21 |
| Brian Thom | Anthropology | 2019/20 |
| Catherine Costigan | Psychology | 2018/19 |
| Alexandrine Boudreault-Fournier | Anthropology | 2017/18 |
| Aaron Devor | Sociology | 2016/17 |
| Jim Tanaka | Psychology | 2015/16 |
| Jutta Gutberlet | Geography | 2014/15 |
| Valentin Schaefer | Environmental Studies | 2013/14 |
| Becky Wigen | Anthropology | 2012/13 |
| William Carroll | Sociology | 2011/12 |
| Brenda Beckwith | Environmental Studies | 2010/11 |
| Dennis Pilon | Political Science | 2009/10 |
| Cecilia Benoit | Sociology | 2008/09 |
| Holly Tuokko | Psychology | 2007/08 |
| Ken Josephson | Geography | 2006/07 |
| Bonnie Leadbeater | Psychology | 2005/06 |
UVic Awards
| Award | Recipient | Department | Year |
| --- | --- | --- | --- |
| REACH Award - Harry Hickman Alumni Award for Excellence in Teaching and Educational Leadership | Erin McGuire | Anthropology | 2021 |
| REACH Award - Award for Excellence in Graduate Student Supervision and Mentorship | Mauricio Garcia-Barrera | Psychology | 2021 |
| Provost's Engaged Scholar Award | Brian Thom | Anthropology | 2021 |
| REACH Award - David H. Turpin Gold Medal for Career Achievement in Research | Bonnie Leadbeater | Psychology | 2021 |
| Gilian Sherwin Alumni Award | Stephanie Calce | Anthropology | 2020 |
| REACH Award - Excellence in Knowledge Mobilization | Ann Stahl | Anthropology | 2020 |
| REACH Research Award - Gold Medal | Tim Stockwell | Psychology | 2019 |
| REACH Reseach Award - Research Partnerships | Bill Caroll | Sociology | 2019 |
| Provost's Engaged Scholar Award | Denise Cloutier | Geography | 2019 |
| Award for Excellence in Graduate Student Supervision and Mentorship | Brian Starzomski | Environmental Studies | 2018 |
| Award for Excellence in Teaching in Experiential Learning | Alexandrine Boudreault-Fournier | Anthropology | 2018 |
| Provost's Engaged Scholar Award | Jim Tanaka | Psychology | 2018 |
| Provost's Engaged Scholar Award | Jutta Gutberlet | Geography | 2018 |
| Craigdarroch Research Award - Gold Medal | Neena Chappell | Sociology | 2017 |
| Provost's Engaged Scholar Award | Andrea Walsh | Anthropology | 2017 |
| Provost's Engaged Scholar Award | Cecilia Benoit | Sociology | 2017 |
| REACH Award for Excellence in Knowledge Mobilization | Jim Tanaka | Psychology | 2017 |
| Award for Excellence in Graduate Student Supervision and Mentorship | Catherine Costigan | Psychology | 2016 |
| Award for Excellence in Research-Inspired Teaching | Jim Tanaka | Psychology | 2016 |
| Award for Excellence in Teaching in Experiential Learning | Erin McGuire | Anthropology | 2016 |
| Provost's Engaged Scholar Award | Bonnie Leadbeater | Psychology | 2015 |
| Craigdarroch Award for Excellence in Knowledge Mobilization | Ana Maria Peredo | Environmental Studies (Gustavson School of Business at time of award) | 2014 |
| Craigdarroch Research Award - Gold Medal | Jim Tully | Political Science | 2014 |
| UVic Community Leadership Award | Ana Maria Peredo | Environmental Studies (Gustavson School of Business at time of award) | 2013 |
| Craigdarroch Award for Societal Contribution | Eric Roth | Anthropology | 2011 |
| Gilian Sherwin Alumni Award | Andrew Wender | Political Science | 2011 |
| Craigdarroch Award for Communicating Research | Neena Chappell | Sociology | 2010 |
| Craigdarroch Award for Societal Contribution | Cecilia Benoit | Sociology | 2010 |
| Gilian Sherwin Alumni Award | Ranald Donaldson | Anthropology | 2010 |
| Craigdarroch Research Award - Silver Medal | Amy Verdun | Political Science | 2009 |
| Craigdarroch Award for Communicating Research | Cecilia Benoit | Sociology | 2008 |
| Harry Hickman Alumni Award | Michael Webb | Political Science | 2007 |
| Craigdarroch Research Award - Gold Medal | Nancy Turner | Environmental Studies | 2006 |
| Harry Hickman Alumni Award | Martin Smith | Psychology | 2005 |
| Craigdarroch Award for Project Excellence | Bonnie Leadbeater | Psychology | 2003 |
| UVic Teaching Award | David Lai | Geography | 2002 |
| UVic Teaching Award | Elsie Chan | Sociology | 2000 |
BC, national or international awards
| Award | Recipient | Department | Year |
| --- | --- | --- | --- |
| Leadership Victoria, Extending Reconciliation Award | Brian Thom | Anthropology | 2022 |
| Royal Society of Canada Fellow - College of New Scholars, Artists & Scientists | Trevor Lantz | Enviromental Studies | 2022 |
| Royal Society of Canada Fellow - College of New Scholars, Artists & Scientists | Natalie Ban | Environmental Studies | 2021 |
| Royal Society of Canada Fellow | Bill Carroll | Sociology | 2020 |
| Royal Society of Canada Fellow | Bonnie Leadbeater | Psychology | 2020 |
| Killam Prize | Cecilia Benoit | Sociology | 2020 |
| CAG Award for Excellence in Teaching Geography | CindyAnn Rose-Redwood | Geography | 2020 |
| Royal Society of Canada Fellow | Robert Gifford | Psychology | 2019 |
| Royal Society of Canada Fellow | Jim Tanaka | Psychology | 2019 |
| Royal Society of Canada - College of New Scholars, Artists & Scientists | Chris Darimont | Geography | 2019 |
| CPA Distinguished Contributions to Education and Training in Psychology | Catherine Costigan | Psychology | 2019 |
| WDCAG The William C. Wonders Award for Scholarly Distinction | Reuben Rose-Redwood | Geography | 2019 |
| Pierre Elliott Trudeau Fellow | Cecilia Benoit | Sociology | 2018 |
| Royal Society of Canada Fellow | Timothy Stockwell | Psychology | 2018 |
| SCB Early Career Conservationist Award | Natalie Ban | Environmental Studies | 2018 |
| NAN Ralph M. Reitan Award for Clinical Excellence | Catherine Mateer | Psychology | 2018 |
| Society of Ethnobiology Distinguished Ethobiologist Award | Nancy Turner | Environmental Studies | 2018 |
| CSBBCS Donald O. Hebb Distinguished Contribution Award | Michael Masson | Psychology | 2018 |
| Murray A. Newman Award for Excellence in Aquatic Research and Conservation | Chris Darimont | Geography | 2018 |
| Virginia Prince Transgender Pioneer Award | Aaron Devor | Sociology | 2018 |
| CUFA-BC Career Achievement Award | Cecilia Benoit | Sociology | 2018 |
| European Community Studies Association-Canada Teaching Excellence Award | Amy Verdun | Political Science | 2018 |
| WDCAG The J. Alistair McVey Award for Teaching Excellence | CindyAnn Rose-Redwood | Geography | 2017 |
| CAUT Equity Award | Aaron Devor | Sociology | 2017 |
| Governor General's Award in Commemoration of the Persons Case | Cecilia Benoit | Sociology | 2016 |
| Order of Canada | Neena Chappell | Sociology | 2016 |
| Royal Society of Canada - College of New Scholars, Artists & Scientists | Clay Holroyd | Psychology | 2016 |
| WDCAG The J. Alistair McVey Award for Teaching Excellence | Cameron Owens | Geography | 2016 |
| CUFA-BC Early in Career Award | Chris Darimont | Geography | 2015 |
| Trudeau Fellowship | Nancy Turner | Environmental Studies | 2015 |
| BC Community Achievement Award | Bonnie Leadbeater | Psychology | 2014 |
| Canadian Academy of Health Sciences Fellowship | Bonnie Leadbeater | Psychology | 2014 |
| Canadian Academy of Health Sciences Fellowship | Cecilia Benoit | Sociology | 2013 |
| Canadian Academy of Health Sciences Fellowship | Neena Chappell | Sociology | 2013 |
| Canadian Academy of Health Sciences Fellowship | Scott Hofer | Psychology | 2013 |
| Royal Society of Canada - College of New Scholars, Artists & Scientists | Stuart MacDonald | Psychology | 2013 |
| Royal Society of Canada Fellowship | Cecilia Benoit | Sociology | 2013 |
| Canadian Academy of Health Sciences Fellowship | Timothy Stockwell | Psychology | 2012 |
| CIHR Betty Havens Award for Knowledge Translation | Neena Chappell | Sociology | 2012 |
| BC Community Achievement Award | Cecilia Benoit | Sociology | 2010 |
| Killam Prize | Jim Tully | Political Science | 2010 |
| CUFA-BC Career Achievement Award | Neena Chappell | Sociology | 2004 |
| Trudeau Fellowship | Jim Tully | Political Science | 2003 |
| CUFA-BC Academic of the Year | Nancy Turner | Environmental Studies | 2002 |
| Royal Society of Canada Fellowship | Michael Asch | Anthropology | 2002 |
| 3M National Teaching Fellowship | Marty Wall | Psychology | 2001 |
| 3M National Teaching Fellowship | Aaron Devor | Sociology | 2000 |
| Royal Society of Canada Fellowship | Jim Tully | Political Science | 2000 |
| Order of Canada | Nancy Turner | Environmental Studies | 2009 |