Anthropology field school in Cordova Bay
July 28, 2023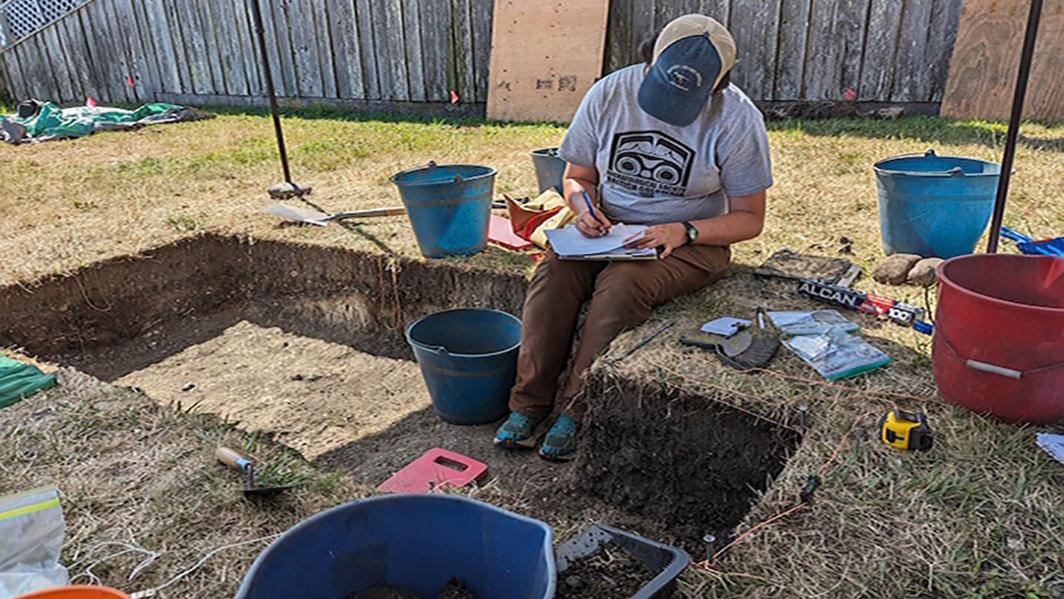 A five week long field school in Cordova Bay has received local and national media attention for the discoveries at Agate Beach, a popular picnic spot among locals and dog walkers, and now a confirmed ancient village site of ȾEL¸IȽĆE.
UVic anthropologist Brian Thom: "Agate Park brightly revealed signs of the ancient village in the first 10cm, with shell midden and fire-cracked rocks in every unit. I expect we are going to find archaeological site everywhere."
Thom chronicled the daily finds on a Facebook page, along with photos. Darron Kloster, Times Colonist, was first on the scene two days before the field school wrapped up. Other media interviews quickly followed with interest from CTV-VI, CHEK, CBC Victoria, CBC (national) web, TV, radio stories, and CKNW.
Thom, students, grad students and Indigenous partnerships worked together to reveal a dynamic village site of long houses, canoes and a community of 200 people.
Thom: "What an amazing day. In our new excavation unit, just 45cm below the surface, we have found our first intact feature -- a beautiful hearth, with cooking stones, an ash layer, lots of shell a few fish and mammal bones, lots of charcoal; a perfect reflection of domestic life in the waterfront village of ȾEL¸IȽĆE."
Thom and senior archaeologist Heather Pratt, led the field school which involved 12 undergraduate students and 2 graduate students from UVic. Moreover, youth and cultural workers from W̱SÁNEĆ communities participated. The excavations were open to the public to see, with several hundred local people having visited a "public archaeology" tent set up to provide site tours and drop-in information. The Cordova Bay Association of Community Affairs and the District of Saanich Parks staff have been valuable partners in communicating the project to the local community.
Media coverage summary:
EXPLORING A VANISHED VILLAGE AT CORDOVA BAY
Times Colonist article by Jack Knox 19 Mar 2023
FIRST NATION, UVIC RESEARCHERS TO UNCOVER ANCIENT INDIGENOUS VILLAGE IN CORDOVA BAY
VILLAGE AT CORDOVA BAY IS PART OF LIVING HISTORY
Letter to the editor 24 Mar 2024 by Hamar Foster
HEAR ABOUT A GROUND-BREAKING ARCHAEOLOGICAL PROJECT THAT WILL UNCOVER AN ANCIENT INDIGENOUS VILLAGE IN CORDOVA BAY
Radio interview with Mavis Underwood and Brian Thom on CBC Victoria On The Island, 27 Apr 2023
UVIC STUDENTS EXPLORE ANCIENT LIFE ON BARELY DOCUMENTED INDIGENOUS LAND
Black Press (syndicated) story by Ella Matte 08 Jul 2023
CORDOVA BAY DIG REVEALS SIGNS OF THRIVING FIRST NATIONS VILLAGE
Times Colonist story by Darron Kloster, 26 Jul 2023
THE VILLAGE THAT VANISHED: CORDOVA BAY DIG UNEARTHS SIGNS OF THRIVING W̱SÁNEĆ VILLAGE
CHEK TV Story by Kori Sidaway, 26 Jul 2023
 SAANICH ARCHAEOLOGICAL DIG REVEALS CENTURIES OF INDIGENOUS HISTORY
CTV News story 27 Jul 2023 by Brendan Strain
ARCHAEOLOGICAL DIG UNCOVERS REMNANTS OF W̱SÁNEĆ VILLAGE DATING BACK MORE THAN 1,000 YEARS
CBC News coverage of from 28 Jul 2023
DIGGING UP ANCIENT VILLAGES ON VANCOUVER ISLAND
Radio interview with Brian Thom on CKNW Mornings with Simi, 27 Jul 2023
JUST BENEATH THE SURFACE - WE'LL HEAR ABOUT THE INDIGENOUS ARCHEOLOGICAL DIG AT CORDOVA BAY
Radio interview with Brian Thom on CBC Victoria On The Island, 28 Jul 2023
REMNANTS OF FIRST NATION VILLAGE, INCLUDING 1,000-YEAR-OLD FISH TRAP, DISCOVERED IN CANADA
Feature story by Hadani Ditmars in The Art Newspaper, 08 Aug 2023