UVic Foodie Box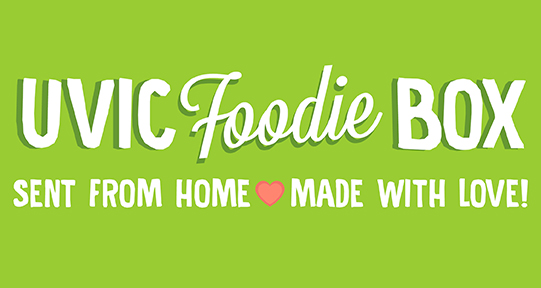 While students are away from home, send a special gift to brighten their day. For any occasion, from completing exams to celebrating a birthday, send a Foodie Box to show just how much you care!
How it Works
Choose your specialty box from our selection below
Fill out the pdf order form (including a personalized message for the receiver)
Submit your order form by email to degreescatering@uvic.ca 
Pay for your order online with your provided invoice number 
We build the box (with extra love & care!)
We email your student to let them know where to pick up their box
The perfect box to celebrate any important milestone! Box includes a 6" round birthday cake with a personalized message, candles, forks, plates, napkins and a helium balloon. Serves 4-6 people. Your choice of cake:
Chocolate Symphony (gluten free option) - Two layers of white and milk chocolate mousse seated on a base of chocolate cheesecake.


White Chocolate Raspberry - Light layers of white chocolate mousse swirled with raspberry puree atop a vanilla sponge cake.


Tiramisu - A complimentary trio of coffee cream, chocolate sponge and brandy.


Fruit Melody - Layers of vanilla cake covered in mango, passion fruit, strawberry & blackcurrant purees layered with a light cream cheese & whip cream filling decorated with ground oats & fruit.


Passion Fruit - The exotic taste of passion fruit blended with a smooth, light cream between layers of vanilla cake.
All-nighter study sessions just got smarter with this box of brain fuel! Box includes:
Package of mountain trail mix
One Builder's Protein bar
Package of mini rice cakes
One bag of corn chips
One jar of salsa
Bottle of sparkling water
One 12oz specialty coffee coupon 
When flu season hits, this box pulls double duty for a quick recovery! Box includes:
Two bowls of rice noodle soup
Four bags of Chamomile tea
Vitamin C packets
Immune boosting honey lozenges 
One bottle of ginger ale
One box of tissues
A box for the sophisticated foodie with a sampling of our favourite snacks! Box includes:
Bag of whole grain rice chips
Package of spicy pumpkin seeds
Bag of Portofino harvest cookies
Package of apple rings
Bottle of sparkling lemonade
Tin of organic ginger chews
To Order & Pay
To order a foodie box, fill out an order form as a pdf on your computer or print off & fill in manually. Once complete, attach the order form to an email (pdf/jpg/png) and send to degreescatering@uvic.ca.
Once we process your order you will receive an invoice. This invoice is to be used to pay for your order online using our secure online payment system with a credit or debit card. Please note that we require online payment before confirming your order. 
Important Info
Please note that we require 2 business days for all orders. Once students are notified to pick up their box, we will hold it for a maximum of 3 days. If the box is not picked up within this time frame, we cannot reimburse the order. Exact contents of each box may change according to availability. All listed prices include taxes.
If you have any questions, please contact Degrees Catering at degreescatering@uvic.ca or 250-721-8603. Our office is open Mon-Fri, 8:30am-4:30pm (Pacific Time Zone).