UVic Meal Share program
Helping to reduce food insecurity for UVic students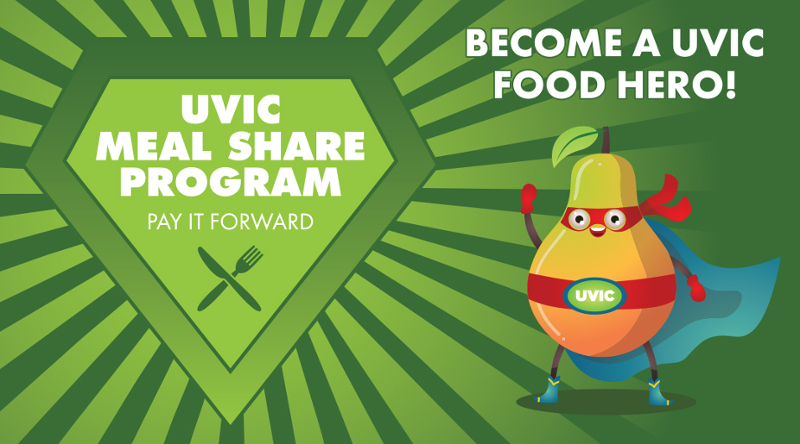 The UVic Meal Share program offers a convenient opportunity for our campus community to help reduce food insecurity for students. 
Eligible students can receive a $50 credit to their ONECard flex account which can then be used anonymously to purchase food at any retail food location on campus.
This one-year pilot program (Sept 1, 2022 to August 31, 2023) is funded entirely by donations. The UVic Meal Share program is coordinated by University Food Services and the ONECard office.
How to donate
Your gift is incredibly important for students who are experiencing food insecurity. 100% of donated funds will be transferred monthly to students who are enrolled in the UVic Meal Share Program.
Donate online
All online donations will automatically be issued a tax receipt to the email provided by the donor. Donors can opt to remain anonymous or can be recognized for their support. 
Learn more about how you can make an even greater impact on students who are experiencing food insecurity! Email Karen Batchelor, Senior Development Officer Student Affairs.
Donate at point-of-sale
Pay It Forward at Point-of-Sale by donation (suggested donations $2, $5, $10) at all University Food Services retail and dining locations.
University Food Services is dedicated to making donations as convenient and easy as possible for interested community members, to maximize participation.
Everyone who donates at point-of-sale will receive a Pay It Forward donor sticker as a thank you and acknowledgement for their support. Place your sticker on your laptop, office door, binder, car bumper to showcase/celebrate your support and to help raise awareness of food insecurity which is a critical issue for students.
Our promise
100% of funds donated to the UVic Meal Share Program will be redistributed monthly to students who are enrolled in the UVic Meal Share Program. This program will incur no administrative fees.
Apply to the meal share program (students)
Eligibility
To qualify for the Meal Share program you must:
be a current UVic student experiencing food insecurity
have a flex or meal plan balance lower than $100
How to apply
Applying to the UVic Meal Share Program is simple and confidential.
You can click "submit your application form", and login using your netlinkID. This one-time application will remain in place for the academic year and you will not be able to re-apply.
Confidentiality
The program and your personal information is confidential and will only be viewed by the UVic Meal Share program administrators.
Receiving your funds
If approved for the program, funds will be transferred to your ONECard flex account by the 15th of each month. You'll see the funds appear in your account as a $50 credit.
Flex funds are added to student flex accounts as follows:
Maximum of $50 per term to a maximum of $100 per academic year (if currently enrolled in the term)
Funds will be distributed monthly until all donated funds are depleted
If you do not receive a flex funds credit in the current month, you will remain in queue to receive funds in the following month and do not need to reapply.
What is food insecurity?
Food insecurity means having inadequate or insecure access to food due to financial constraints. It's a major public health issue in Canada and impacts a higher-than-average number of post-secondary students.
Approximately 40% of students at Canadian higher education institutions experiencing some degree of food insecurity—four times higher than the general Canadian population.


For questions about the UVic Meal Share Program please email mealshare@uvic.ca