Safety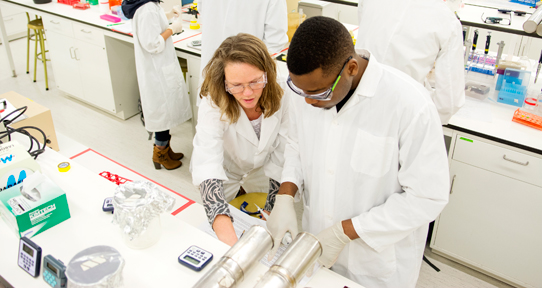 Lab safety
We are committed to maintaining a working environment that is safe for our researchers and the community. New employees and students working in our teaching or research labs (volunteer, work-study, honours, directed studies) must fill out our Emergency Pre-Planning and Equipment Orientation form, and submit it to the Administrative Officer.
Safety training
All new employees are required to complete a health and safety orientation.
Occupational Health and Safety (OHS) offers training courses, the following of which are mandatory if you work in this department:
| Course | Who needs to take it |
| --- | --- |
| WHMIS | everyone |
| Biosafety | everyone working with microorganisms |
| Radiation safety | anyone working with radioactive substances |
Please contact OHS for schedules and details.
Fire extinguisher training is also offered by OHS. 
Personal safety
Download the Personal Safety PDF
There will be times when the nature of your research requires you to work after hours in the lab. If you are working alone after hours, there are some safety precautions you should take to ensure your personal safety. The first of these is, whenever possible keep your lab door shut and locked. If you find an external door propped open, close it.
Campus Security Services (CSEC) offers a SafeWalk and a Campus Alone Service. SafeWalk is an escort service to and from your vehicle. Campus Alone allows you to 'check in' and 'check out' when you are working alone on campus. If you forget to check out at the time you anticipated leaving, CSEC will come to see if you are okay.
Contacts and links
We conduct regular safety inspections of all laboratory space and ensure proper disposal of hazardous wastes in cooperation with the University's Office of Occupational Health, Safety, and Environment (OHS).