Student affiliates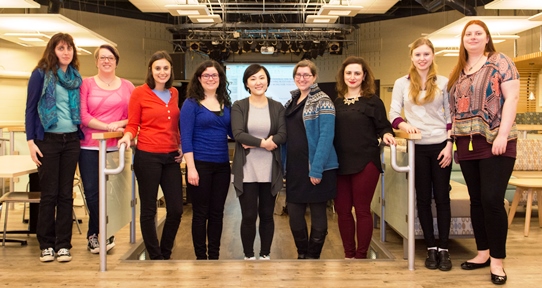 Name
Program of Study
Research Interests
Brenda Adams
Exercise Science, Physical and Health Education, PhD
Childhood obesity prevention programs that use a blended model of online and in-person program delivery.
Damilola Afolabi
Economics, MA

Inclusive economic growth, health, and education. Interested in working with vulnerable populations in marginalized communities to improve the active participation of youths and children in driving inclusive economic growth.

Taiwo Afolabi
Theatre, PhD
My research focuses on working with displaced populations, especially youths in Victoria and Nigeria
Larissa Alabe Padua
Educational Psychology, MEd
Special Education
Literacy acquisition and development of children receiving instruction in their second language (L2); Educational supports that must be in place for children with special needs in care in B.C.
Ian Alexander
Curriculum and Instruction, MA Educational Studies
Support for and adaptation of international youth to education in Canada

Hanieh Almotahari

Educational Psychology and Leadership Studies, MEd

Emotional and moral development, child and youth psychology, identity development, inclusive education

Keenan Andrew
Child and Youth Care, MA
Re-weaving legacies of gender-based violence with Indigenous young men
Stephanie Arlt
Social Dimensions of Health, MSc
Street-involved youth, drug use, harm reduction, social justice, and homeless youth policy in Canada
Luis Barros
Curriculum and Instruction, PhD
Narrative Inquiry in the context of understanding how immigrants shape and (re)shape their lives, identities and stories to live by within and through multicultural worlds
Katy Bigsby
Educational Psychology and Leadership, Master's in Community Engagement and Adult Education
Non-formal learning, children and youth with challenging behaviour, social-emotional learning
Alexandra Blinova
Curriculum and Instruction, MA
Effects of COVID-19 pandemic on program development and delivery of non-formal in-person school programmes
Leila Boloori
Curriculum and Instruction, MEd
Curriculum in elementary schools, child psychology, children and youth teaching, critical thinking, international education, English language art education, language literacy teaching and children's literature
Sydney Boothroyd
Educational Psychology and Leadership Studies, MA
Effects of digital technology on youth mental health; relationship between screen consumption and mental, emotional, relational well-being of individuals and communities
Holly Brinkman
Educational Psychology and Leadership Studies, MEd
Special Education/Inclusion
Using applied drama to increase teacher self-efficacy and decrease student victimization in inclusive classrooms.
Alexis Brown
Educational Psychology and Leadership Studies, PhD
Critical Literacies with Indigenous Youth
Anna Chadwick
Child and Youth Care, MA
My primary topic focuses on sexualized violence and gender-based violence against girls and youth in Indigenous communities. My research is arts-based and encompasses frameworks decolonization by incorporating values of land and body sovereignty in Indigenous communities. The research is part of the project, Sisters Rising, supervised by Dr. Sandrina de Finney.
Emma Chalifour
Child and Youth Care, MA
Exploring the experiences of children and youth during the intensive care unit stay of an adult family member
Sandra Chamberlain-Snider
Theatre History, PhD
Theatre History, children and youth in theatre and performance training, Canadian studies
Fanie Collardeau
Psychology, PhD
Clinical Psychology
Intimate partner violence, romantic attachment and emotion-regulation, especially the regulation of shame
Elizabeth Comeau
Interdisciplinary Studies, MSc
Children's Human Rights, health, physical activity, self-determination
Parker Croshaw
Child and Youth Care, MA
Sexual Behaviour problems in youth, counselling, ethics, psychotherapy, forensic psychology
Bianca DeSilva

Exercise Science, Physical and Health Education, MSc

Kinesiology

Childhood obesity prevention, family-based programs, physical activity and literacy, sport, healthy eating, positive mental health, screen time.
Sharon Dias
Geography, PhD
Social housing, public housing policy, human rights, social justice, refugees, participation of children and adolescents in policy decisions, Brazil
Rebecca Duerksen
Anthropology, MA
Youth experiences of chronic illness, youth perceptions of illness disclosure, dominant cultural and social ideas about youthfulness and young bodies (and associated stigma), and possible barriers to support-seeking behaviours for youth with chronic illness
Stephanie Field
Exercise Science, Physical and Health Education, PhD
Kinesiology
Motor development, physical activity, perceptions of competence, recreation
Antwi Frimpong
Law, LLM
Public Interest Law
Legal aid clinics to support community-based access to justice in developing countries
Patrick Gale
Curriculum and Instruction, MA
Curriculum Studies and Leadership
Student and teacher ecoliteracy development through nature and food immersion, with an Indigenous and place-based focus
Jennifer Gruno
Exercise Science, Physical & Health Education, MA
Benefits of nature-based physical activity; meeting the needs and interests of girls in physical and health education
Dorothea Harris
Educational Psychology and Leadership Studies, PhD
Centring Coast Salish ways of knowing and being within the academy, the impacts of post-secondary education on Coast Salish students
Carolyn Helps

Psychology, MSc
Clinical Lifespan

Nonsuicidal self-injury, suicidal thoughts and behaviours, community psychology
Kayla Hofman

Political Science, MA

Children's political agency; educational climate programs; generational injustice
Georgina Hope
Educational Psychology and Leadership, Master's in Leadership, Community Engagement
Fostering youth resiliency through storytelling
Katsistohkwí:io Jacco
Political Science, MA
Food sovereignty and its influence on positive family relationships
Adam Jenkins
Sociology, MA
Alternative justice models for youth who offend
Jocelyn Jones
Psychology, BSc
Trauma, autonomy, and developmental psychology, especially in women and LGBTQ+ communities
Meg Margaret Kapil
Educational Psychology and Leadership Studies, PhD
The interweave of mental health, stress regulation, and self-regulated learning
Luke Kernan
Anthropology, PhD
Early psychosis among young adults; volunteering in mental health communities; arts-based methodologies, comics, and storytelling
Zahra Khimji
Educational Psychology and Leadership Studies, MA
Special Education
The role of executive function in adult readers' comprehension of science expository text; effect of Self Regulated Strategy Development reading interventions.
Hyuna Ki

Curriculum and Instruction, PhD

I am interested in critical literacy in secondary-level schools, especially how to raise students' critical awareness.
Amie Kim
Psychology, MSc
Lifespan Health and Development
Self-regulation and language development in children.

Brooke Lagore

Psychology, MSc

Effects of social issues on physical health, life, meaning and suicidal ideation on adolescents and young girls

Julie Laliberté

Child and Youth Care, MA

Resistance, witnessing, arts-based community research

Ellery Lamm

Writing, MFA

A stage play centred around the mental health of teenage girls
Rashin Lamouchi

Child and Youth Care, MA

Impacts of migration on forced migrant youth
Nicole Legg
Psychology, MSc
Clinical

Predictors and trajectories of risky behaviours (i.e. disordered eating, suicidal ideations, nonsuicidal self-injury) in adolescents
SiMin Li

Political Science, MA

Digital humanity, identity of ethnic Chinese and International relations in Asia Pacific
Jemma Llewellyn
Theatre, PhD
Applied Theatre
Digital media literacies and youth sexuality, arts-based research through youth theatre and curriculum pedagogies
Shelby Logan
Psychology, MA
Social Psychology
Nature and well-being, existential psychology, motivation, positive psychology
Alyx MacAdams
Social Work, MSW
Trans, non-binary, and Two-Spirit children and youth; supportive parent/caregivers; social citizenship; self-determination
Ana MacLeod

Child and Youth Care, MA

An autoethnography of reclaiming my Indigeneity

Myles Maillet

Psychology, PhD

Self-regulation, motivation, goals, statistics, research design

Tanya Manning-Lewis

Curriculum and Instruction, PhD

The challenge inner-city youths in colonized societies face with language, identity and place in school

Renay Maurice

Sociology, MA

Analyzing child support enforcement programs in Canada to develop recommendations that will inform policy changes

Brendan Micetich
Psychology, Bachelor's
Community-based research with a focus on mental health and emotional support
Jason Miller
Sociology, PhD
Supporting youth leadership and inter-generational alliance building in Canada's climate justice movement
Amy Mills-Guest
Educational Psychology and Leadership Studies, PhD
Leadership Studies
The impact of servant leadership practices on positive resiliency in elementary school children
Shantelle Moreno
Child and Youth Care, MA
Arts-based community-engaged research with Indigenous and racialized girls, young women, and youth of all genders
Addison Mott
Child and Youth Care, MA
Environmental psychology, counselling room design, ecopsychology, child and adolescent mental health, wilderness therapy
Laleh Mousavi
Educational Administration & Leadership Studies, MA
Critical consciousness about social issues, transformation, LGBTQ issues, international students
Emily Nichol
Social Dimensions of Health, MA
Childhood trauma and addiction, violence/trauma-informed approach to care, substance use services for pregnant and parenting women, stigma reduction
Patricia Obee
Child and Youth Care, MA
Physical environments that afford risky play in early childhood educations settings and the impacts of risky play on physical activity and well-being or children ages 3-4 years old
Summer Okibe
Law, LL.M.
Indigenous Peoples rights to Aboriginal title and human rights of children and women
Drexler Ortiz
Psychology, MSc
Clinical Lifespan
Religiosity and religious identity of immigrant youth and families post-migration
Tiffany Patterson
Exercise Science, Physical and Health Education, MSc
Kinesiology
Childhood and adolescent obesity prevention, physical activity and nutrition literacy
Christina Perkins
Educational Psychology and Leadership Studies, Master's in Special Education
Early intervention, inclusive education, autism spectrum disorder, learning disabilities, and supporting diverse student needs
Lauren Petersen
Educational Psychology and Leadership Studies, MA
Social Justice, anti-racism, anti-oppression, and Indigenous culture through the arts
Jen Poole
Education, PhD
Special education, teacher education
Julie Prud'homme
Psychology, PhD, Clinical Psychology
Mental health risk and resilience in LGBTQ+ youth and emerging adults
Cindy Quan
Psychology, PhD, Clinical Psychology
Research interests include using community-based research approaches to examine the intersection of family systems, culture, and mental health as well as mental health service delivery. ​

Kisten Quistberg

Psychology, PhD
Clinical Psychology
Young children's development of social understanding and self-regulation skills

Saman Rahimi

Educational Psychology and Leadership Studies, MA
Increasing creativity in youth students by the help of new teaching strategies

Christina Robillard

Psychology, MSc
Clinical Psychology
The impact of interpersonal relationships on risky behaviours (e.g., substance use, disordered eating, suicidal behaviours) in adolescents

Brad Rudner

Child and Youth Care, MA
Effects of excessive screen time on youth mental health and its mitigation through nature connection

Monica Slobozianu

Psychology, MA
Motivation in sport, exercise and health

Pauline Song

Psychology, MSc
Clinical Psychology
Childhood trauma and abuse, intrafamilial relations, cultural context and family relationships, intimate partner violence and effects on children, prevention and intervention for childhood trauma and abuse, policy implementation

Tom Spence

Psychology, MSc
Social
Mindfulness meditation, quiet ego, wellbeing, optimal functioning

Meaghan Storey

Curriculum and Instruction, PhD
Social and emotional learning in the classroom curriculum, particularly in language arts at middle/secondary levels
Joelle Taknint
Psychology, PhD
Cultural influences and psychological stressors such as discrimination's effects on identity development
Chelsea Thomas
Curriculum and Instruction, PhD
Social, Cultural, and Foundational Studies
Student wellbeing and school climate/composition, connection-based teacher education, trauma-informed teacher education, ACEs, sexuality education, child honouring, emotions and learning and human interdependency
Debra Torok
Psychology, PhD
How forced migrant youth in Malaysia and Thailand construct their identities and future aspirations
Christopher Tse
Social Work, MSW
How forced migration informs refugee youth sense of identity development and future aspirations
Elizabeth Tuinstra
Curriculum and Education, Master's in Music Education
Music education, non-Western music education, cultural identity, decolonization, curriculum change, culturally responsive music education
Róisín Unsworth
Sociology, PhD
Violence, substance use & pathways to resilience among street-involved young women
Hector Vazquez Cordoba
Education, PhD
Curriculum and Instruction
Music education/Indigenous perspectives through music education in elementary and secondary school curriculum
Paul Vincent
Social Work, Indigenous Specialization, MSW
Indigenous child welfare, children and youth, Indigenous feminist theories, and art-based methodologies.
Mattie Walker
Social Dimensions of Health, PhD
Trans, two-spirited, and non-binary health, trauma and violence support, and mental health practitioner education.
Jeremy Wintringer
Educational Psychology and Leadership Studies, PhD
LGBTQ ally training programs offered by post-secondary institutions in the U.S. and Canada
Ryan Wong
Clinical Psychology, Neuropsychology Specialization, PhD
Neurodevelopmental trajectories of higher-order cognitive functions, particularly executive functioning or self-regulation.
Chris Wright
Exercise Science, Physical and Health Education, MSc
Kinesiology
Early years, elementary school, physical activity, physical literacy, confidence, movement, movement competence
Rongxin Zhang
Pacific and Asian Studies, MA
Community-based child welfare system in contemporary China.