Dorothea Harris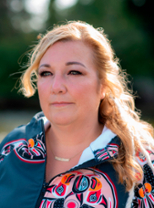 Position
PhD (2018-2023)
Faculty of Education, Department of Educational Psychology and Leadership Studies
Dorothea Harris' family belongs to the Snuneymuxw First Nation and she grew up in Snuneymuxw territory (Nanaimo, BC). Prior to returning to school, Dorothea worked as a social worker for 20 years in the Greater Victoria Area. Dorothea began her Master's degree at the University of Victoria in 2018 while working for the Indigenous Academic and Community Engagement office and transferred to the PhD program in 2020 in order to conduct research close to her heart and community. 
Dorothea comes from a large family of Coast Salish artists with strong ties to their culture. Dorothea has five children, eight grandchildren, and numerous nieces and nephews. She comes from a family of artists; her father is a Master Carver who revitalized his art in the 1980s by visiting museums. In addition, Dorothea's sisters own Ay Lelum, a clothing and fashion company that features traditional Coast Salish designs. 
Decolonization is the process of deconstructing colonial ideologies of the superiority and privilege of Western thought and approaches… [it] is the process of examining your beliefs about Indigenous Peoples and culture by learning about… the communities where you live.

— Cull et al. (2018, p. 7)
Throughout her career working with Indigenous communities and within her own family, Dorothea saw the barriers faced by Indigenous students attending post-secondary institutions on Vancouver Island. Particularly, Dorothea noticed that the universities and colleges on Coast Salish territory were not effectively serving the Coast Salish community. Her doctoral research focuses on the impacts of post-secondary education, both positive and negative, on Coast Salish students. She was recently awarded Vanier funding for her research. 
Beginning in 2018, Dorothea worked as the Indigenous Initiatives Coordinator at the University of Victoria. Currently, Dorothea is working as a project manager for the Associate Vice-President Indigenous, Robina Thomas, overseeing UVic's Indigenous Plan, as well as other projects. Her professional and academic careers closely align with each other with a common goal of decolonizing and Indigenizing academia.
Recent publications
Harris, D. (in press). Indigenous feminist aesthetic work as cultural revitalisation: Facilitating uy'skwuluwun. In D. E. Clover, K. Sanford & K. Harman (Eds.), Feminism, adult education and creative possibility: Imaginative responses. Bloomsbury Publishing.
Ryan, P. & Harris, D. (2021). World virtual Indigenous Circle on open science and the decolonization of knowledge [Summary of Nov. 12, 2020, webinar]. Canadian Commission for UNESCO. https://en.ccunesco.ca/
Morgan M., de Finney, S., Cardinal, S. W., Tenning, J., Haiyupis, P., Gilpin, E., Harris, D., MacLeod, A. & Claxton, N (2020).  ȻENTOL TŦE TEṈEW̱ (Together with the land): Part 1: Indigenous land- and water-based pedagogies. International Journal of Child, Youth & Family Studies 11(3), 12-33. https://journals.uvic.ca/index.php/ijcyfs/index
Harris, D. (2020). Good mind and heart: Facilitating Indigenous feminist aesthetic work. In D. E. Clover, S. Dzulkifli, H. Gelderman & K. Sanford (Eds.), Feminist Adult Educators' Guide to Aesthetic, Creative and Disruptive Strategies in Museums and Community (pp. 279-287). University of Victoria Gender Justice, Creative Pedagogies and Arts-Based Research Group. https://onlineacademiccommunity.uvic.ca/comarts/