Opioid Dialogues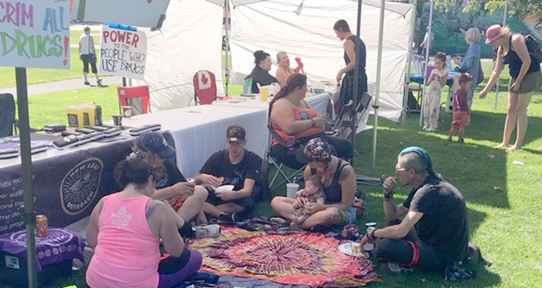 Dialogue is a method of communication that involves two-way conversation in which people not only speak but also really listen to one another. This kind of listening involves empathy. Each partner in a dialogue is curious about the experiences of the other partners – about their assumptions, beliefs and values. The goal is to leave the conversation with a better understanding.
Using dialogue to address the opioid crisis means far more than simply talking about drugs. After all, addiction is not simply about drugs but results from a breakdown in the fabric or connectedness of human community. Dialogue needs to help us understand each other and build social relationships that support individual needs, preferences and autonomy. The breakdown of this integration of the community and all its members is at the root of addiction. Dialogue is an important tool in re-building this integration.
Dialogue Highlights
There is definitely a buzz in Chilliwack about the most sustained dialogue project created through this project. New Matrix Meals has demonstrated that changing minds often involves engaging people with diverse views in safe contexts often involving food. In a new video about the project,  produced by the Sto:lo Service Agency, one participant says, "The conversation was genuine and heart-felt so it was easy to share…easy to participate."
A police officer and a parent sitting at the same table told each other stories about how the opioid crisis affected them. "Both parties got to share their sides and then they both admitted to how hard it must be to be on the other side of things."
In a town of citizens "numbed" by the opioid problem, a coalition brought people with diverse views and backgrounds together through meal sharing and even poker games. "Dialogue is about a suspension of judgment that helps us to listen to each other. It's about a new way of seeing each other."
Event organizers who invited diverse people to tell their stories through photography, followed by conversations with visitors, were impressed by "how easily the community came together and interacted with each other." They were also struck by how proud people were to be invited into such a creative conversation around drug use, "and that included health care providers and people who have experience with opiates."
At the end of a large community dialogue, "the energy in the room of over 100 participants had shifted from 'You need to do something about the needles' to 'What role can I play?'"
See more in our Opioid Dialogues photo album.
Abbotsford Fentanyl Working Group
Agassiz-Harrison Healthy Communities Committee
Burnaby Task Force on Homelessness

District of Mission

F

raser Northwest LAT (Tri-Cities)
Hope Community Coalition
Langley Opioid Response Collaborative
Lower Fraser Valley Aboriginal Society(Langley) 
Lower Mainland Purpose Society  (New Westminster)
Maple Ridge Opioid Overdose Response Team
Matsqui Abbotsford Impact Society (part of Abbotsford Fentanyl Working Group)
Overdose Community Action Team (Sto:lo First Nation)
Pacific Community Resources Society (Chilliwack)
Sources Community Resources (White Rock)
Surrey North Delta LAT
Surrey Vulnerable Women and Girls Working Group 
Video: Moments to Milestones: Engaging with People who Use Substances (Fraser Health)
Addiction Matters Kamloops 
Bridge Youth & Family Services Society (Kelowna)
Boundary LAT (Grand Forks)
Canadian Mental Health Association (Vernon)
City of Revelstoke
Downtown Vernon Association
Interior Health FNHA (Penticton)
Nelson Fentanyl Task Force
Social Planning Council for the North Okanagan (Vernon)
Canadian Students for Sensible Drug Policy (Vancouver, Kelowna)
Metro Vancouver Aboriginal Executive Council Urban Indigenous Overdose Task Force (Vancouver)
PHS Community Services Society (Vancouver, Victoria)
Powell River SUSTAIN
Richmond Addiction Services Society
Sea to Sky Community Services (Squamish)
Sunshine Coast LAT (Sechelt)
Cool Aid Society (Victoria)
Discovery SMART (Victoria)
The Foundry (Victoria)
Nanaimo Community Action Team
Oceanside Public Health Services (Parksville)
Our Cowichan Communities Health Network (Duncan)
People for a Healthy Community on Gabriola Island Society
Port Alberni Shelter Society
Sacred Wolf Friendship Centre (Port Hardy)
Salt Spring and Southern Gulf Islands Community Services  Society (Ganges)
South Island Community Overdose Response Network (Victoria)
Tillicum Lelum Aboriginal Friendship Centre (Nanaimo)
Umbrella Society (Victoria)
VIU Child and Youth Care Program Centre for Community Outreach and Care (Nanaimo)
Haida Gwaii LAT (Queen Charlotte)

Positive Living North (Dawson Creek)

Positive Living North (Smithers, Prince George)
Saik'uz First Nation and Vanderhoof RCMP
Urban Matters (Fort St. John)
Opioid Dialogues: Sample "stories of change"
Note: Sometimes grantees submit or tell us stories that we turn into articles to send to the funder, the Ministry of Public Safety & Solicitor General.
Examples include:
"Our Cowichan Communities Health Network, together with various partners, hosted an event at which people were separated into groups of 10 and encouraged to share their fears and concerns about the current opioid situation. Tables of service providers, members of the business community, parents and other stakeholders participated in a series of conversations before re-grouping to talk about what they had learned. At the end of the evening, the energy in the room of over 100 participants had shifted from 'You need to do something about the needles' to 'What role can I play?' and 'I learned a lot because this problem belongs to our communities.'"
-Cindy Lise, Our Cowichan Healthy Communities Network
"I was pleasantly surprised at one table after hearing a mother talk about how badly the police officers had acted when she called 911 on her son who wanted to harm himself. A gentleman was sitting at the table who disclosed he is a police officer and then went on to apologize to the mother for what had happened. Both parties got to share their sides and then they both admitted to how hard it must be to be on the other side of things. Neither party defended their position or tried to make the other agree with them or change their mind."
-A member of the Surrey North Delta Local Action Team commenting on how dialogue had increased a respectful understanding between community members
"We have selected 3 coffee shops on the island, one in the south, one in the north, and one in town, and have been sitting at them every Friday morning from 9am-12pm (in rotation) with a fresh pot of coffee and snacks to share with whomever joins us. Our ultimate goal is for those who join to walk away having a better understanding of self, and another."
"In our time thus far, we have connected with a variety of folks of different ages, genders and those with similar and contrasting experiences and perspectives. We have had the opportunity to listen, and observe the shift in others as they listen to stories and have a greater empathetic understanding, regardless of whether they see eye-to-eye on moving forward."
-Angela Koetzle, Salt Spring and Southern Gulf Islands Community Services Society (SSICS)
"One of the best things that has happened is that stigma is being addressed and people are seeming to hear other people. I've heard so many stories from people 1:1 it's just unbelievable. Then I tell people there is NO us and them, there really is only us in this situation."
-Rhonda Jackman, Sunshine Coast LAT
"There was a lively and reflective conversation that ensued that seemed to indicate a willingness to ripple this awareness out to fellow colleagues to embrace a way of being that conveys care and dignity to people who use substances. Although we did not have a formal evaluation to all the feedback has been highly positive and the attendance was as much as I could have dreamed."
-George Passmore, Sources Surrey White Rock, commenting on November 16 dialogue involving first service providers and people with lived experience.
"There's been a shift in our community. There's a feeling of more acceptance. Even on social media we have noticed a difference in attitudes about people who use drugs. We have more allies now."
-Maple Ridge Opioid Overdose Response Task Group, reflecting on their dialogue efforts, in combination with other community initiatives
CISUR administers funds provided by the Ministry of Public Safety and Solicitor General as part of the province's commitment under the Joint Task Force on Overdose Response to support community dialogues that will increase understanding and community capacity to act collectively in addressing the overdose crisis.
Related projects
Researchers
Dan Reist (principal)
Pankratz, Nicole (project coordinator)