The International Model of Alcohol Harms and Policies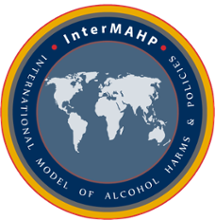 The International Model of Alcohol Harms and Policies (InterMAHP) is an open access alcohol harms estimator and policy scenario modeler. It includes an internet-based visual interface, as well as a comprehensive set of guidelines, methods and manuals towards the goal of standardizing and automating the calculation and application of alcohol attributable fractions (AAFs) globally. The intention is that it will be used by international alcohol research teams to assist in alcohol harms estimation and alcohol policy scenario modeling.
Free to use, the InterMAHP suite is complete with a comprehensive guide describing the process of estimating alcohol harms and the complete methods used to calculate InterMAHP AAFs. A dynamic interface allows for regional customization within the framework of the modern AAF formulation.
InterMAHP will begin to provide the international alcohol epidemiology community with a standard set of methodologies which, when adopted by a critical number of researchers, will result in more comparable estimates across global jurisdictions. This updated version provides teams with the ability to estimate changes in AA harms occurring following enacted or potential alcohol policy changes. InterMAHP may increase the accessibility and adoptability of these methods to more regions worldwide.
Version 2.0 | October 2018
InterMAHP in the News