The International Model of Alcohol Harms and Policies (InterMAHP)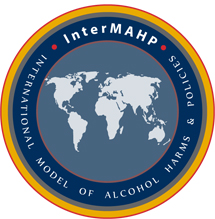 The International Model of Alcohol Harms and Policies (InterMAHP) is an open access alcohol harms estimator and policy scenario modeler. It's composed of an online interface and comprehensive methods towards the goal of automating the calculation of alcohol-attributable fractions (AAFs) globally.
InterMAHP provides teams in alcohol epidemiology with an internationally standardized set of core methodologies, yet allows for dynamic regional customization based on patterns of drinking and alcohol use. Versions 3.0 and 2.1 below provide teams with the ability to estimate changes in alcohol-caused health harms following alcohol policy changes, whether enacted or potential.
Version 3.0. This new release internalizes three relative risk function libraries – the curves which describe the dose-response relationship between alcohol use and the risk of each alcohol-related condition and injury.  All previous functionality is maintained. Teams may now choose between the following RR libraries:
World Health Organization 2018 Global Status Report on Alcohol and Health
Institute of Heath Metrics and Evaluation 2016 Global Burden of Disease
CISUR/CCSA 2017 Canadian Substance Use Costs and Harms Project
Version 2.1. We maintain this version for teams who wish to preserve consistency in InterMAHP estimation; e.g. to create annual time series using identical methodology. There is one fix from V2.0, wherein an error in consumption allocation to gender-age groups was repaired. Thanks are due to Pia Mäkelä for her assistance.
InterMAHP in the news
InterMAHP publications
Researchers
Dr. Jürgen Rehm
Dorocicz, J.
Dr. Kevin Shield