Northern Territories Alcohol Labels Study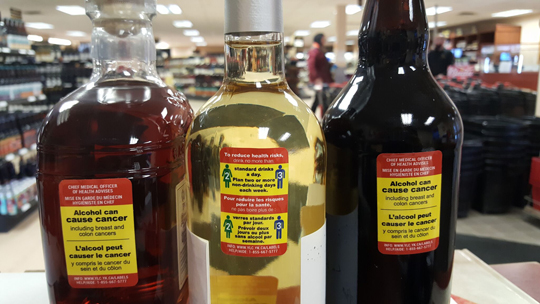 CISUR and Public Health Ontario (PHO) are leading the first real-world evaluation of alcohol warning labels in Canada. Also known as "An evaluation of an alcohol labelling intervention to raise awareness of health harms, low-risk drinking guidelines and standard drink contents of alcohol containers: a comparison of two northern Canadian cities," this project, led by Erin Hobin (PI) and Tim Stockwell (Co-PI), will test the population-level will test the population-level impact of alcohol warning labels using alcohol sales data and surveys in an intervention site (Whitehorse, Yukon) and control site (Yellowknife, Northwest Territories). Results will inform policy options for alcohol labelling in Yukon and could set the stage for wider implementation across Canada. This study builds on previous research testing the design and acceptability of alcohol warning labels among consumers in Canada.
Read the November 2017 intervention launch media release.
Read our two recent articles published in a special issue on alcohol warning labels in Alcohol and Alcoholism.
Previous CISUR research on alcohol labeling included a study looking at whether standard drink labels helped drinkers stay within Canada's Low Risk Drinking Guidelines. Read the media release and 2014 article published in Addiction Research and Theory. A short video about standard drink labeling is available here.
Also known as the Northern Territories Alcohol Labels Study, this study is based on four years of preliminary research in Ontario, BC and the Yukon, and looks to evaluate the impacts on awareness, knowledge and behaviour of alcohol consumers of a labelling intervention implemented in the Whitehorse, Yukon government liquor store in comparison with the two government liquor stores in Yellowknife, Northwest Territories. Baseline surveys were conducted in early summer of 2017 and the intervention began in November of that year. The first labels introduced them provided health warnings, specifically of cancer risk, and also the low-risk drinking guidelines. A third label providing information about the standard drink contents of alcohol containers was introduced in May, 2018.
The intervention was abruptly halted by the Yukon Liquor Corporation in late December in response to concerns raised by representatives of the beer, wine and spirits industries in Canada. A compromise arrangement was eventually agreed involving the study continuing but without warnings of cancer risk. Follow-up surveys were conducted in February and March and will again in June and July of 2018. Data analyses are underway.
Health Canada, Substance Use and Addictions Program
Baseline report available soon.
Researchers
Erin Hobin (PI)
Dr. Tim Stockwell (Co-PI)
Hammond, D.
Greenfield, T.
Paradis, C.
Manson, H.
Rosella, L.
Shokar, S.
Schoueri-Mychasiw, N.
McGavock, J.