Alcohol warning labels about cancer risk a Canadian first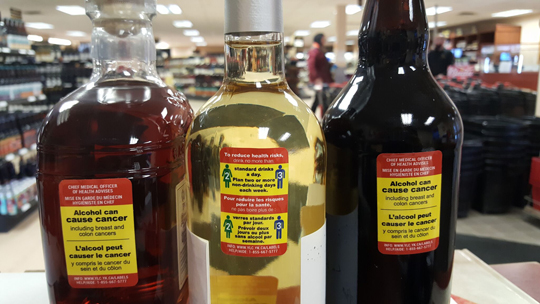 Starting today, warning labels cautioning consumers about the link between alcohol use and an increased risk of breast and colon cancer will be applied to all bottles and cans sold at the Whitehorse liquor store. This specific labelling, part of the Northern Territories Alcohol study led by the University of Victoria's Canadian Institute for Substance Use Research (CISUR, formerly CARBC) and Public Health Ontario (PHO), is a first for Canada.
We commend the Yukon Liquor Corporation for having the courage to be the first jurisdiction in Canada to provide more detailed labels for its residents
CISUR director Tim Stockwell,
one of the project's co-investigators
Researchers say that findings from this study will provide results that government and other public health practitioners can use to inform current and future alcohol harm reduction strategies in communities in Yukon as well as in other jurisdictions in Canada.     
The comprehensive labels give details of Canada's low-risk drinking guidelines as well as cancer risks. 
Read the full UVic media release
---
Additional Information

CISUR-led research studies on alcohol labelling:
Hobin, E., Vallance, K., Zuo, F., Stockwell, T., Rosella, L., Simniceanu, A., ... & Hammond, D. (2017). Testing the Efficacy of Alcohol Labels with Standard Drink Information and National Drinking Guidelines on Consumers' Ability to Estimate Alcohol Consumption. Alcohol and alcoholism, 1-9.
Vallance, K., Romanovska, I., Stockwell, T., Hammond, D., Rosella, L., & Hobin, E. (2017). "We Have a Right to Know": Exploring Consumer Opinions on Content, Design and Acceptability of Enhanced Alcohol Labels. Alcohol and Alcoholism, 1-6.
---
News coverage: