William A. W. Neilson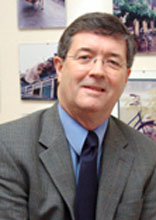 Position
Director Emeritus, July 1992 - June 2004
Credentials
BCom (Toronto), LLB (UBC), LLM (Harvard)
Bill Neilson was the Director of the Centre between 1992 and 2004 and also its Law Chair from 1996 to 2004.  He retired as Professor Emeritus of Law in July 2004.
Beginning in the mid-1980s, Bill Neilson has been engaged in a variety of initiatives in the Asia-Pacific region involving law reform, institution building, legal research, comparative law and legal education in subject areas including governance principles, rule of law, judicial reform, constitutional review, public legal rights, and competition and trade law. His work has taken him to Malaysia, Thailand, Indonesia, Laos, Vietnam, Cambodia, China, Singapore, Fiji, Papua New Guinea, Japan, Taiwan and Australia.
A graduate of Toronto, UBC and Harvard, he was a faculty member at Osgoode Hall Law School, York University and the founding Deputy Minister of Consumer Services in British Columbia before joining the University of Victoria Law School in l977 where he served as Dean of the Faculty from l985-90.  He continues to publish on comparative law subjects and maintains an active research and advisory program in the Asia-Pacific region.