Jamie Cassels Undergraduate Research Awards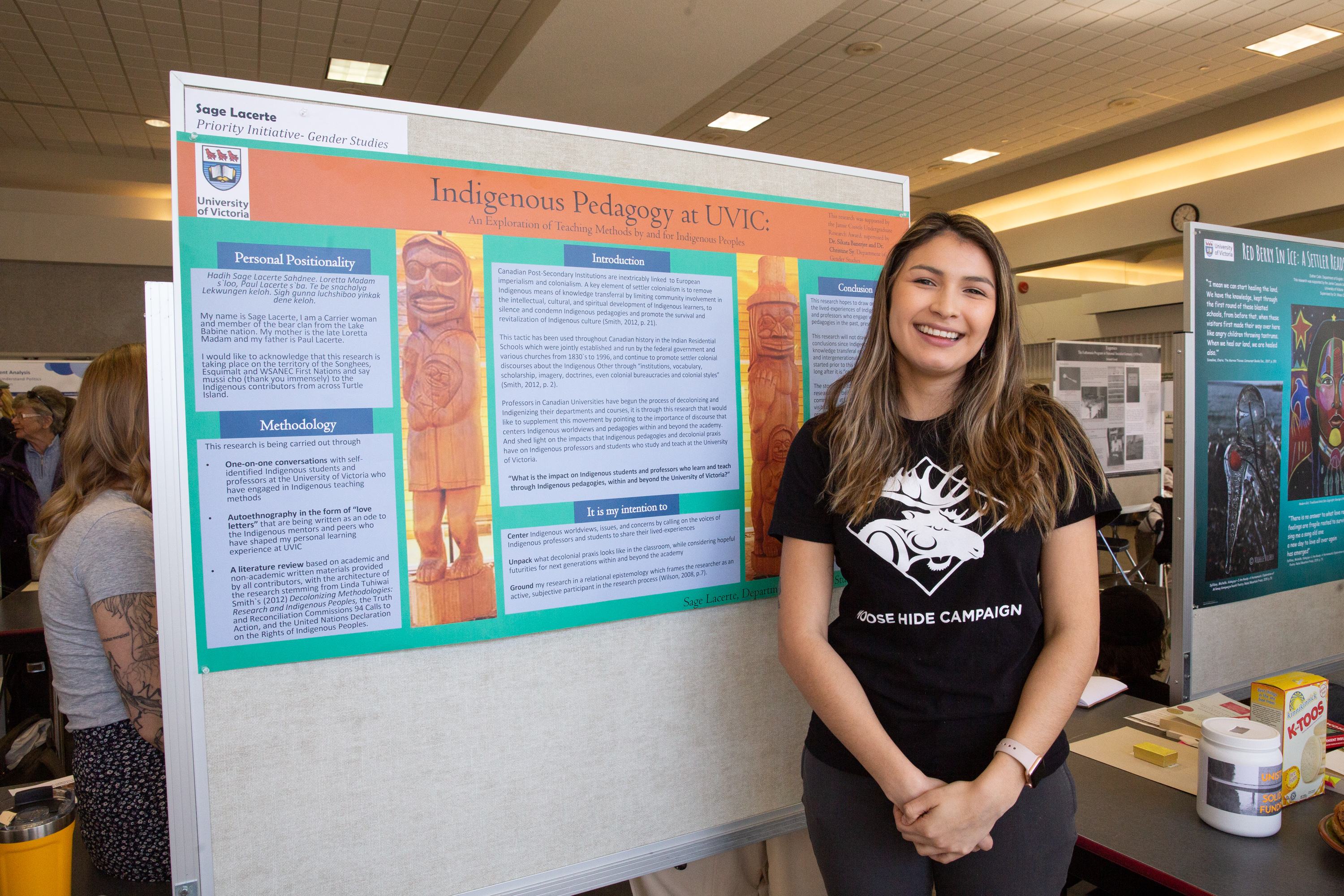 The Jamie Cassels Undergraduate Research Awards (JCURA) program was established in 2009-2010 by the Vice-President Academic and Provost.
The goal of this award is to encourage undergraduates to pursue innovative and original research to enhance their learning while at the University of Victoria and to provide a valuable preparatory experience towards graduate studies or a research related career. The Division of Learning and Teaching Support and Innovation (LTSI) administers the award process on behalf of the Provost's Office.
JCURA is directed at undergraduate students from all disciplines and who meet the following eligibility requirements:
full-time third or fourth year undergraduate student (normally registered in 12 or more units of study in the winter session)
excellent academic standing (normally with a minimum sessional GPA of 7.0)
satisfy the general regulations of Student Awards and Financial Aid
This award experience allows students to be mentored by a faculty supervisor. Each academic unit is eligible for one to three student nominations per year, depending on the number of students in the unit.
Successful student applicants receive $1,500 credited directly to their UVic fee account.

The final deadline date for the LTSI to receive nominations from the faculty/department/school is July 31st each year.
Faculties/departments/schools are asked to submit all their unit's eligible number of nominations at the same time. Nominations will be processed and notifications will be made by August 31st.


General and financial questions
General questions concerning the Jamie Cassels Undergraduate Research Awards should be directed to the LTSI.
Financial and related questions (for example regarding distribution of funds) after the award has been approved should be directed to the Scholarship Officer or 250-721-8107.
| Student | Department | Project title |
| --- | --- | --- |
| Akyürek, Maren | Public Health and Social Policy | Challenges LGBTQ2SI+ folx face while undergoing fertility treatment when trying to conceive |
| Anderson, Sophia | History | Palestinian Female Suicide Bombers in the Al-Aqsa Intifada and Israeli Perceptions of Femininity and Conflict |
| Armstrong, Thomas | Health Information Science | Lessons Learned from the South: What can British Columbia Learn from Cuba's National eHealth Strategy |
| Bartsch, Bryce | Pacific and Asian Studies | Identity Formation within a Democratized Taiwan |
| Beckwith, Juliet | Gender Studies | The Future of Victoria's Food Supply |
| Bouillon, Carlee | Writing | A Poetic Comparison Game: Where Nonfiction and Poetry Meet on the Page |
| Braithwaite, Tamarah | Nursing | File of Uncertainties |
| Brandfors, Anna | Art History and Visual Studies | Beheading the Buddha: Social and Artistic Trauma from Looting |
| Brewer, Shayla | Geography | Co-Management in the Capital Regional District: Archival Analysis of Raising the Sooke Lake Reservoir |
| Brown, Maryjane | Philosophy | Mises' Logic of Wanting: An Examination of Purpose and Value in Human Action |
| Bueckert, Max | Civil Engineering | Surface Coating to Mitigate COVID-19 Transmission |
| Chappelka, Linnet | Germanic and Slavic Studies | Rückenfigur and Romanticism: Caspar David Friedrich's Portraits of Landscapes and German Identity |
| Comeau, Nathaniel | Computer Science | Improving scientific image resolution with AI |
| Crabbe, Sophia | Theatre | A Very YouTube Musical: Team Starkid and Accessible Theatre Made For The Internet Age |
| Crow, Meaghan | Visual Arts | An Exploration of Human Energy in Painting |
| Dalke, Trisha | Art History and Visual Studies | The Perception of Texture: How Artworks Stimulate the Haptic Experience of the Viewer |
| Dean, Carleigh | Hispanic and Italian Studies | A Universal Model for the Integration of Refugees – The Venezuelan Experience |
| DeVries, Mieke | Writing | Writing the Body: Female and Queer Writers Using Experimental Creative Non-Fiction |
| Dingwall, Jacob | Earth and Ocean Sciences | Physical and anthropogenic drivers of underwater noise in the Amundsen Gulf, NWT |
| Dissanayake, Dushanthi | Biochemistry and Microbiology | Role of rare codons in the coding region of protein signal peptides |
| Dunn-Krahn, Soph | Medieval Studies | Gender Transgressive Figures in Medieval and Early Modern Texts |
| Elgammal, Hala | Curriculum and Instruction | The Power of Stories: Using Narratives to Teach the Social Studies Curriculum |
| Ethier, Justine | Latin American Studies | Indigenous Education as Decolonization |
| Farr, Chloë | Linguistics | Assessing Virtual Reality Environments' Influence on Language Learners' Acquisition of Unfamiliar Sounds |
| Frederiksen, Lindsey | Chemistry | The birth of a nanoparticle |
| Freeman, Cole | Sociology | Modernity's slow decline: Sociological Implications of New Social Movements |
| Funk, Natasha | Biochemistry and Microbiology | The Interaction between the MAF1b Protein from Toxoplasma gondii and its Host during Infection |
| Gage, Josh | Physics and Astronomy | Optical and Thermal Design and Development of a Nanosatellite Photometric Reference Calibrator |
| Gagliano, Giulia | Political Science | The Imagined Community versus the Immigrant Other: The Intersection of the Discourses of Gender and Race in the Political Mobilization of the Nationalist Right Wing in Italy |
| Gillespie, Maiya | Interdisciplinary Academic Programs - Social Justice Studies | The Accessibility of Harm Reduction Services for Street Entrenched Youth in Victoria BC |
| Gogoulis, Athan | Chemistry | Synthesis and Binding Studies of Diborate Clathrochelates Suitable for the Delivery of Medically Important Ions |
| Greentree, Wesley | Biology | Investigation of Salish Sea biogeography from adult Chinook salmon diets |
| Hansen, Ingrid | Anthropology | The Politicization and Appropriation of Symbols by White Supremacists and the Alt-Right |
| Hansen, Rebecca | Biology | Quantifying the extent of mass coral mortality on Kiritimati Island following a marine heatwave |
| Heeg, Mary | Political Science | Examining Google's G Suite for Education as a Surveillance Practice |
| Hobson, Bronwyn | Mathematics and Statistics | Target Reproduction Numbers from Population Projection Matrices Applied to Marine Ecology |
| Jones, Lily | Interdisciplinary Academic Programs - Global Development Studies | The interaction of stigma with legal frameworks in shaping the freedom of sex-workers |
| Joyall, Zoë | Visual Arts | Moving closer, moving apart: a video project on the emotional journey of processing loss and love |
| Kaur, Asees | Mechanical Engineering | Analyzing Biomechanical Effects on RSA Implants Through a Computational Modelling Process |
| Klausen, Mikkel | Medieval Studies | Berserkr as Defined Through the Prose Edda |
| Kovacs, Zoltan | History | Understanding and Positioning the 1956 Hungarian Revolution in History and Memory |
| Krause, Brenna | Geography | Access Without Fear Policies in Canada: Development and Responses |
| Lang, Kristyn | Environmental Studies | Assessing Spatial Change of the Kaskawulsh Glacier Using Historical and Repeat Oblique Photographs |
| Larnder, Aaron | Curriculum and Instruction | 21st Century Teaching Through Live Streaming the Classroom |
| Laycraft, Foster | French | Little Red Riding Hood: The Effects of Time on a Story and its Message |
| Lennam, Natasha | Nursing | Oncology nurses' perspectives on specialist nursing practice with geriatric cancer patients |
| Loeppky, Jon | Economics | Exploring the Assimilation Effects of Out-of-Home Placements on Indigenous Youth in Canada |
| MacNab, Brooke | Pacific and Asian Studies | Depictions of the Chinese 'Other' during COVID-19: Impact on the Asian diaspora in North America |
| Marchessault, Elise | Mathematics and Statistics | Minimum Cost Independent Broadcast on Graphs |
| McDonald-Rogers, MaryClair | Child and Youth Care | Impacts of conflict migration on young peoples' wellness |
| McEachnie, Taylor | Psychology | Early Parental Autonomy Support: Relationship to Diabetes Distress in Type 1 Diabetic Young Adults |
| McIntosh, Declan | Electrical and Computer Engineering | Classification of Chest X-Ray images using compressed images and wavelet analysis |
| Menacho, Charlene | Social Work | Finding Our Way Back |
| Metge, Miranda | Child and Youth Care | Experiences of Forced Migration among Youth in Southeast Asia |
| Mittal, Paarth | Political Science | Extraction, Indigenous Dispossession and State Power: Lessons from Standing Rock and Wet'Suwet'En Resistance |
| Moloney, Erin | Chemistry | Simulation of Bacteria on Surfaces |
| Montgomery, Luke | Greek and Roman Studies | The European Wolf: Representation of Wolves in Roman and Norse Mythology |
| Mullin, Kelby | Psychology | Recovery from Internalized Disability Stigma |
| Mushumanski, Elizabeth | English | Marianne Moore's Queer Legacy |
| Nicholas, Nicole | Nursing | Nurse Navigation to Address Health Equity: Teaching Undergraduate Nursing Students How to Take Action on the Social Determinants of Health |
| Oosterhuis, Jamie | Visual Arts | Understanding the Self through Relation Between Body and Space |
| Ormond, Aidan | Economics | Measuring the Effect of Climate Change on Income Inequality |
| Parmar, Abha-Marie | Music | Diversifying Trumpet Pedagogy Through Traditional Filipino and Indian Melodies |
| Poon, Dorothy | Sociology | Knowledge Mediation and the Immigrant Experience in Victoria, BC: vulnerability, information accessibility, and junctures for empowerment |
| Rea, Kerri | Social Work | A framework for equity-oriented psychedelic-assisted therapies |
| Restan Perez, Milena | Mechanical Engineering | Bioprinting Neural Tissue Models to Study the Affects of SARS-CoV-2 on Brain Function |
| Rowe, Juliet | Exercise Science, Physical and Health Education | Impact of stress and anxiety on contextual updating and feedback learning |
| Rudson, Hannah | Curriculum and Instruction | Analysis and Critical Review of the Use of Digital, Pedagogical Tools in High School Classrooms |
| Russell, Alyssa | Economics | Estimating Optimal Carbon Tax Under a Variety of Possible Emission Pathways |
| Rutherford, Isabelle | Anthropology | Shape variation in the metaphyseal regions of long bones during growth in humans |
| Ryall-Ota, Sonia | Geography | Implementing gender-based impact assessments in BC |
| Scholfield, Bethany | French | The Evolution of the Fairy Tale: The Virtue and Pedagogy of Cinderella/ L'Évolution du conte de fée : la vertu et la pédagogie de Cendrillon |
| Seshadri, Samuel | Economics | A Cost-Effectiveness Analysis of IVF Treatment in Canada |
| Sheikhi, Ronak | Exercise Science, Physical and Health Education | Evaluating the effectiveness of a family-based childhood obesity management program on physical activity levels delivered during the COVID-19 pandemic |
| Shostak, Kate | Educational Psychology and Leadership Studies | The role of self-regulatory competencies in mediating the impact of Covid 19 distress on academic success |
| Shu, Shengjie | Computer Science | Development of a Multipath QUIC Simulator: Analyzing the Performance and Comparing with Current Network Protocols |
| Smith, Veda | Exercise Science, Physical and Health Education | Does the Community Balance and Mobility Scale improve retrospective classification of falls in community dwelling older adults |
| Soetaert, Grayson | Earth and Ocean Sciences | Examining the Relative Influence of ENSO Events and Tides on Deep-Water Renewal in Saanich Inlet |
| Stevenson-Kaplan, Allegra | English | Single Mothers in Victorian Fiction |
| Swanson, Ashleigh | Nursing | Monitoring the implementation of BC's first NP-Led clinic |
| Teel, Elanor | Environmental Studies | Ecological Restoration and Sacredness |
| Thibodeau, Matthew | Civil Engineering | Biofilm Removal, a Green Solu:on: Alterna:ve Chemicals for Trea:ng Reverse Osmosis Membranes |
| Tobin, Finn | Interdisciplinary Academic Programs - Technology and Society | Pedagogical Pivot: Education and the Pandemic |
| Vatcher, Nicole | English | Poetry as Ritual in H.D.'s Trilogy |
| Vishwanath, Vivek | Physics and Astronomy | Library of Shadows Cast by Two Inclined Inner Rings of a Protoplanetary Disk |
| Wagner, Evangeline | Health Information Science | Robotic Technology's' Use in Supporting Those Living with Dementia and their Caregivers |
| Wang, Yiping | Computer Science | Environment Generalization in Multi-Agent Reinforcement Learning for Navigation |
| Ward, Alicia | Germanic and Slavic Studies | Folklore and Ukrainian Canadian Identity |
| Williston, Isobelle | Philosophy | The Moral Status of Loyalty: Limits and Contingencies |
| Wiltse, Jodie | Biology | Insect resistance to parasitic wasps |
| Wu, Xuchen | Mathematics and Statistics | Optimal Design of Network Architecture of Coupled Oscillators |
| Yang, Yang | Sociology | A Comparative Analysis of Discriminatory Gender Attitudes and Violence against Women across Countries |
| Young, Claire | Gender Studies | How do societal constructions of sexual shame and dismissal impact female sexual pleasure, and how does it relate to cultures of sexualized violence? |
| Zhaksybek, Aliya | Linguistics | Analysis of Turkish Impersonal Passives Using Voice and Distributed Morphology |
| Zhou, Sandra | Psychology | Do Friendships Help or Hurt? The Dyadic Effects of Friendship Network Quality on Romantic Relationship Maintenance and Satisfaction |
| Zieniewicz, Natalia | Medical Sciences | Brain Biomarkers in Rats Following Awake-Closed-Head-Injury that are Housed with Running Wheel Post-Injury |
back to top