Tours and visits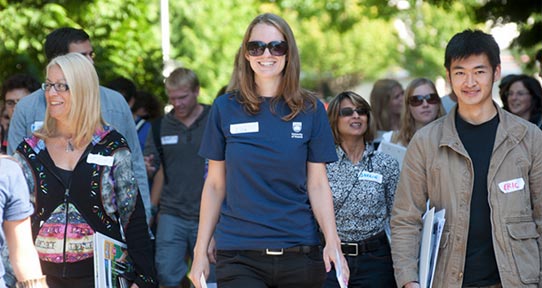 Seeing truly is believing when it comes to getting a feel for UVic and our community. Whether you're an island local or visiting from overseas, we encourage you to check out what's going on at UVic.
If you have questions or would like more information, please contact the UVic Welcome Centre.
---
COVID-19 update
Campus tours have been cancelled through June 2020. Registration remains open for tours in July 2020, but future tours may be cancelled. Tour participants will be notified by email if and when tours are cancelled.
For the most up-to-date information regarding UVic's response to COVID-19, visit uvic.ca/covid-19.
---
Book your spot on one of our daily campus tours, offered from Monday to Saturday at 1:00 p.m.
Organize a group of high school students to see our campus and speak with current UVic students.
Virtual tour
Campus virtual tour