Join our student fundraising team!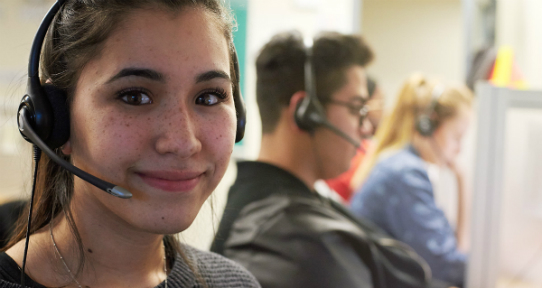 Student Fundraisers hold an extremely important position within the university and gain valuable work experience that will help them throughout their lives.
Through their work with the Student Fundraising Program, students learn to interact with people of all backgrounds and interests, communicate ideas and information clearly, and learn valuable negotiation techniques. Student Fundraisers truly help make a difference at UVic by raising funds for student scholarships, bursaries, and other important UVic priorities.
We offer a fun and exciting team environment, flexible hours, goal-oriented games and incentives, opportunities to network with alumni, and a convenient campus location.
A current student who is proud to be a member of the UVic community and understands the need for support.
A strong oral communicator and sincere listener.
Organized, thorough, and attentive to detail.
A good negotiator with creative problem solving skills (previous fundraising experience is a bonus!).
A team player with an optimistic attitude.
An individual with a professional demeanor as befitting a representative of the University of Victoria
We accept applications year-round, however our primary hiring periods occur at the beginning of each new semester: in September, January and April. If you want to guarantee a spot on our team make sure to apply early!
Please send your current résumé and cover letter to callingprogram@uvic.ca and make sure to include "Student Fundraiser Position" in the subject line.
Please feel free to contact the Annual Giving Coordinator with any of your questions:
Lauren Stamhuis, Annual Giving Coordinator
Phone: 250-721-7637
Email: callingprogram@uvic.ca