Faculty and staff giving
Faculty and staff support shows up in many ways across campus. From generous financial contributions and donated equipment, to the countless hours spent volunteering or mentoring students, UVic would not be the extraordinary place it is without passionate on-campus donors.
Last year, 678 faculty and staff donors contributed more than $261,000 to support students, programs and research.
While your thoughtful donations have an immediate impact on our campus and students, they also create a ripple effect that will touch generations to come.
Join our on-campus giving community
Your gift, no matter the size, can make all the difference to a student in need. Whether you choose to support student scholarships or bursaries, a specific faculty of program, or one of our community outreach programs, you are creating a lasting impact.
Invest in the future of your UVic by making a gift to an area that is meaningful to you.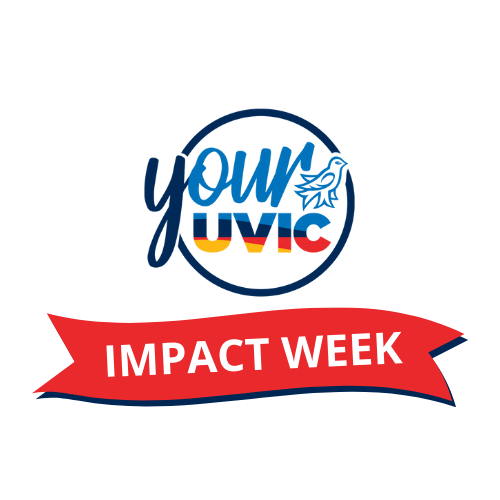 Impact Week: March 14th - 18th
Throughout the week, we celebrate the acts of kindness, generosity, and engagement that make UVic more accessible and enriching. Each day will highlight a different element of philanthropy and will encourage you to learn about, reflect on, and thank those who make a difference at UVic and beyond.
Make sure you don't miss a moment by following UVic's social media channels (Instagram, Facebook, Twitter and TikTok) today for more examples of #YourUVicImpact
---
Want to know how small monthly gifts, spread out over the year, make a BIG impact at UVic?

 
Visit our Monthly Giving Club page to learn more. 
---
Have questions about giving to UVic?
Whether you are passionate about scholarships and bursaries, a specific faculty or program, or one of our community outreach programs, our Campus Community Annual Giving Officer will be happy to help you find the right program or area to create the impact you desire.     
If you have any questions, please contact Danielle Mulligan at 250-472-4498 or givingofficer@uvic.ca. 
---
Are you a UVic grad working on campus?
UVic is proud that one in three of all employees are alumni! Visit our Campus Alumni page to learn more about this growing community.
---
Leave your legacy at UVic
While a charitable bequest in your will may be your most realistic legacy, there are other options that may be better suited to your philanthropic goals, tax plans and financial needs.
If the idea of this type of gift interests you, staff in the UVic's Legacy Giving office can discuss your options. Our goal is to ensure that your legacy is managed and administered according to your wishes. We can work closely with you and your advisors to capture the true spirit and intent of your gift.