Giving Tuesday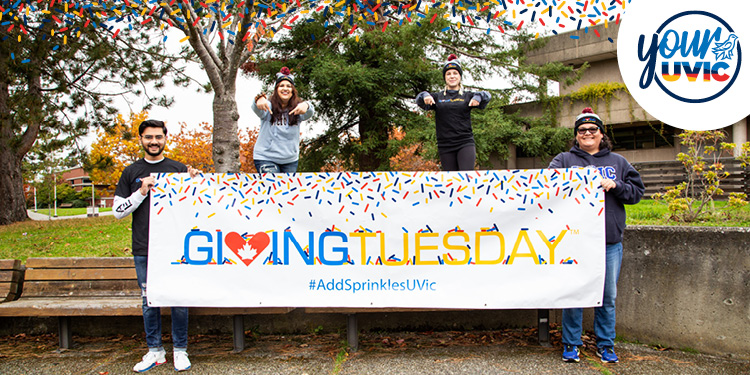 Save the Date for Your UVic's Project Add Sprinkles!
Watch our Giving Tuesday Save the Date video today – you'll see how all the right ingredients, mixed together, add up to create an extraordinary student experience at the University of Victoria. And how Giving Tuesday donations add that special something.
What could make this even sweeter? Every time you share the video, you'll unlock a $2 donation towards the Giving Tuesday priority funds.
What is Your UVic's Project Add Sprinkles?
Giving Tuesday is a global celebration of philanthropy that inspires people to support their favourite causes in any way they can. At UVic, Giving Tuesday is where small acts of philanthropy add up to make a big difference to our campus, students and community - much like sprinkles being added to a cookie or cupcake.
This year, Giving Tuesday will take place on December 1st and, for just 24 hours, the worldwide UVic community will be able to demonstrate their support for the university by giving back and paying it forward in Project Add Sprinkles.
On Giving Tuesday, you will be able to help choose from 20 different funds that range from supporting health and wellness to COVID-19 research, and social justice to community outreach programs. Your donations and participation will help unlock more than $40,000 to sprinkle impact across campus for our students, programs and community. 
Want to learn about how you can support this year's Giving Tuesday? Email givingtuesday@uvic.ca.