About us
Facilities Management is a diverse and dynamic group of professionals. We're dedicated to the provision of support services necessary to promote excellence in the teaching, research and community service activities at the University of Victoria.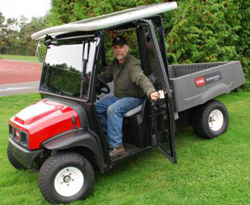 The department has over 300 people with a wide range of qualifications including:
skilled technicians
trades persons
custodians
groundskeepers
mechanics
electricians and carpenters
operating engineers
maintenance professionals
clerical assistants
engineers
architects
technologists
managers and administrators
Reporting structure
Facilities Management reports to the Vice President, Finance and Operations and is led by the Executive Director of Facilities Management. The units—Finance and Administration, Operations, Capital Projects and Customer Service and Program Integration—report directly the Executive Director. For a full overview of the department, please see the Facilities Management organization chart (PDF).
Responsibilities
All units are responsible for the stewardship of the university's lands and buildings. Responsibilities include:
development of new buildings
maintenance, operation and renovation of buildings, grounds and utility systems
support for accessibility initiatives
space inventory record keeping
support for sustainability initiatives across campus
We provide these services for 397,061 square meters of campus, 162 hectares of land, serving approximately 19,000 students.
As stewards of the campus, we foster and enrich an inviting and functional environment that welcomes and supports all who come here.
Our core values:
Openness and collaboration
Pride, integrity, honesty and respect
Service excellence
Innovation and adaptability
Healthy, positive and sustainable environment
Welcome to the Facilities Management site. Here you will learn about the many services we provide and the resources available to you in support of your activities at UVic and in support of the mission of the university. Our objective is to be an excellent facility management organization, we will strive to:
Effectively manage university resources
Provide client focused service and support
Communicate professionally and effectively
Engage university and community stakeholders
Provide outstanding stewardship of the campus environment
Hold high standards for professional and personal accountability
We welcome your feedback. It will help us improve our organization.


Facilities Management
University of Victoria
Tel: 250-721-7592