Internal communications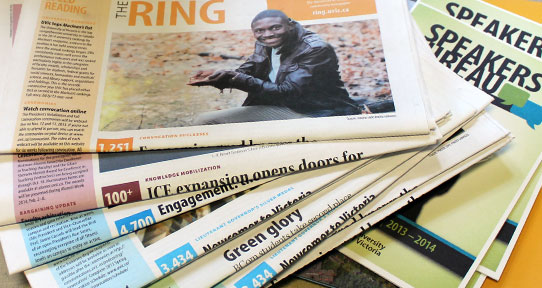 We build, using a variety of means and communications techniques, a sense of community and common purpose within the university, a keen understanding of what sets UVic apart, an awareness of and pride in what UVic and its students, faculty and staff have accomplished, and an understanding of the role each community member can play in the advancement of the university.
We also produce and support the creation of publications that help differentiate UVic from its competitors and to build awareness of the university's accomplishments in support of UVic's strategic objectives and goals for support.
Key functions
University positioning and public reporting/accountability publications
The Ring university newspaper (print and online)
Emergency communications
Eight issues of The Ring are distributed annually.
Contact us
For questions related to the Ring:
Publications Officer
Email: ring@uvic.ca
Phone: 250-721-6022
Fax: 250-721-8955
Questions related to the Campus Checklist can be emailed to checklist@uvic.ca.

---
For questions related to the digital signage program:
Digital Signage Coordinator
Email: akaiser@uvic.ca
Phone: 250-721-6274
Web: uvic.ca/digicaster
---
For questions related to the Speakers Bureau:
Speakers Bureau
Email: speakers@uvic.ca
Phone: 250-721-8587
Web: uvic.ca/speakersbureau