Websites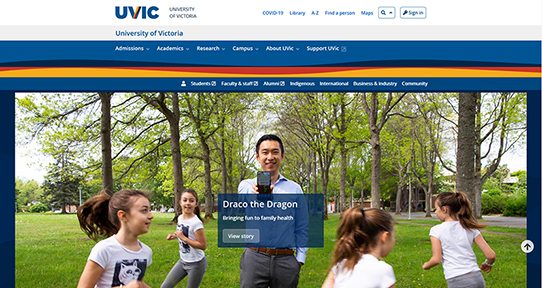 Your online presence is a key part of your communications strategy. We can help you make it the most effective tool for the audiences you need to reach.
We use digital communication channels (including web, video, and social media) to build and strengthen relationships between UVic and its key audiences.
We'll help you communicate what makes UVic unique, and how to represent the UVic Edge on your website.
Key functions
Managing UVic's home page and central web presence according to industry best practices in accessibility, search engine optimization, and user experience
Leadership in and responsibility/accountability for the university's internet communications strategies and web system
Campus-wide social media leadership planning and strategies and development of primary social media channels
Direction and guidance to and support for decentralized web resources on campus
Continuous improvement of UVic's web template design and functionality
Coordinating large web projects and providing support with web best practices and UVic's content management system (CMS), Cascade.
Contact us
Please contact us or visit our website for any web-related questions.