Jes Scott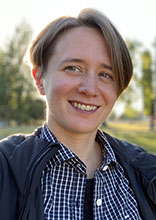 Position
Senior Social Media Officer
Department & Digital Strategies
Credentials
BSc (Penn State), MA (SFU)
Contact
Office: SED C121
As the Senior Social Media Officer, I lead the development and implementation of the university's social media strategy. I also provide support to UVic departments who are looking to use social media more strategically.

I work with Strategic Marketing to develop and implement institutional-level, strategic social media marketing campaigns. These campaigns support student recruitment as well as reputational advancement.
I provide leadership and guidance on critical issue communications as it relates to social media and other digital platforms. During an emergency, I am part of UVic's Emergency Operations Centre and I coordinate flow of information on social media platforms.
I also supervise the Social Media Coordinator, who is responsible for social-first content development, community management and monitoring, and analytics.
I have a technical background and studied computer science and business during my undergraduate studies. I made the transition to communications over a decade ago and have also completed master's degree in communication. I am energized by working with great teams and helping people grow in their careers. I've worked at UVic since 2006.