Jolene Lowey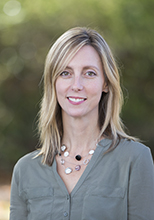 Position
Manager
Creative Development
Contact
Office: DTB B345a
My job is to grow ideas, and to ensure those ideas become messages that are meaningful to specific audiences and authentic to the University of Victoria.
I work with a talented bunch of graphic designers, photographers and videographers to tell our stories through various media.
My goal is to create a culture of creativity. Working closely with the department's Strategic Marketing team, I provide creative strategy for campaigns and collateral. I ensure that creative development is considered in the many modes of communication UVic uses to speak to our internal and external audiences. But don't be fooled by the language, this job isn't all glamour; it's everything from typing my way through creative briefs, to wearing a neck brace and helmet cam in frigid waters, to researching the shiniest types of salmon on the west coast. It's also fun.