Ali Baggott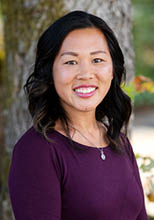 Position
Manager, Digital Media
Digital Media Team
Credentials
BSc '11 (UVic), MEd '21 (UVic)
Contact
Office: SED C164
I am part of the Department & Digital Strategies team and work very closely with the UVic Social Media Officer to execute the university's social media strategies. I am responsible for social-first content development, community management and monitoring, and analytics.
I spend a good part of my day online managing UVic's social media accounts. I share articles on Facebook, respond to tweets and post students' photos on Instagram. 
Our social media accounts need to tell the UVic story. Why choose to study here or partner with us? What makes us special? I use the UVic Edge brand when deciding what to post.
I am working to build a collaborative, supportive environment for UVic social media managers. (There are over 300+ accounts at UVic!) Who are UVic's main audiences? What do we want them to know? I am teaching workshops, providing written guidelines and building relationships to encourage strategic planning.
Another part of my role is monitoring social media for discussions about UVic. This is an important part of reputation management.
I also support in the university's response on social media in case of an emergency.
Previous to my time at UC+M I spent 8 years running the communications and sports information portfolio on the other side of campus with Vikes Athletics and Recreation.