Connect to UVic using Windows 8.1
After the initial configuration, you should automatically connect to UVic when you are using UVic's wireless network.
1.  Before you start this procedure, ensure the following:
Your wireless card and its drivers have been installed and you have rebooted your laptop since the installation.
Your laptop is powered on and booted up.
You are in an area with wireless coverage.
Your computer's wireless switch or button is turned on.
You have a NetLink ID and password.
You are using Windows, and not a third-party application, to manage your wireless connections
2. Hover your mouse on the right side of your screen until a black drop menu appears and click on the Settings icon.


2.  Then click on the network icon.


3.  Or, as an alternative, click on the
network icon
at the bottom of the screen.
4.  Click on the UVic network.


5.  Check the "Connect automatically box" then click on Connect.


6.  Enter your Netlink ID and password and click OK.


7.  Depending on which system you are using, a security alert will appear either on the side of your screen or as its own window.  Click on Connect.


8.  You are now connecting to the UVic wireless network.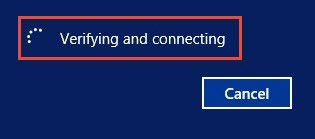 9.  And will see that the connection was successful.