Campus Event and Conference Management
ePly Online Event Registration has been chosen as the pre-qualified Event Registration solution for UVic. The system will allow Event Planners to build their own online forms for registering attendees and managing data for events ranging from small meetings and workshops to multi-day conferences, without any programming or special skills. There is also the option to have ePly staff build your registration forms for you, for an additional cost based on your requirements.
Who can use this service?
Departments
Faculty
Staff
How do I request or access this service?
Contact ePly to get a quote - https://www.eply.com/pricing/ - if you would like ePly to set the event up for you, this will cost extra.
Complete the Event questionnaire and send it to banking@uvic.ca; they will provide additional instruction on collecting payments. Please note that all credit and debit card payments for registration fees will be processed in Canadian dollars only.
If under $2,500 your C Card can be used to pay the fees. Otherwise, attach the quote to a Web Requisition and send it to Purchasing.
Purchasing will approve your WebReq, and the FAST approver for your area.
After receiving approval, contact ePly, accept quote.
Client/ePly will set up the event.
Event ends.
ePly invoices event owner.
The answers to the Event questionnaire above will influence your decisions on the services you need to engage for your event. For example, if your event is free to participants you will not need to worry about collecting and processing payments, but you will still likely need to determine the FAST account for expenses. Accounting Services will determine the payment processing solution for your event based on the Event Questionnaire, all other event planning and management responsibilities belong to the sponsoring department.
Contact ePly, advise them that you are from University of Victoria, and you would like to set up an event.
If you would like them to set up the event for you, costs may apply, depending on complexity of the event.
Set up the event. Before making your free event Live, please ensure the billing is set to $0 per registrant and if not, contact ePly Support to have them adjust it.
Event closes.
Accounting for your event:
Revenue and expenses must be reported in the University financial statements.
If the event is significant in number of transactions or dollars, a separate FAST account is recommended.
For more detailed information see Accounting for department sponsored events.
What is the cost for this service?
Paid events: Costs can vary per event, please contact ePly for a quotation.
Free events: No cost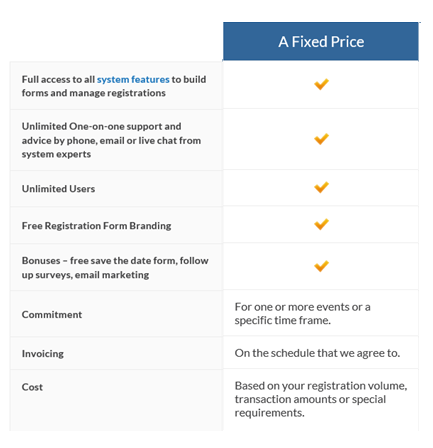 Credit card processing costs:
Financial Services will charge a fee of 2% of registration fees for events using the Accounting Services Conference merchant account.
ePly will charge the client hosting the related event(s):
A one-time integration charge $125.00 per merchant account integrated. Not applicable to areas utilizing the Accounting Services Conference account.
1% of the amount processed through the account by credit card unless otherwise quoted by ePly.
Moneris merchant account costs (if using own merchant account):
E-commerce merchant account is $21.00 a month plus
Credit card fees (approx. 2% of the amount processed)
* All prices in Canadian dollars.
* Tax will be added where applicable.
Optional costs:
ePly can build a customized and tested form for you. The cost is based on the complexity of your form. Please contact ePly for a quote on this optional service.
When is this service available?
This ePly platform is available 24 hours a day, 7 days a week to set up and maintain events. Accounting Services is available during regular working hours for Merchant Account inquiries.
How do I get help with this service?
The following support is available for this service:
ePly Support: ePly Live support is available from 7:00AM to 6:00PM PST Monday to Friday excluding holidays. ePly also offers after hours support.
https://www.eply.com/features/eplys-business-practices/
Phone, email and live chat support is available from 7AM to 6PM PST Monday to Friday. Emergency support is available outside of these hours. To reach emergency support call in and you will be routed to the cell phone of someone who can help you.
sales@eply.com
604-484-0585 or 1-800-507-3759
press 2 for support
ePly Support includes Free forms reviews to help spot potential issues.
ePly has an extensive Help catalogue:
Accounting Services will determine the payment processing solution for your event based on the completed Event Questionnaire.
Contact UVic Accounting Services:
Email: banking@uvic.ca
Telephone: 1-250-721-6671