Computer classroom bookings
COVID-19: In response to the COVID-19 situation, we have modified some UVic Computer Help Desk services to ensure the health and safety of our staff, students, and university community, including computing facilities, remote computer lab service, PaperCut Mobility printing, and remote Computer Help Desk support.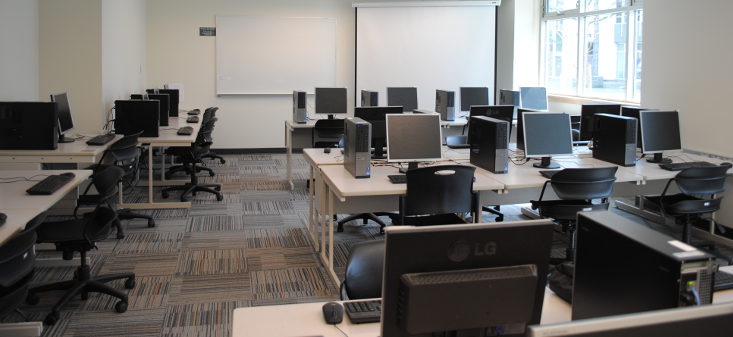 University Systems manages 14 computer classrooms which are available for academic and non-academic bookings by UVic departments. Classrooms range in size from 13 to 54 stations runing Microsoft Windows or macOS and as a variety of software for data analysis, research, and design.
Please log in to use the forms below. 
Credit classes in UVic's academic calendar, including
lectures,
labs,
seminars,
tutorials, and
exams.
Casual academic, non-academic, and external events, such as
Continuing Studies courses,
international business courses,
conferences,
workshops,
drop-in instruction, and
training sessions.
Book now!
External bookings
We may be able to accommodate external bookings, depending on class schedules. For information, contact us at scfbook@uvic.ca.
Questions?
Please contact scfbook@uvic.ca with all enquiries about bookings, hardware and software resources, and fees.