Wireless printing
Install PaperCut client: Mac
Note: If you have already set up your computer for wireless printing at the library, the PaperCut client will already be installed. It is not necessary to install it again to use the printers in other computing facilities. Ensure that the client is running and proceed to add the facility printers.
1.  Before you start this procedure, ensure the following:
Your wireless card and its drivers have been installed and you have rebooted your laptop since the installation.
Your computer is powered on and booted up.
Your computer is running OS X 10.6 (Snow Leopard) or higher.
You are in an area with wireless coverage.
Your computer's wireless switch or button is turned on.
You have a NetLink ID and password.
You must be a current student, faculty, or staff member with a NetLink ID and password.
Your computer must be set up to use the UVic Wireless Network. Please ensure that you are connected to the secure wireless network UVic before proceeding.
You are logged in to your computer with a user account with administrator privileges.
2.  From the Go menu, select Connect to Server...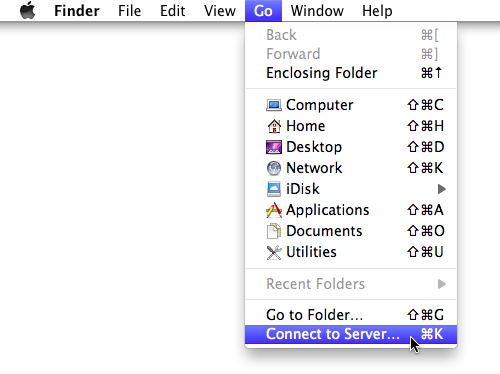 3.  In the Connect to Server dialogue, type the following in to the Server Address field: smb://papercut/PCClient. Click Connect. If you are prompted for your name and password, enter use your personal NetLink ID and password. Click Connect. The volume PCClient should be opened in a new Finder window. If not, find the volume on the Desktop or in the Finder.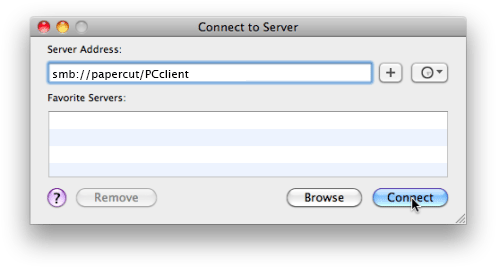 4.  When prompted for a name and password, enter your NetLink ID and password and click Connect.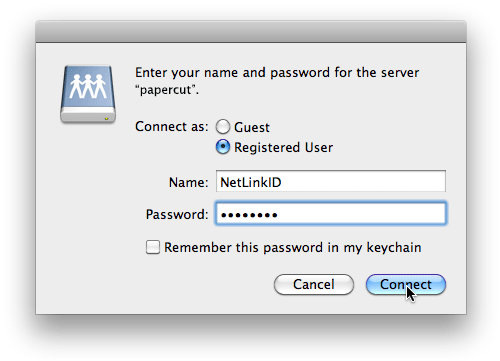 5.  Click on the mac folder and drag it to the desktop to copy it to your computer. It may take about one minute to copy the files.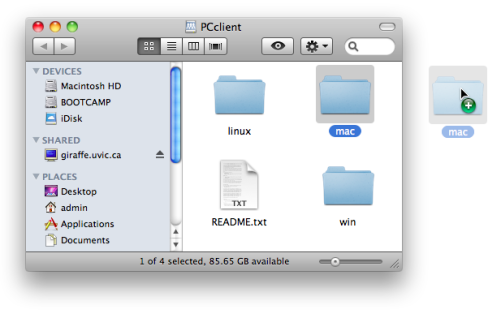 6.  Double-click on the mac folder on your desktop to open it. Double-click on client-local-install to run the PaperCut Client installer. 
***If your Apple computer is running macOS Catalina, instead of running the client-local-install utility do the following:
a) drag the 'PCClient' application icon into your 'Applications' folder
b) navigate to your 'Applications' folder
c) double click the 'PCClient' application icon, and skip to step 8

7.  Click Yes at the prompt asking if you want to install it.

8.  The PaperCut installer will now set up the client on your computer. When it is complete, it will prompt you to log in. Enter your NetLink ID and Password. Ensure that Remember my identity is checked.


9.  A small window will appear showing your ONECard Flex account balance. You have now completed the steps to install the PaperCut client on your computer.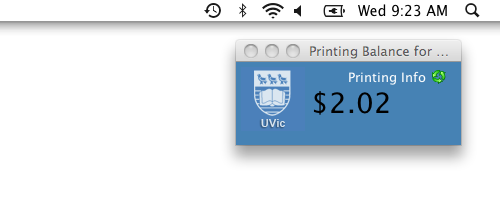 In order to print from your computer, you will also need to add the facility printers.
Questions or problems? Please contact computing facility staff or visit us in the Clearihue, Business and Economics, or Human and Social Development buildings for assistance.