Laura Cowen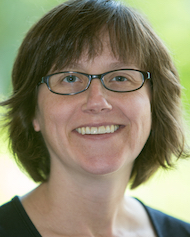 Position
Professor
Mathematics and Statistics
Credentials
Contact
Office: DTB-A446
I am an ecological statistician studying animal demography, in particular through capture-recapture methods and applications. I have worked on human, fishery, aquaculture, and seabird populations estimating population parameters such as survival and abundances and developing statistical methods to provide these estimates. I also collaborate with other scientists (such as ecologists, fisheries scientists, microbiologists, seabird biologists) to work on ecological problems in the broader sense. Finally, I collaborate with sociologists and anthropologists looking at aspects of injection drug user populations and modeling lemur populations.
Interests
Ecological statistics
Capture-recapture
Tag loss
Batch marking
Hidden Markov models
Faces of UVic Research video
In this video, Laura talks about her work as a statistical ecologist and the research she conducts looking at real world problems.
Selected Publications
Cowen, L.L.E., P. Besbeas, B.J.T. Morgan, C.J. Schwarz. 2017. Hidden Markov models for extended batch data. Biometrics, 73, 1321-1331.
van Dam-Bates, P., D.L. Curtis, L.L.E. Cowen, S.F. Cross, and C.M. Pearce. 2016. Assessing movement of the California sea cucumber (Parastichopus californicus) in response to organically-enriched areas typical of aquaculture sites. Aquaculture Environment Interactions, 8:67-76.
van Dam-Bates, P., M. Fyfe, and L.L.E. Cowen. 2015. Applying open population capture-recapture models to estimate the abundance of injection drug users in Victoria, Canada. Journal of Substance Use, 21:, 185-190.
Xu, Y., M. Fyfe, L. Walker, and L.L.E. Cowen. 2014. Estimating the number of injection drug users in greater Victoria, Canada using capture-recapture methods. Harm Reduction J. 11:9.
Cowen, L.L.E., P. Besbeas, B.J.T. Morgan, C.J. Schwarz. 2014. A comparison of abundance estimates from extended batch-marking and Jolly-Seber type experiments. Ecology and Evolution, 4, 210-218.
Cowen, L.L.E., W.O. Challenger, and C.J. Schwarz. 2014. What do salmon and injection drug users have in common? Statistical Society of Canada's special issue in Statistics in Action: A Canadian Outlook. J.F. Lawless editor. Chapman and Hall/CRC Press. 269-288.
Xu, Y., L.L.E. Cowen, and C. Gardner. 2014. Group Heterogeneity in the Jolly-Seber-Tag-Loss Model. Statistical Methodology, 17, 3-16.
Gonzalez, S., and L. Cowen. 2010. The Jolly-Seber-Tag-Loss Model with Group Heterogeneity. The Arbutus Review 1, 30-42.
Cowen, L., S.J. Walsh, C.J. Schwarz, N. Cadigan, and J. Morgan, 2009. Estimating exploitation rates of a migrating population of yellowtail flounders using multi-state mark-recapture methods incorporating tag-loss and variable reporting rates. Can. J. Fish. Aquatic Sc. 66, 1245-1273.
Cowen, L. and C.J. Schwarz, 2006. The Jolly-Seber model with tag loss. Biometrics 62, 699-705.
Cowen, L. and C.J. Schwarz, 2005. Capture-recapture studies using radio telemetry with premature radio-tag failure. Biometrics 61, 657-664.