Training grants fund research, emerging tech sectors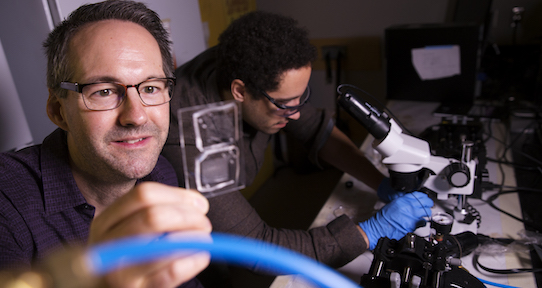 Two training grants to the University of Victoria totaling $3.3 million will strengthen research collaboration and train a new generation of skilled researchers for Canada's emerging tech sectors in astronomy instrumentation and drug delivery. 
UVic faculty are represented in two of the 18 national Collaborative Research and Training Experience (CREATE) grants announced today by the Natural Sciences and Engineering Research Council (NSERC). NSERC awarded a total of $29 million over six years for the projects.
UVic's Astronomy Research Centre (ARC) received funding as part of a five-university collaboration that is only the second astronomy-related initiative in CREATE history to be selected for funding. The six-year, $1.65 million grant will fund the New Technologies for Canadian Observatories program, which aims to build partnerships between researchers and industry to facilitate the introduction of technologies incubated in astronomy research centres to potential industry partners.        
UVic's chemistry department is receiving its first CREATE grant, $1.65 million, as part of a four-university collaboration to deepen research knowledge and train a new generation of skilled personnel in the area of drug delivery. That emerging science has caught the attention of drug manufacturers working with diseases such as cancer, as new methods to deliver chemotherapy drugs more precisely to a cancerous tumour could spare patients many of the debilitating side-effects of more generalized treatment.
ARC director Kim Venn says federally funded facilities such as the Herzberg Astronomy and Astrophysics Centre in Saanich are incubators for world-class instrumentation and machine learning. But much of Canada doesn't yet have a strong astronomy-focused tech sector for commercializing that work.
"We want to help develop that flow between industry and the researchers and students in academic and government labs, both for astronomical instrumentation and computer technology," says Venn.
CREATE funding for the drug-delivery research collaboration will support researchers across the country in developing a multi-disciplinary team helping students hone not only their research practices, but the entrepreneurial and collaborative skills vital for working in the biomedical tech industry, or starting a business.
Chemistry researcher Matthew Moffitt is one of four UVic faculty members participating in the drug-delivery collaboration. Moffitt's work centres on encapsulating drugs in polymer nano-particles, suitably sized for entering large-pored blood vessels near a cancer site but too big to pass into healthy tissue.
He's excited at the potential of the CREATE collaborative to expose students to a wide range of leading-edge research, approaches and entrepreneurial opportunities around drug delivery.
"This collaboration allows us to do broad-based training that makes our students very appealing for industry," says Moffitt. "A CREATE grant goes a long way to producing the next generation of innovators in Canada, and I think it's a big deal that UVic got two in one year."
The CREATE program strives to improve the mentoring and training environment for students, while providing experience relevant to both academic and non-academic research environments.