Prabha Ibrahim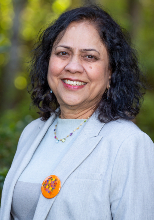 Position
Chief Technology Officer of Blade Therapeutics
UVic PhD '89
Dr. Prabha Ibrahim has worked in biopharmaceutical/pharma (Amgen, CV Therapeutics, Plexxikon, Daiichi Sankyo, Afferent Pharmaceuticals, Merck, Blade Therapeutics) industry for more than 27 years and has held leadership roles in drug discovery and development in multiple therapeutic areas with a track record of identifying NCEs and advancing them through pre-clinical and clinical development. Her record of success and scientific achievements includes contributions to the nomination of multiple development candidates and filing of 18 INDs with two approved (Zelboraf & Turalio) and one NDA stage (MK-7264/AF-219) drugs. She was instrumental in the discovery, development, and approval of two first in class drugs Zelboraf, BRAF inhibitor approved in 2011 for metastatic melanoma, and Turalio, CSF-1R inhibitor approved in 2019 for Tenosynovial Giant Cell tumor and Gefipixant (MK-7264/AF-219; first-in-class P2X3 receptor antagonist).
Currently, Ibrahim is a Chief Technology Officer of Blade Therapeutics, since April 2017. She was a Chief Technology Officer at Afferent Pharmaceuticals, Inc., from November 2015 and continued her responsibilities with Merck, after acquisition, until March 2017. Prior to Afferent/Merck she held multiple positions at Plexxikon/Daiichi Sankyo for 14 years with the last one being the Senior Vice President of Chemistry and Nonclinical Development. She led multidisciplinary teams and held multiple project and program leadership roles. Prior to Plexxikon, Ibrahim was a Senior Research Scientist and Group Leader at CV Therapeutics, where she was a project co-leader for cell cycle project and a lead chemist for the second generation Renexa program. She started her career as medicinal chemist at Amgen, where she played an integral role in small molecule drug discovery in inflammation.
Ibrahim earned her PhD at the University of Victoria and was a Welch Foundation Fellow at Rice University, Houston. She received her MSc Degree from The American College, Madurai, India, and her BSc degree from RDM College, Sivaganga, India.