Indigenous Resurgence in an Age of Reconciliation Symposium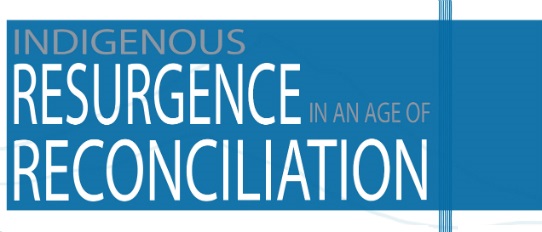 Location: University of Victoria, First Peoples House
Dates: March 16 - 18, 2017

No registration required, everyone welcome!

Event description

This symposium will bring together many prominent Indigenous scholars in the fields of Political Science, Law and Indigenous Governance to consider the long intellectual tradition of Indigenous resurgence within these fields while looking toward new directions in consideration of the challenges and possibilities produced in the era of reconciliation. Our aim in hosting this event is to cultivate an environment for productive discussion of a central concern facing Indigenous resurgence: our relationships with creation (land, water, animals, ancestors) and how these relationships have been impacted by reconciliation politics.

In conjunction with this symposium, the University of Victoria will publicly launch the Graduate Certificate in Indigenous Nationhood, which draws on faculty members and courses from the Political Science department, the Indigenous Governance program and the Faculty of Law to enable students to examine the intersections of law, politics, and governance with a focus on Indigenous nations and peoples.

We will launch the program publicly with a feast at the First Peoples House, inviting students, staff and faculty across UVIC as well as the local First Nations communities to join us in starting the program in a good way through the unveiling of a logo, singing and feasting.

This event is being held on the traditional territories of the Songhees, Esquimalt and WSÁNEĆ peoples.

See the event poster here.

See program here.

For more information, please contact Heidi Stark.

Agenda

See program here.

Pre-Symposium Event: Landsdowne Lecture with Leanne Betasamosake Simpson

March 15th 5:00 pm, First Peoples House, Ceremonial Hall

Hosted by the Department of Political Science

Freedom Sings: Land/Bodies/Resurgence

This talk will explore Indigenous resurgence and nationhood through story, song and video. Leanne will discuss resurgence as an ongoing intervention into the colonial project by sharing works from her recent album f(l)ight (RPM Records), her new book of short stories This Accident of Being Lost (House of Anansi) and her forthcoming academic work on the The Radical Resurgence Project (UMP Press). More information about Leanne Simpson.

See poster

Indigenous Resurgence in an Age of Reconciliation Symposium

March 16th

4:30 - 7:00 Launch of UVic's Graduate Certificate in Indigenous Nationhood
Feast

7:30 - 9:00 Landsdowne Lecture with Richard Van Camp*
First Peoples House, Ceremonial Hall

*No admission fee, everyone welcome
Hosted by the Malahat Review
More information

March 17th

10:00 - 11:30 Panel One: Resurgence in an era of Resistance

Sarah Hunt
"Not 'At Risk': Refusing To Reconcile In the Era of #MMIW"

Leanne Simpson
"As We Have Always Done: Indigenous Freedom Through Radical Resistance"

Glen Coulthard
"Militant (In)hospitality: Indigenous Peoples, Decolonization and Settler-Fascism"

11:30 - 11:45 Break

11:45 - 1:15 Panel two: Resurgence in Practice

Nick Claxton
"Land, Language and Knowledge: Indigenous Resurgence and Education in W̱SÁNEĆ"

Sheryl Lightfoot
"Standing Rock: Re-birthing Resistance Since 1968."

Christine O'Bonsawin
"The Olympic (Re)Movement: Reconciliation, Sustainability, and Expropriation of Indigenous Lands"

1:15 - 2:30 Lunch (not provided; only snacks and beverages will be provided)

2:30 - 4:00 Panel Three: Contesting Reconciliation

Audra Simpson
"The Architecture of "Consent" and the Anatomy of "Refusal": Cases from North America and Australia."

Aime Craft
"Reconciliation: Neither Infringement Nor Justification – how the SCC got it wrong"

Daniel Heath Justice
"Reading the Ruptures: Considering the Legacies of Allotment"

4:30 - 7:00 Words on Ice: An Evening of Readings**
First Peoples House, Ceremonial Hall

**WordsThaw pass or Words on Ice ticket required

Hosted by the Malahat Review
More information

March 18th

10:00 - 11:50 Panel Four: Grounding Resurgence

Dian Million "Spirit and Matter: Resurgence as rising and (re)creation as ethos"

Taiaiake Alfred "The Roots of Resurgence"

Hōkūlani K. Aikau "Removing weeds so natives can grow: From Practice to Metaphor"

11:50 - 12:05 Break

12:05 - 12:45 Concluding Remarks: What have we heard and where do we go from here?

Heidi Kiiwetinepinesiik Stark "Resurgence is our Tradition"

12:45 - 2:15 Lunch (provided for registered students)

2:15 - 4:00 Graduate Workshops***

Indigenous Graduate Student Workshop (IGSW)

***The Indigenous Graduate Student Workshops provide an opportunity for Indigenous Graduate students to engage in informal roundtable style dialogue with IRAR Symposium presenters. The topics include Gender and Resurgence, Resurgence on the Land, Being Indigenous in Someone Else's Territory, Creating and Holding Indigenous Only Spaces, and Writing and Publishing. The Graduate Workshops are closed to the general public. Space is reserved for Indigenous graduate students by invitation only. For more information or to request an invitation please contact Rachel George at rachelgeorge.a@gmail.com

Anishinaabe Comedian RYAN MCMAHON presents

WRECK ON SILLY NATION: A New Hour of Standup Comedy about Canada in 2017

Saturday March 18th

5pm at the Grad House

This event is open to the public.

Appetizers will be provided and drinks are available by purchase.

Please join us in wrapping up the Indigenous Resurgence in an Age of Reconciliation symposium with some good food and great laughs.

Additional information about the Grad House.

Any questions, contact Heidi Kiiwetinepinesiik Stark at starkh@uvic.ca
Dr. Leanne Betasamosake Simpson (Michi Saagiig Nishnaabeg) is faculty at the Dechinta Centre for Research & Learning in Denendeh (NWT) and a Distinguished Visiting Scholar in the Faculty of Arts at Ryerson University. Her work breaks open the intersections between politics, story and song—bringing audiences into a rich and layered world of sound, light, and sovereign creativity. Leanne is the author of Dancing on Our Turtle's Back (2011) and The Gift Is in the Making (2013), editor of Lighting the Eighth Fire (2008) and co-editor of This Is An Honour Song (2010) and The Winter We Danced: Voice from the Past, the Future and the Idle No More Movement (2014).
Dr. Heidi Kiiwetinepinesiik Stark (Turtle Mountain Ojibwe) is an Assistant Professor in the University of Victoria's Political Science Department. Heidi's research interests include Indigenous Comparative Politics, Native Diplomacy & Treaty and Aboriginal Rights, with a specific focus on Anishinaabe treaty-making with the United States and Canada. Heidi is co-editor of Centering Anishinaabeg Studies: Understanding the World Through Stories with Jill Doerfler and Niigaanwewidam Sinclair (2013) and is co-author of the third edition of American Indian Politics and the American Political System (2010) with Dr. David E. Wilkins.
Dian Million (Tanana Athabascan) is an Associate Professor in American Indian Studies at the University of Washington. Dian Million's most recent research explores the politics of mental and physical health with attention to affect as it informs race, class, and gender in Indian Country. She is the author of Therapeutic Nations: Healing in an Age of Indigenous Human Rights (2013).
Sheryl Lightfoot (Anishinaabe, Lake Superior Ojibwe) is the Canada Research Chair in Global Indigenous Rights and Politics at the University of British Columbia. Her research interests include indigenous rights movements and state responses to indigenous rights claims. Sheryl is the author of Global Indigenous Politics: A Subtle Revolution (2016).
Christine O'Bonsawin is an Associate Professor in History and the Director of Indigenous Studies at the University of Victoria. Christine is from the Abenaki, Odanak Nation. Christine's research is in Indigenous sport history, the Olympic Games, and Indigeneity in the modern sport era. Christine is co-editor of Intersections and Intersectionalities in Olympic and Paralympic Studies (2014) and author of the recent article "From Black Power to Indigenous Activism: The Olympic Movement and the Marginalization of Oppressed Peoples" Journal of Sport History (2015).
Gerald Taiaiake Alfred (Kahnawá:ke, Mohawk Nation) is a Professor of Indigenous Governance and Political Science at the University of Victoria. Taiaiake's current research and consulting work is rooted in the concept of Indigenous Resurgence and involves studying the effects of environmental contamination on Indigenous culture, and the restoration of land-based cultural practices, with a special focus on the Mohawk community of Akwesasne. He is the author of three books: Heeding the Voices of Our Ancestors (1995), Peace, Power, Righteousness (2008), and Wasáse: Indigenous Pathways of Action and Freedom (2005).
Glen Coulthard (Yellowknives Dene) is an Associate Professor in the First Nations and Indigenous Studies Program and the Department of Political Science at the University of British Columbia. Glen's research interests include Indigenous thought and politics, contemporary political theory, and radical social and political thought. He is the author of Red Skin, White Masks: Rejecting the Colonial Politics of Recognition (2014) and co-editor of Recognition versus Self-Determination: Dilemmas of Emancipatory Politics (2014).
Dr. Sarah Hunt (Kwagiulth/Kwakwaka'wakw, Tsaxis) is an Assistant Professor of Critical Indigenous Geographies in the Department of First Nations and Indigenous Studies and the Department of Geography at the University of British Columbia. Sarah's scholarship in Indigenous and legal geographies critically takes up questions of justice, gender, self-determination, and the spatiality of Indigenous law. Her most recent publications on Indigenous and decolonial thought include her co-authored article "Everyday Decolonization: Living a decolonizing queer politics" Journal of Lesbian Studies (2015) and "Ontologies of Indigeneity: the politics of embodying a concept" Cultural Geographies (2014).
Aimée Craft (Anishinaabe-Métis) is an Assistant Professor in the Faculty of Law at the University of Manitoba, and is the Research Director of the National Centre for Truth and Reconciliation (NCTR). Her research interests are in Anishinaabe and Canadian Aboriginal law, and focuses on understanding and interpreting treaties from an Anishinaabe inaakonigewin (legal) perspective. Aimee is the author of Breathing Life Into the Stone Fort Treaty (2013).
Dr. Audra Simpson (Mohawk) is an Associate Professor in the Department of Anthropology at Columbia University. Audra's research is energized by the problem of recognition, by its passage beyond (and below) the aegis of the state into the grounded field of political self-designation, self-description and subjectivity. Her work is motivated by the struggle of Kahnawake Mohawks to find the proper way to afford political recognition to each other, their struggle to do this in different places and spaces and the challenges of formulating membership against a history of colonial impositions. She is the author of Mohawk Interruptus: Political Life Across the Borders of Settler States (2014) and co-editor of Theorizing Native Studies (2014).
Hayden King (Pottawatomi Ojibwe, Beausoleil First Nation) is an Assistant Professor in the School of Public Policy and Administration at Carleton University. Hayden's research revolves around land and resource management, often in the Canadian north, and Anishinaabe political economy, diplomacy and international relations. He is the co-author of Canada's North: What's the Plan? (2011) and the co-editor of The Winter We Danced: Voices from the Past, the Future and the Idle No More Movement (2015).
Dr. Nick Claxton (Tsawout Band & WSÁNEĆ Nation) is an Assistant Teaching Professor in Indigenous Education at the University of Victoria. His research interests are in revitalizing the traditional fishing knowledge and traditions of reef net fishing in his community, and he draws knowledge from local elders Dr. Earl Claxton, and others including his father Lou Claxton who participated first hand the Saanich Reef Net technology.
Dr. Hokulani K. Aikau (Kanaka ʻŌiwi Hawaiʻi) is an associate professor of Native Hawaiian and Indigenous Politics at the University of Hawai'i Manoa. Dr. Aikau's research and teaching interests and commitments stem from her experience as a Kanaka ʻŌiwi who grew up in a deeply religious community of Polynesians living in Utah. She is the author of A Chosen People, a Promised Land: Mormonism and Race in Hawaiʻi (2012) which examines the intersections of race, religion, and Native Hawaiian identities as they are articulated with and in the Church of Jesus Christ of Latter-day Saints. She is also the co-author of Feminist Waves, Feminist Generations: Stories from the Academy (2007).
Dr. Daniel Heath Justice (Cherokee Nation) is the Canada Research Chair in Indigenous Literature and Expressive Culture at the University of British Columbia. His current projects include Why Indigenous Literatures Matter, a literary manifesto (forthcoming 2016), a collection of essays and short stories titled Imagining Otherwise: Reflections on Indigenous Belonging and Desire, as well as a new dark fantasy trilogy, a cultural history of raccoons, and a critical monograph on other-than-human kinship in Indigenous writing. He is the author of Our Fire Survives the Storm: A Cherokee Literary History (2006), as well as co-editor of The Oxford Handbook of Indigenous American Literature (2014) and Sovereign Erotics: A Collection of Two-Spirit Literature (2011).
Anishinaabe Comedian RYAN MCMAHON presents
WRECK ON SILLY NATION: A New Hour of Standup Comedy about Canada in 2017
Saturday March 18th
5pm at the Grad House
This event is open to the public.

Appetizers will be provided and drinks are available by purchase.

Please join us in wrapping up the Indigenous Resurgence in an Age of Reconciliation symposium with some good food and great laughs.

Additional information about the Grad House.

Any questions, contact Heidi Kiiwetinepinesiik Stark at starkh@uvic.ca
Sponsors 

Sponsored by the University of Victoria's:
and the 
Graduate certificate in Indigenous Nationhood

Students will be exposed to theoretical and applied lines of inquiry centered in Indigenous Nationhood through the lens of decolonization and resurgence, Aboriginal and Treaty Rights and Indigenous legal traditions, critical dialogues on diplomacy and sustainable relationships, critical race theory and settler colonialism, and Indigenous-state relations and constitutionalism.
For more information contact Heidi Stark