Learning Institute 2017: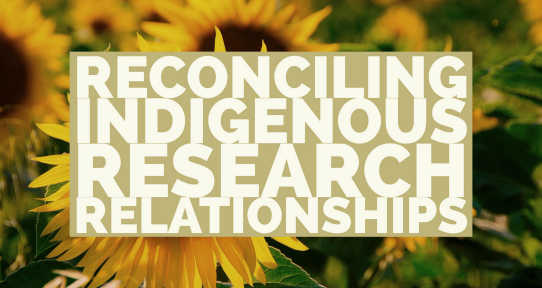 Hosted on the tradtional territories of the Songhees, Esquimalt and WSÁNEĆ peoples on whose traditional territory the university stands and whose historical relationships with the land continue to this day.
Bursary application deadline: June 8, 2017
Registration deadline: June 12, 2017
Conference Goal
Innovative, educational and inspiring, the 2017 Learning Institute will offer students, researchers, trainees, community and organizational representatives the opportunity to work together to catalyze the reconciliation of Indigenous research relationships within BC.
Registration
$525 for academic researchers and institutional/agency participants
$105 for community members* and students* 
*Limited bursaries are available for students and community members to further offset costs, subject to funding and application review for students and community members.
Prices include GST.
Objectives:
Enhance participants' understanding of healthy Indigenous research relationships.
Provide networking opportunities for participants.
Facilitate research relationships among participants.
Provide reciprocal mentorship opportunities for community members, students and research trainees.
Registration includes:
A light breakfast and hot lunch each day of the Institute
Welcome package with an electronic copy of the Institute Reader
Discounted rate at the Sandman Hotel
All presentations and activities
Cedar weaving workshop by Deb George
Main audience
The main audience for the proposed Learning Institute will be students, researchers, trainees, as well as community and organizational representatives who are positioned to and interested in partnering in research that engages Indigenous people and places.
Location and dates
June 27-30, 2017
Ceremonial Hall, First Peoples House
University of Victoria
Victoria, BC
Accommodation 
Extended deadline: Rooms are available for a group conference rate at the Sandman Hotel until May 19, 2017. More information.
The UVic Residence also has dorms available for short term use. More information.
Please reserve rooms early as the end of June is during the busy tourist season in Victoria!
Payment Options
Available options include by credit card, through the secure ePly site, or by cheque.
Please make cheques payable to Centre for Indigenous Research & Community-Led Engagement and send to our mailing address.
For bursary applicants, please wait for an email stating the status of your application. 
Residential school survivors do not need to pay any registration fees.
Confirmed Speakers
Dr. Charlotte Loppie is of Mi'kmaq and Acadian ancestry, and has spent her academic career working within the field of Indigenous health research. Currently, Charlotte is a Professor in the School of Public Health and Social Policy, Faculty of Human and Social Development, and Director of the Centre for Indigenous Research and Community-Led Engagement at the University of Victoria.
Her research partners have included individual First Nation communities, as well as regional and national Indigenous organizations (e.g., Canadian Aboriginal AIDS Network, National Aboriginal Health Organization, and Assembly of First Nations) as well as provincial non-government (e.g., Cancer Care Nova Scotia) and national government stakeholders (e.g., First Nations Inuit Health, Public Health Agency of Canada).
Charlotte has undertaken research and published in areas such as: Aboriginal health inequities, Aboriginal HIV/AIDS, social determinants of Aboriginal health, racism and cultural safety, cancer among Aboriginal peoples, Aboriginal ethics and research capacity building as well as the sexual and reproductive health of Aboriginal women.
Dr. Rob Hancock is Métis from northern Alberta on his mother's side and English on his father's. He was born and raised in Lekwungen and Songhees territory, and is grateful to be able to continue to live and work here.
Currently, Rob is the LE,NOṈET Academic Coordinator and Adjunct Assistant Professor in the Department of Anthropology and the School of Environmental Studies at the University of Victoria.
Research interests: historian of anthropology, anthropological representations of Indigenous peoples in Canadian courts and tribunals in the 1960s and 1970s.
Dr. Robina Thomas is Lyackson of the Coast Salish Nation. Currently, Robina is an Associate Professor in the School of Social Work at the University of Victoria.
Robina is committed to Indigenous education and her research interests include storytelling, residential schools and Uy'skwuluwun: on being Indigenous. She is dedicated to understanding anti-racism and anti-oppression and how these can be 'lived'.
Research interests: Indigenous Child Welfare, Indigenous Women, Indigenous Governance, Residential Schools, Storytelling
Dr. Onowa McIvor is Swampy Cree and Scottish-Canadian. Currently, Onowa is an Assistant Professor and Director of Indigenous Education in the Faculty of Education at the University of Victoria.
Her research interests include Indigenous language revitalization, second language learning, and Indigenous education broadly, as well as intersections with Indigenous health with both education and language revitalization.
Most importantly, she is raising two young daughters along with her partner and their extended families.
Dr. Andrea Walsh is a visual anthropologist at the University of Victoria, specializing in 20th century and contemporary Indigenous visual and material culture and curating. She directs UVIC's Salish Visiting Artist Program and a SSHRC research program about residential school art collections Canada. She has recently curated exhibits at the Legacy Art Gallery (2013), the Alberni Valley Museum (2014/15), and the Campbell River Art Gallery (2015).
Her work as a visual anthropologist and curator is two-fold; Indian Residential School and Indian Day School art collections, and contemporary art practices by Indigenous artists from nations in Canada.
Dr. Jeffrey Ansloos is a researcher, educator and policy advisor in the areas of youth engagement, violence prevention, migration, mental health, and Indigenous and human rights.
Currently, Jeffrey is an Assistant Professor in the Faculty of Human and Social Development and the Faculty of Graduate Studies at the University of Victoria. He teaches, researchers, and supervises primarily in the School of Child and Youth Care.
Jeffrey's current research focuses on youth-informed theory, policy and practices to address violence and identity-based conflicts, peace-building and development, mental health, and digital ecologies of youth identity, community and culture. He is especially committed to collaborative research with Indigenous, migrant, street involved, and LGBTQ2 youth.
Margo Greenwood is an Indigenous scholar of Cree ancestry with more than 20 years of experience in the field of early childhood education. Professionally and personally, children have been the focus of her life. She has worked as a front line caregiver of early childhood services, designed early childhood curriculum, programs, and evaluations, and taught early childhood education courses at both the college and university levels. As a mother of three, she is personally committed to the continued well-being of children and youth in Canada.
Currently, Margo is a Professor in both the First Nations Studies and Education programs at the University of Northern British Columbia. She has served with over 20 national and provincial federations, committees and assemblies, and has undertaken work with UNICEF, the United Nations, and the Canadian Reference Group to the World Health Organization Commission on Health Determinants. In recognition of her years' work in early childhood, Margo Greenwood was the recipient of the Queen's Jubilee medal in 2002.
Dr. Suzanne Stewart is a member of the Yellowknife Dene First Nation. She is a mother of four children, a psychologist and Associate Professor of Indigenous Healing in Counselling Psychology at OISE/University of Toronto. She is also Special Advisor the Dean on Aboriginal Education, the Canada Research Chair in Aboriginal Homelessness & Life Transition, Interim Director Indigenous Education Initiative, and the Director of the Waakebiness-Bryce Institute for Indigenous Health.
Research and teaching interests include Indigenous mental health and healing in psychology (homelessness, youth mental health, identity, and work-life development), and Indigenous pedagogies in teacher education, higher education and psychotherapy practice/training. She is also Chair of the Aboriginal Section of the Canadian Psychology Association and is committed to advancing Indigenous healing issues through the discipline of psychology.
Dr. Jeff Reading is a Mohawk from the Tyendinaga First Nation in Ontario. Currently, Jeff is a professor and the Inaugural British Columbia First Nations Health Authority Chair in Heart Health and Wellness at St. Paul's Hospital based at Simon Fraser University.
Jeff has more than two decades of experience enhancing knowledge in Indigenous health issues, both in Canada and globally. He has played a pivotal role in the introduction of Canadian ethics guidelines for Aboriginal health research.
His broad research interests include, but are not limited to: the social determinants of health, environmental issues including provision of safe potable water, health promotion and disease prevention, heart health, diabetes, tobacco misuse and accessibility to health care among Aboriginal Canadians.
He also made key contributions to the Canadian Academy of Health Science's report and solutions that aim to have a particular impact on Indigenous Peoples' health globally.
Nick is from the SȾÁUTW̱ Community of the W̱SÁNEĆ Nation. Strongly rooted in his Indigenous community and culture, Nick's research and teaching interests include the revitalization of Indigenous knowledge systems and land/water based practices, which he believes provide important lessons in sustainable living.
Nick received his PhD in Educational Studies from UVIC where he is also an Assistant Teaching Professor in Indigenous Education.