Supporting Aboriginal Graduate Enhancement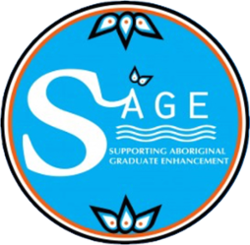 The Supporting Aboriginal Graduate Enhancement (SAGE) program was founded by Graham Smith and Jo-ann Archibald in British Columbia, Canada, in 2005 as the sister group to "Maori and Indigenous" (MAI) graduate program in Aotearoa (New Zealand).
SAGE brings together Indigenous graduate students and provides an Indigenous knowledge orientation to student learning and mentorship. Our goal is to provide valuable directed mentorship and new learning opportunities (writing workshops, professional development, land-based practices etc.) for Indigenous students at UVic through SAGE program. 
2020/2021 SAGE Events and Speaker Series
Despite the ongoing and emerging challenges associated with the COVID-19 pandemic, we continue collectively to find new forms of community collaboration, experiential learning, and professional development. With this in mind, the Centre for Indigenous Research and Community-Led Engagement (CIRCLE) and the Supporting Aboriginal Graduate Enhancement (SAGE) Program was excited to announce the first annual joint CIRCLE and SAGE Indigenous Graduate Student Conference. The conference took place via Zoom on April 6th and 7th, 2021, and the theme for the inaugural conference related to The Resilience of Indigenous Nationhood.
We were joined by 14 Indigenous graduate students who shared their research and reflections. For more information please view the conference program below: 
In this workshop, Dr. Sarah Hunt discussed approaches to publishing, research, and teaching through the lens of culturally-specific ancestral practices.
Please note, a recording of this event is available for Indigenous staff, faculty and students. Please email circle@uvic.ca if you would like access.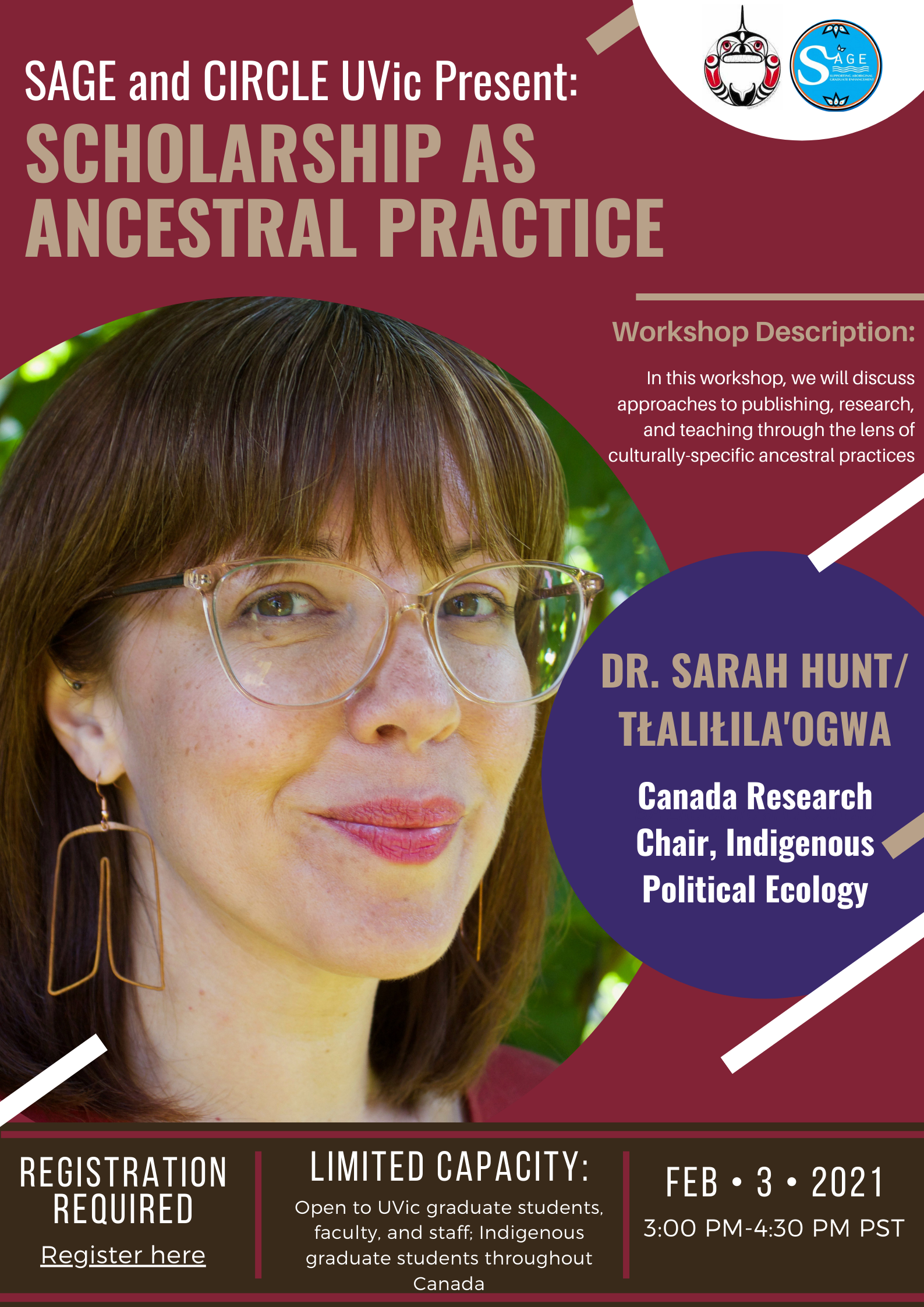 The Pacific Peoples' Partnership–in collaboration with the Tonga Women and Children Crisis Center, and with support from CIRCLE and SAGE—invited students, faculty, and practitioners with a focus on gender based violence to join us for a special Summit to raise awareness about gender based violence and culturally appropriate interventions.
The summit included 2 themed panel discussions: Community appropriate healing practices & Decolonising partnerships and nurturing relationships. We were joined by members of the Moose Hide Campaign, Butterflies in Spirit, ANWER drum group, the Fiji Women Crisis Centre and the Tonga Women and Children Crisis Centre.
For more information about the event, please see the program below, as well as the final images captured by Graphic Recorder Adriana Contreras:
This work shop investigated the role of the "knowledge mobilzation" and discussed what researchers can do, beyond peer-review publishing, to impact the world with their research. Using Yellowhead Institute resources, tools, and "collaterals" as examples (plus some other great forms of public intervention), this workshop was a crash course on making knowledge matter beyond normal academic outputs. 
In this writing workshop, Dr. John borrow explained how Anishinaabe laws and Indigenous lifeways can be a significant force in prompting reflection. These practices can be a powerful guide for writing. Drawing on teachings John received from his family, friends, communities, and elders, including Elder Basil Johnston's friendship and life's work, this presentation explored how writing can be embedded as a practice of Indigenous resurgence.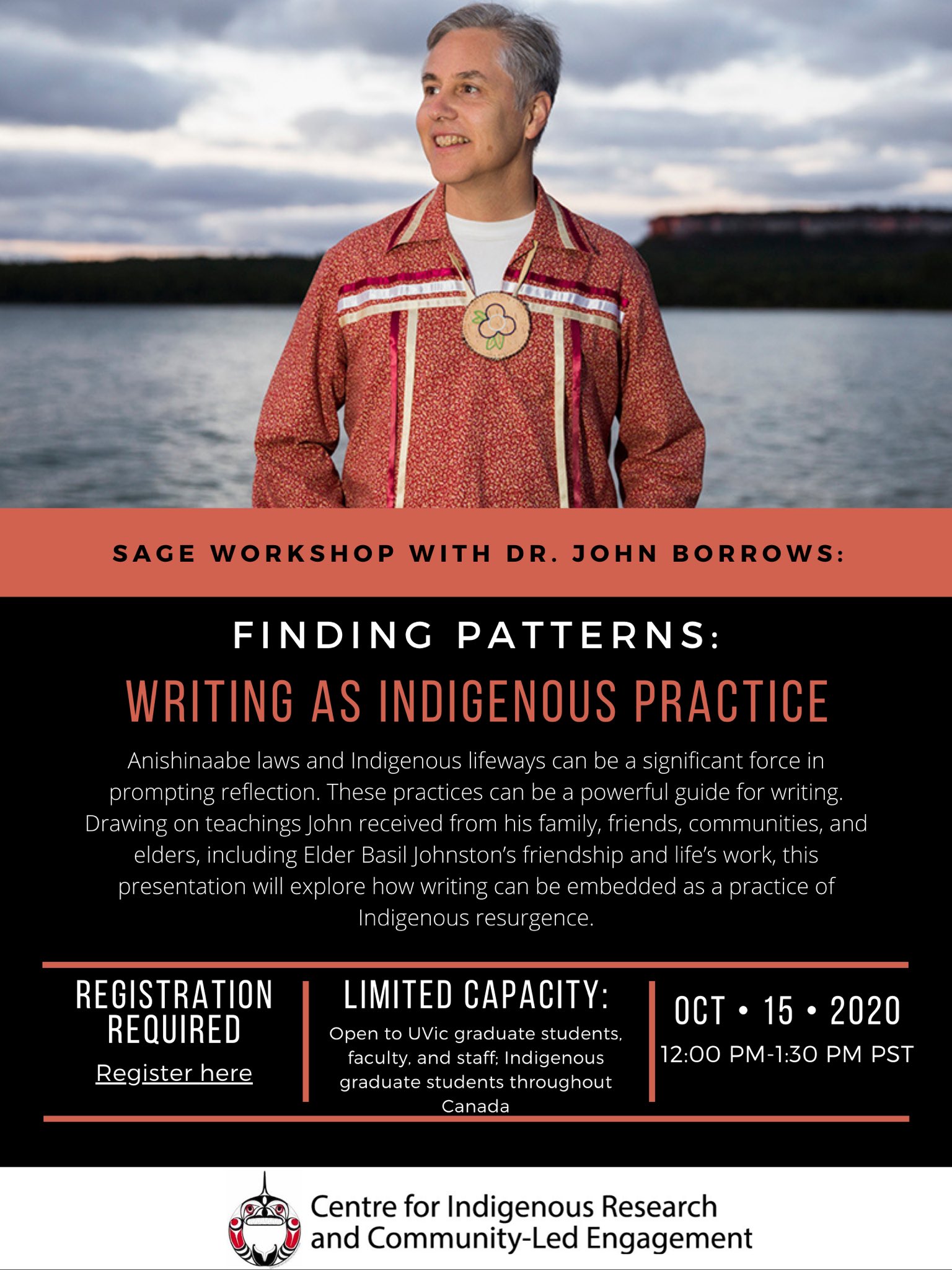 This talk engaged with the body of work on Indigenous research methods, complicating established theoretical premises and exploring the many forms that Indigenous research can take in practice. Through reference to their own experiences as Indigenous scholars working with Indigenous partners, Dr. Gina Starblanket and Dr. Dallas Hunt argued that normative ideas about Indigenous community engagement can delimit the breadth of possible ways of realizing ethical and accountable research relationships on the ground, and explained how they have sought to navigate the opportunities, implications, and challenges of Indigenous-engaged research.
2021-2022 SAGE events and Speaker Series 
CIRCLE-SAGE Indigenous Graduate Student Conference
 The Centre for Indigenous Research and Community-Led Engagement (CIRCLE) and the Supporting Aboriginal Graduate Enhancement (SAGE) program were excited to present the second annual Indigenous Graduate Student Conference. This year theme was "Indigenous Nationhood and Being a Good Visitor." Please see below the recordings of this conference.
-Dr. Heidi Stark. Opening words
-Scott Sam. Welcome to Territory
-Dr. Dawn Smith and Tiffany Joseph. Panel: On Bening a Good Visitor 
-Sabrina Lamanna. Being a Good Visitor: Responsabilities, Relationships, and Reciprocity.
-Lawrence Ignace. TowardsReconciliation: 10 Calls to Action for Natural Scientists Working in Canada
-Lydia Toorenburg. Collaborative Audio-Visual Research Methodologies in Indigenous Research
-Michael Chutskoff. The Threat to Colonial Sovereignty: How Canada Crafted the Indigenous Terrorist
-Ashley Kyne. Impresionment for Indigenoys Peoples
-Angie Sanchez. The Nooni Project: An Indigenous Breastfeeding Initiative in Six Indigenous Communities in Michigan.