MBA case presentations panel event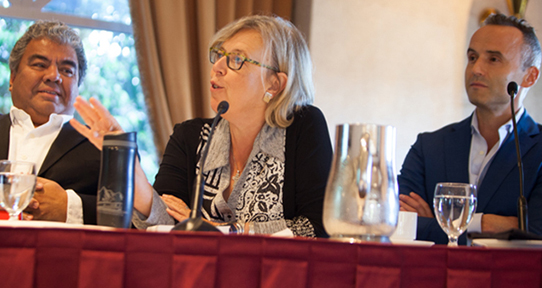 On September 01, 2017, Miles Richardson, NCIED Director, joined David Black, founder and owner of Black Press, Elizabeth May, Leader of the Green Party of Canada, Val Litwin, CEO of the BC Chamber of Commerce, and Mia Maki, Assistant Teaching Professor at the Gustavson School of Business, as members of a panel for the UVic MBA Program Case Presentations. Gustavson Business School Dean, Dr. Saul Klein, moderated the discussion.
During the two weeks preceding the event, incoming MBA students analyze their first case ever and prepare an 8-10 minute presentation based on their findings and recommendations. The case represents current and unfolding BC business issues. The students must consider the case from multiple angles, including strategy, accounting and risk, entrepreneurship, sustainability and relationships with Indigenous communities.
The panel represents interested stakeholders with whom the students have an opportunity to ask questions and receive feedback. The exciting event introduces the students from many countries to the business, political and socioeconomic context of BC.