Team Awards
Dr. Brent Mainprize
In February 2020, Dr. Brent Mainprize was honoured as a 3M National Teaching Fellow, Canada's highest honour as a Teaching Professor. Mainprize, the NCIED Business School champion, teaches Entrepreneurship and Indigenous Economic Development in UVic's Gustavson School of Business. He has over 20 year's experience as an educator and facilitator of economic change in Indigenous communities.
Starting in 1999, the late Dr. Frank Parnell, CEO, Tribal Resources Investment Corporation, and Mainprize worked together on Indigenous economic initiatives. In 2013, Dr. Parnell invited Mainprize to co-design a business education program that would enable, through business ownership, full economic participation of Indigenous Peoples in Canadian economies, while adhering to traditional values. The unique partnership produced the Aboriginal Canadian Entrepreneurs (ACE) program that delivers world-class, culturally sensitive entrepreneurial training in community. Since its launch, 384 students from 46 Indigenous communities across BC have graduated from the ACE program.
Mainprize has also been invited to more than 60 Indigenous communities in BC to co-design and co-facilitate leadership, management and economic development programs, with the communities' leadership. He continues to collaborate with the Nisga'a Nation to explore opportunities for sustainable economic prosperity while preserving heritage and culture.
Mainprize is the only professor in Canada to have received all three of the Society for Teaching and Learning in Higher Education's (STLHE) national awards for outstanding educators. In 2016, he received STLHE's Alan Blizzard Award for his role in a collaborative teaching team recognized for their work on the ACE program, and in 2014, he won STLHE's D2L Innovation Award in Teaching and Learning.
Congratulations to Dr. Brent Mainprize on receiving the 2019 Provost's Engaged Scholar Award!
For over 20 years, Mainprize has committed to meaningful scholarly engagement with Indigenous communities. As stated by the Provost, his "authentic approach to building long-term relationships with Indigenous communities to support their efforts in economic development was inspiring".
Mainprize has dedicated his career to working collaboratively with Indigenous Nations and communities to co-create and deliver in-community programs that meet their needs.
It's an honour to be invited by Nations to support their capacity building and to have the privilege of merging traditional culture and values with business education. - Dr. Brent Mainprize
Collaborating with Indigenous leaders to combine economic prosperity and community wellness shaped Mainprize's focus.  Entrepreneurial, leadership and management, and youth programs delivered in community not only broke barriers, they engaged Indigenous learners in self-determination and prosperity without foregoing their traditional values.
Mainprize will hold the title of Victoria Provost's Engaged Scholar for five years.
Dr. John Borrows
In June 2020, Dr. John Borrows received the Governor-General's Innovation Award for his work on Reconciliation Through Indigenous Law. The award recognizes Borrows' contribution in shaping the future of Canada and inspiring the next generation. Borrows "has helped transform Canada's understanding of how Indigenous and non-Indigenous law can co-exist harmoniously."
Borrows, Canada Research Chair in Indigenous Law at UVic, and the NCIED Law faculty champion, is one of the world's leading scholars on Indigenous law. He co-created with Dr. Val Napoleon, the world's first dual degree program in Indigenous and common law that launched at UVic in September 2018.
The difference between Indigenous law and common law is that Indigenous people look to the land to find the principles for judgement, whereas the common law looks to old cases in libraries to decide how to act in the future. - Dr. John Borrows
This legal framework offers a concrete path forward toward reconciliation that impacts quality of life for Indigenous Peoples. Innovation in law delivers empowerment, better health, economic progress, and renewed cultural vibrancy.
Borrows, Anishinabe/Ojibway and a member of the Chippewa of the Nawash First Nation in Ontario, has received numerous honorary doctorates and awards. In 2017, he received the prestigious Killam Prize in the Social Sciences and in 2019, the Canada Council Molson Prize. Additionally, Borrows has written extensively on Indigenous legal rights and traditions. In June 2020, his most recent book, Indigenous People and International Trade was published online.
The Native American and Indigenous Studies Association (NAISA) awarded Dr. John Borrows the 2020 Best Subsequent Book Prize for Law's Indigenous Ethics (University of Toronto Press). NAISA, founded in 2007, is the largest scholarly organization that engages Indigenous issues and communities. Selected by NAISA Council Prize Committee, together with an external reading committee, the award recognizes an author's second publication, or beyond. 
NAISA's international and interdisciplinary membership includes professional academics, students, independent scholars, and community-based educators and Elders. The association aims to promote Native American and Indigenous studies through the encouragement of academic freedom, research, teaching, publication, and the recognition of Indigenous knowledge and methodologies.
Dr. John Borrows, a global leader in the field of Indigenous legal traditions and Indigenous rights, and Canada Research Chair in Indigenous Law at UVic, wins 2019 Canada Counsel Molson Prize in social sciences and humanities.
Borrows, NCIED Law faculty champion, has committed his life and career to working with Indigenous people in Canada to revitalize Indigenous laws, governance, values and traditions. In 2018, UVic's Law faculty launched the Canadian Common Law (JD) and Indigenous Legal Orders (JID) dual degree program, the first of its kind in the world. Co-developed by Borrows and Dr. Val Napoleon, the four-year program is a direct response to the Truth and Reconciliation 2015 Call for Action to the federal government "to fund the establishment of Indigenous law institutes for the development, use, and understanding of Indigenous law".
UVic president, Jamie Cassels, described Borrows as "a leader in the great transformation that has occurred in Indigenous legal research over the last 20 years. He has shown how Indigenous peoples' natural and social environments are crucial 'texts' for interpreting Indigenous law." Borrows, Anishinabe/Ojibway, teaches in the areas of constitutional, Indigenous and environmental law, and his research focuses on advancing the understanding of Indigenous laws and customs.
Author of internationally acclaimed books and refereed articles, Borrows has received numerous honorary doctorates and awards. In 2017, he earned the prestigious Killam Prize in Social Sciences for his "contributions as a global leader in Indigenous law", and the Donald Smiley Prize for Best Book in Canadian Political Science for Freedom & Indigenous Constitutionalism. Borrows is also the recipient of a National Aboriginal Achievement Award in Law and Justice, a fellow of the Trudeau Foundation, a fellow of the Canadian Society of Arts, Humanities and Sciences and the Royal Society of Canada, Canada's highest academic honour.
Arthur Mercer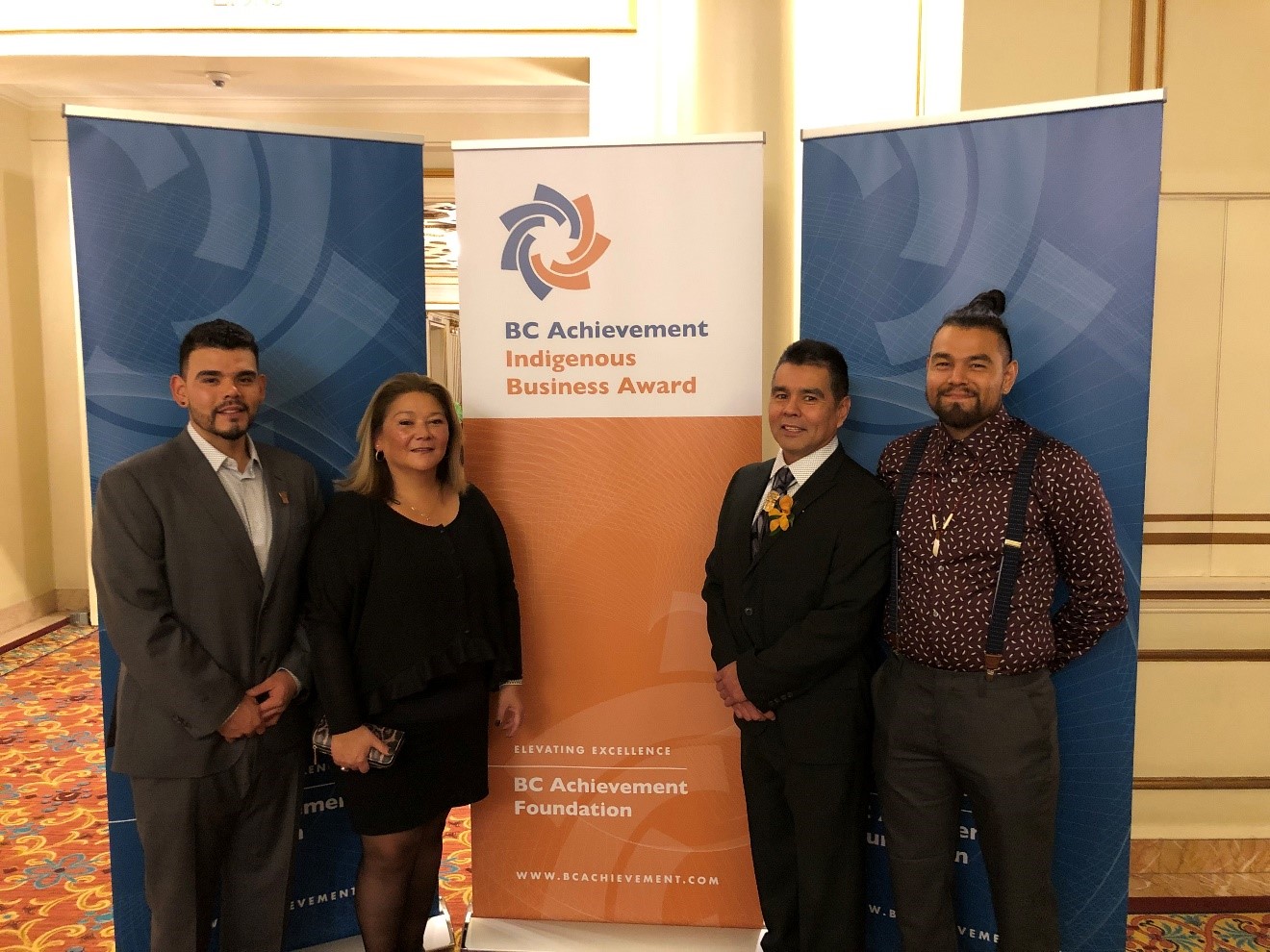 At a Gala Dinner in Vancouver on October 17, Arthur Mercer, NCIED Director, Community Initiatives, received the Outstanding Business Achievement Award for a one to two person enterprise. Over 650 people gathered to celebrate and honour excellence and innovation in Indigenous business in BC. Mercer's company, Tseax Development Group Ltd., was among 16 Indigenous recipients selected by a jury panel. BC Achievement Foundation Chair, Anne Giardini, declared, "BC Achievement is particularly excited to highlight some of the many Indigenous businesses across BC that foster innovation – integrating the practices of the past with the economies of the future."
Mercer, President and CEO, Tseax Development Group Ltd., provides strategic business and economic development advisory services to the private and public sector. His extensive experience over three decades includes building strategic economic development partnerships that increase accessibility and capacity building for Indigenous Nations.