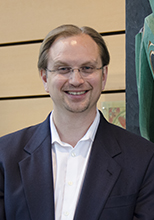 Position
Gustavson School of Business champion
Credentials
Dr. Brent Mainprize, MBA, PhD, professor at the University of Victoria's Gustavson School of Business, teaches entrepreneurship and Indigenous economic development.
Brent has over 17 years' experience as an entrepreneurship educator, academic, and facilitator of economic change in Indigenous communities. He brings a wealth of expertise and experience to the NCIED.
During his career, Brent has been invited to over 60 Indigenous communities in British Columbia to research and design unique programs that promote leadership and self‑reliance through economic development and entrepreneurship.
In 2016, Northwest Aboriginal Canadian Entrepreneurs (NW-ACE™), one of the programs that Brent developed in partnership with Tribal Resources Investment Corporation (TRICORP) and the University of Victoria Peter B. Gustavson School of Business, won national, North American and international educational awards.
Awards
Brent has been recognized as a national and international award-winning teacher:
2020 3M National Teaching Fellowship, Canada's most prestigious award for excellence in leadership and teaching. Read more.
2019 Provost's Engaged Scholar Award that honours tenured faculty members who have demonstrated outstanding scholarship in their field, as well as inspired teaching and community engagement. Read more.
Harry Hickman Alumni Award for Excellence in Teaching and Educational Leadership, University of Victoria - 2016
Award of Excellence in Innovation, Gustavson School of Business, University of Victoria - 2014
Award of Excellence in Teaching, Gustavson School of Business - 2014
Startup Canada's Entrepreneurship Educator of the Year - 2014
One of five educators in Canada to receive the Brightspace International Innovation Award in Teaching. Given by the Society for Teaching and Learning in Higher Education (STLHE) and Desire2Learn Inc., the award recognized Brent's curriculum innovations, such as the 7S's (Seven Steps) of Entrepreneurship and "development of enduring partnerships and shared ownership of teaching and learning, which is showcased in his extensive work with local Aboriginal communities." - 2014