Tours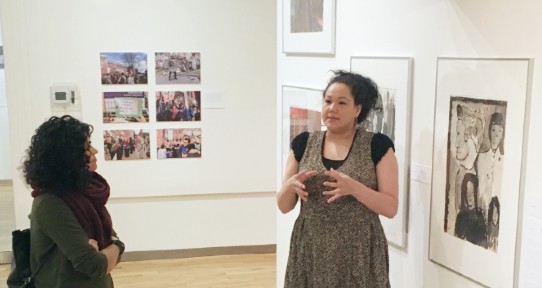 We offer free exhibition tours for university classes, school classes, and community groups of all ages. Each tour focuses on current exhibitions and can be adjusted to fit your class and groups needs.
In addition, Legacy Art Galleries offers free drop-in tours during the last Saturday of each month.
Engagement with works of art encourages students to investigate ideas. It fosters critical and interdisciplinary thinking, communication, collaboration, and creativity. Above all, a museum experience is designed to nurture wonder and curiosity in students of all ages.
Groups can book up to two weeks in advance through the Curator of Academic and Community Programs, Regan Shrumm, at rshrumm@uvic.ca or 250-721-7727.
Please include the following information in your email or phone call:
Organization/Group name
Expected number of participants
Exhibition(s) you'd like to view
Preferred date and time
Special needs your group might have
See what is currently on view on the Exhibitions page.
---
Indigenous Art on Campus
This online self-guided tour gives visitors an opportunity to visit with the Indigenous art located across the UVic campus. The goal of this website is to educate students, staff, faculty and visitors about the important values, stories, history and messages carried by the Indigenous art on campus.
This tool can be used as an interdisciplinary teaching resource to provide transformative learning through storytelling related to land, peoples, and culture told through the art we see around us everyday at UVic.  
Online Guided Tour for UVic classes
50 minutes | via Zoom
This online tour gives students and faculty the opportunity to learn about the teachings and worldviews of the Indigenous Peoples of the Pacific Northwest Coast through their art. Themes include the importance of passing on ancestral knowledge through art and story; Indigenous connections to land and place; and the interdependence of all things. We are now accepting bookings for 50-minute Zoom tours for UVic classes.
Contact Lorilee Wastasecoot, Curator of Indigenous Art & Engagement
lwastase@uvic.ca | 250 721-8299
Image: lessLIE (Coast Salish; Quw Utsun, Penelakut, Esquimalt), Salish Community, 2010. 
---
To Fish As Formerly
A Story of Straits Salish Resurgence
Online Tour for classes
60 minutes | via Zoom
To Fish as Formerly tells the story of the SX̱OLE (the Reef Net Fishery) through contemporary art, traditional knowledge and historical documentation. This online presentation shares the story of the efforts of generations of W̱SÁNEĆ people who are revitalizing the belief systems, spirituality, knowledge and practices inherent to the SX̱OLE. Download the teacher's guide.
Curriculum Connections:
Indigenous resurgence and eco-cultural revitalization
W̱SÁNEĆ traditional knowledge and practice
Land-based healing
Contact Reagan Shrumm, Curator of Academic and Community Programs
rshrumm@uvic.ca | 250-721-7727
---