Tours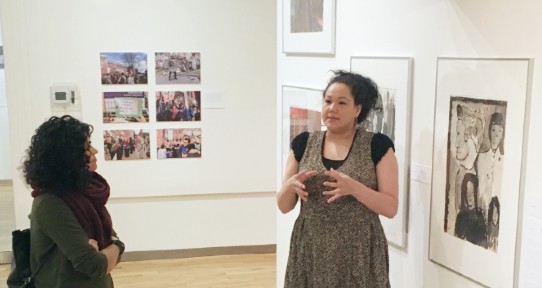 To Fish As Formerly
A Story of Straits Salish Resurgence
Online Tour for classes
60 minutes | via Zoom
To Fish as Formerly tells the story of the SX̱OLE (the Reef Net Fishery) through contemporary art, traditional knowledge and historical documentation. This online presentation shares the story of the efforts of generations of W̱SÁNEĆ people who are revitalizing the belief systems, spirituality, knowledge and practices inherent to the SX̱OLE. Download the teacher's guide.
Curriculum Connections:
Indigenous resurgence and eco-cultural revitalization
W̱SÁNEĆ traditional knowledge and practice
Land-based healing
Contact Gillian Booth, Curator of Academic and Community Programs
gkbooth@uvic.ca | 250 721-7727
---
Indigenous Art on Campus
Online Tour for UVic classes
50 minutes | via Zoom
This online tour gives students and faculty the opportunity to learn about the teachings and worldviews of the Indigenous Peoples of the Pacific Northwest Coast through their art. Themes include the importance of passing on ancestral knowledge through art and story; Indigenous connections to land and place; and the interdependence of all things. We are now accepting bookings for 50-minute Zoom tours for UVic classes.
Contact Lorilee Wastasecoot, Curator of Indigenous Art & Engagement
lwastase@uvic.ca | 250 721-8299
---
Current exhibition tours
We welcome visits from UVic classes!
We offer in-person and online introductions to any exhibition at the Legacy Downtown. Full tours of some exhibitions are available. Please book ahead.
Post-secondary and high school tours
We offer introductions to exhibitions at our downtown location for any pre-booked self-guided visit.

Contact Gillian Booth, Curator of Academic and Community Programs
gkbooth@uvic.ca | 250-721-0831