Current exhibitions
---

Under the Shade of the Lotus Tree:
Pari Azarm Motamedi and Rozita Moini Shirazi
September 23 - December 9, 2023
Legacy Downtown | 630 Yates St.
Lekwungen territory 
Under the Shade of the Lotus Tree: Pari Azarm Motamedi and Rozita Moini Shirazi is an exhibition that delves into the deep impact of leaving one's homeland and the need for a connection to one's roots. This show explores the power of Persian poetry as a foundation of cultural preservation and self-expression via the works of Persian-Canadian artists Pari Azarm Motamedi and Rozita Moini Shirazi. Motamedi and Moini Shirazi expertly translate and modernize classic Persian symbols, and stories, uncovering hidden messages in poems and tackling socio-political challenges in their nation. These artists inspire us to consider the complications of displacement and the everlasting value of art in bridging cultural barriers with powerful vision and elegant brushwork.
Explore Under the Shade of the Lotus Tree 3D virtual exhibition here. 


Organized by the West Vancouver Art Museum.
Curated by Hilary Letwin and Anahita Ranjbar. 

Image: Rozita Moini Shirazi, The Valley of Unity (detail), 2022. 
---


Untitled ṮEṮÁĆES
September 23 - December 9, 2023
Legacy Downtown | 630 Yates St.
Lekwungen territory
Untitled ṮEṮÁĆES is the result of an artistic collaboration between TEMOSEṈ Charles "Chazz" Elliott (Lekwungen/W̱SÁNEĆ), Jesse Campbell (Métis) and Dr. Kim Shortreed to prototype a motion-activated art installation that speaks aloud toponyms, or place names, in SENĆOŦEN and English.
This non-traditional map is an artograph of the islands that surround W̱SÁNEĆ territories, in the Salish Sea, including the place settlers call the Saanich Peninsula.
Haptic refers to the sensation of touch, position, and motion. Using a haptic map, viewers are invited to experience connections to place through representations of landscape and place names, and to provide a way to learn orally about SENĆOŦEN and settler namescapes through curiosity and play.

Full exhibition text available online. 

Explore Untitled ṮEṮÁĆES 3D virtual exhibition here:
Image: Chazz Elliott, Kim Shortreed, Jesse Campbell, Untitled ṮEṮÁĆES (detail), 2023.  
---
Subscribe to our newsletter for updates on upcoming exhibitions and programs. 
Legacy Maltwood is located on campus at the Mearns Centre – McPherson Library
---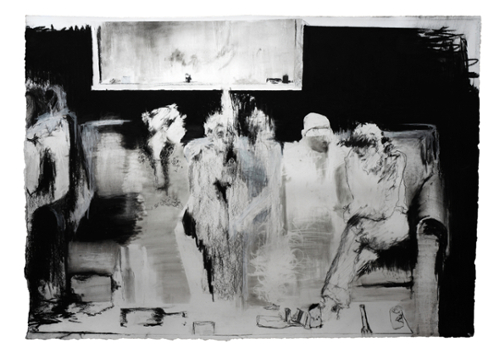 Shaping Relations, Tethered Together
November 25, 2022 - February 18, 2024
Legacy Maltwood Gallery | On campus in the Mearns Centre – McPherson Library
Lekwungen territory
Curated by Mel Granley.
Shaping Relations, Tethered Together dives into Legacy's permanent collection to explore ideas of togetherness and that which cultivates relationships. Each work examines a different facet of the relationships people form with one another, the world around us, and our relationships with ourselves. Tenderness and the importance of connection are meditated on throughout the exhibition, through a diverse selection of media and artists.
Showing at the Legacy Maltwood Gallery on campus, please come visit this eclectic show and spend some time with us.
Opening Reception 
Friday, November 25 | Mearns Centre – McPherson Library | Room 025 | 4 - 6 pm
---
Image: Rain Cabana-Boucher, French exit (detail), 2021.
Located on campus, First Peoples House displays artwork from the university's collection through rotating exhibitions.
---
Qw'an Qw'anakwal -
To Come Together
Artist Portraits
Jan 22, 2022 - ongoing
First Peoples House | UVic Campus
Lekwungen territory
8:30 am to 4:30 pm Monday to Friday
Visitors are permitted to view the exhibition but must follow COVID-19 protocols.
Visit the exhibition website
Curated by Andrea Walsh, Smyth Chair in Arts and Engagement
Amanda LaLiberte's photo portraits showcase 12 Coast Salish artists who participated in the Visiting Artist Program hosted by the UVic Department of Anthropology.
Image credit: Amanda Laliberte, 2021.