John Borrows: new book on Law's Indigenous Ethics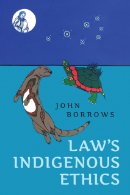 Law's Indigenous Ethics examines the revitalization of Indigenous peoples' relationship to their own laws and, in so doing, attempts to enrich Canadian constitutional law more generally. Organized around the seven Anishinaabe grandmother and grandfather teachings of love, truth, bravery, humility, wisdom, honesty, and respect, this book explores ethics in relation to Aboriginal issues including title, treaties, legal education, and residential schools.
With characteristic depth and sensitivity, John Borrows brings insights drawn from philosophy, law, and political science to bear on some of the most pressing issues that arise in contemplating the interaction between Canadian state law and Indigenous legal traditions. In its use of Anishinaabe stories and methodologies drawn from the emerging field of Indigenous studies, Law's Indigenous Ethics makes a significant contribution to scholarly debate and is an essential resource for readers seeking a deeper understanding of Indigenous rights, societies, and cultures.
John Borrows, Law's Indigenous Ethics, (University of Toronto Press, 2019).