Contact a Graduate Student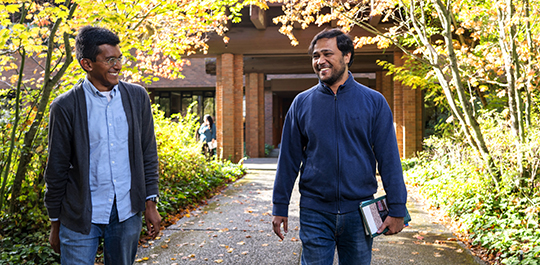 Want to learn more about the graduate student experience at UVic Law? Contact one of our graduate students below!

If you have questions about our admissions process or specifically about submission requirements, you should review How to Apply in the first instance, or e-mail Tiffany Gordon (Graduate Program Coordinator) at gradlawadm@uvic.ca.

Please do not contact our graduate students for help with your application. Thank you.
Angel M Brant Panag began their LLM in Law and Society program in September 2023.
1apanag@gmail.com
Arvind Kumar began his PhD in Law and Society in September 2019. Arvind is fluent in English, Hindi and Bhojpuri.
arvind.ransom@gmail.com
Samantha Fraughton began her LLM In Law and Society program in September 2023.
samfraughton@gmail.com
Sabrina Lamanna began her PhD in Law and Society program in September 2021. Sabrina is mixed Mi'kmaw from Kqtamkuk with Italian and Irish ancestry.
sabrinalamanna@uvic.ca
Eva Linde began her PhD in Law and Society program in September 2019. Eva is fluent in English, German and Spanish.
evafredilinde@hotmail.com
Katherine Llorca began her PhD in Law and Society program in September 2016. She is fluent in French and English.
kllorca@uvic.ca
Ratana Ly began her PhD in Law and Society program in September 2017. She is fluent in English and Khmer.
ratanaly@uvic.ca
Summer Okibe began her PhD in Law and Society program in September 2022, after also completing her LLM in Law and Society program at UVic Law. She is fluent in English.
summerokibe@uvic.ca
Chibueze Ngozi began his LLM in Law and Society program in September 2020. He is fluent in English, with some proficiency in French. 
chibngozi@gmail.com 
Rose Raymond began her LLM in Law and Society program in September 2020. She speaks English and German.
raymondezinywanne@gmail.com
Katarina Sawchuk began her LLM in Law and Society program in September 2023. Katarina is Red River Métis/Ukrainian, and a Citizen of the Manitoba Métis Federation. She is fluent in both French and English.
katarinasawchuk@uvic.ca
Mélisande Séguin began her PhD in Law and Society program in September 2022. She is fluent in English, French and Spanish.
meli.seguin186@gmail.com
Esteban Vallejo Toledo began his PhD in Law and Society program in September 2019. He is fluent in English and Spanish and speaks some French.
estebanvallejotoledo@uvic.ca