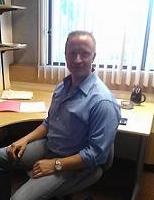 Position
Professor
Philosophy
Contact
Office: CLE B321 | Office hours: Th 11:30-12:20, Fr 1-2:20
Area of expertise
Epistemology, Early Modern philosophy, philosophy of language, philosophy of mind, cognitive science
History: BA (Simon Fraser University), MA (Dalhousie), PhD (University of Arizona)
Patrick joined the department in 2006.
Areas of interest: Epistemology, Early Modern philosophy, philosophy of language, philosophy of mind, and cognitive science.
Publications: Among other places he has published in the Journal of Scottish Philosophy, Graser Philosophische Studien, Interdisciplines on-line Symposium, Protosociology, Facta Philosophica, The Philosophical Quarterly, The Philosophy of Thomas Reid: A Collection of Essays, Nou?s, Australasian Journal of Philosophy, Analysis, Reid Studies. Forthcoming is a paper in the Canadian Journal of Philosophy, reviews of books in the Philosophical Quarterly, Philosophy in Review, Journal of the History of Philosophy, Mind. For a detailed list of Dr. Rysiew's recent publications, see our "What We're Writing" page.