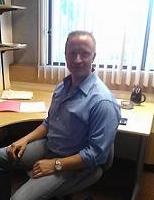 Position
Professor; on leave from July 1st, 2021 - December 31st, 2021
Philosophy
Contact
Office: CLE B321
History: BA (Simon Fraser University), MA (Dalhousie), PhD (University of Arizona)
Patrick joined the department in 2006.
Areas of Interests: Epistemology, Early Modern Philosophy, Philosophy of Language, Philosophy of Mind/cognitive Science.
Publications: Among other places he has published in the Journal of Scottish Philosophy, Graser Philosophische Studien, Interdisciplines on-line Symposium, Protosociology, Facta Philosophica, The Philosophical Quarterly, The Philosophy of Thomas Reid: A Collection of Essays, Nou?s, Australasian Journal of Philosophy, Analysis, Reid Studies. Forthcoming is a paper in the Canadian Journal of Philosophy, reviews of books in the Philosophical Quarterly, Philosophy in Review, Journal of the History of Philosophy, Mind.