Time in the Middle Ages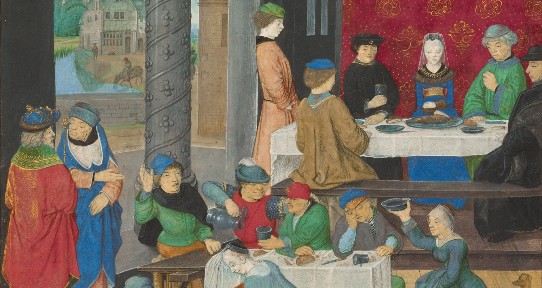 Student work from 2022-23
We have some wonderful posters and a final report from some of our students who took Dr. Adrienne Williams Boyarin's class last term.
There will be a presentation on these during the conference, but please feel free to look at the posters and read the paper below.
Poster: "Marginalia in a Fiftheenth-Century Confessional" by Kiarra Burd
Poster:  "Mistakes: The (Manuscript) world is Full of them!" by Lilian Goy
Poster and written report:"Early Modern English Wax Seals in the Brown Collection" by Eleanor Shippin 
---
Provisionary Program
*Subject to change
Time

Session

9:00
Welcome from Medeival Studies Program Director
9:15
Dr. Allan Mitchell, English & Medieval Studies, UVic
Playing House: A Look at Medieval Children's Culture
9:45

Dr. Hélène Caze, Department of French
Women's Health and Beauty at Home

10:15

Student Showcase

Feature works of students from Adrienne Williams Boyarin's course on Medieval Media

10:30
Musical Interlude
Early Music Society of the Islands
10:45
First Keynote speaker: Dr. Marta Ajmar
Making the Home 1400-1550: Artisans and Material Mimesis
11:45
Lunchtime break
12:15

Dr. Brian A. Pollick
Bedazzled and Bedevilled: The Medieval Bed

12:45

Dr. Angela Andersen
The Muslim Home as Religious Architecture in Medeival Antolia

1:15
Musical Interlude
Early Music Society of the Islands
1:30

Dr. Shamma Boyarin, English & Religion, Culture and Society Program, UVic
Keeping it Kosher: Using Zooarchaeology to study Medieval Jewish communities

2:00

 

3:00

Second Keynote speaker: Dr. Roisin Cossar
Daily Life in the Households and Archives of Ferrara in the Fifteenth Century

Conclusion
Acknowledgements and thank yous!
---
Speaker abstracts, titles, and biographies
Making the Home 14-1550: Artisams and Material Mimesis
 The fifteenth- and sixteenth-century Italian home was a site of central artistic, social and cultural development. Investment in the material culture of the home varied immensely, and it has been argued that among the elites objects of high 'intrinsic' value – such as metalwork and tapestries – were gradually integrated or replaced by artefacts designed to impress more by virtue of their 'added', cultural value – such as paintings and sculpture. This paradigm built around distinct and supposedly shifting ideas of value has tended to obscure other ways of interpreting the extraordinary variety of domestic visual and material culture that emerged in the period under scrutiny. In this talk I will focus on the role of artisans in the creation of new material forms for the domestic sphere that don't sit comfortably within this 'intrinsic' versus 'added' value paradigm by discussing objects of material mimesis. From ceramics and glass imitating stone, woodwork imitating textiles, to lacquer imitating metalwork, artisans led fluid processes of experimentation across media that created an environment of heightened material awareness and ambiguity, where certainties around materiality were constantly challenged, and new knowledge created. I will argue that these phenomena are an active response to the arrival in cities such as Venice, Genoa and Florence of non-local technologies and artefacts perceived as new, and that their significance should make us question narratives that have tended to overemphasize 'local' and 'national' explanations for artistic change built on narrow and singular ideas of originality. Artisans will emerge as central agents in the making of domestic interiors that combine 'global' and 'local' and that participate to the production of a transcultural material world built on reciprocal imitation.
Book list:
Approaches to Renaissance Consumption (Oxford, 2002), 
At Home in Renaissance Italy (exhibition book, London, 2006,) 
Approaching the Italian Renaissance Interior: Sources, Methodologies, Debates (Oxford, 2007). 
and more recently, a co-edited volume: Hands-On Learning and Making: Interdisciplinary perspectives on embodied engagement (UCL, 2022)
Daily Life in the Households and Archives of Ferrara in the Fifteenth Century
Until recently, histories of the Christian church in the Middle Ages rarely examined the domestic worlds of those who lived and worked within the church. Now, a growing group of scholars is exploring the households of Christian clergy across Western Europe. Their discoveries are changing our understanding of the history of the church and the family in the medieval period. Several scholars have noted that the sexual and intimate relationships of supposedly celibate clerics were documented in complicated ways: sometimes in records that were hostile to those relationships and sometimes in records that deliberately obscured them. In this presentation, I use a case study from the Italian city of Ferrara to examine how critical attention to written sources enhances our understanding of daily life in clerical households. My source is a register created by the notary Pietro Lardi at the behest of the Dominican inquisitor Fra Bartolomeo after the local lord, Niccolò III d'Este, forced the expulsion of dozens of women from clerics' residences in that city and diocese in 1421. 
Reading list:
 Clerical Households in late Medieval Italy, Cambridge, MA., Harvard University Press, I Tatti Studies in the Renaissance, 2017.
'The Culture of Home in the Middle Ages", in Katherine L. French, ed., A Cultural History of Home in the Medieval Ages, Bloomsbury Academic, 2021, pp. 11-30.
Playing House: A Look at Medieval Children's Culture
 According to Phillipe Aries' Centuries of Childhood (1962), childhood as a category of experience did not really exist before about the seventeenth century. Scholars have since chipped away at the thesis, and daily life in medieval households suggest that the idea is mostly wrongheaded. What is now conspicuous to historians of childhood is how medieval people responded sympathetically to a precious and precarious stage in the life cycle, nurturing infants, educating youth, caring for orphans, and memorializing deceased children. Sentimental attachment to the child is no modern invention. Nor is the idea that children had their own activities and interests, as expressed in play and games. Some were innocent, others disruptive. Focusing on the later medieval period, this talk is devoted to everyday children's culture, considering both idealized depictions and physical and written evidence that helps retrace the history of childhood.
Selected Bibliography
Sally Crawford, "The Archaeology of Play Things: Theorising a Toy Stage in the 'Biography'
of Objects," Childhood in the Past 2 (2009)
J. N. Couch, "Misbehaving God: The Case of the Christ Child in MS Laud Misc. 108 'Infancy
of Jesus Christ,'" in Mindful Spirit in Late Medieval Literature (2006), 31-43.
Geoff Egan, "Children's Pastimes in Past Time: Medieval Toys Found in the British Isles,"
Material Culture in Medieval Europe--Papers of the Medieval Brugge 1997 Conference, Vol.
7
 Geoff Egan, The Medieval Household: Daily Living, c.1150-c.1450 (Museum of London,
1998)
Roberta Gilchrist, Medieval Life: Archaeology and the Life Course (Boydell Press, 2012)
Barbara A. Hanawalt, Growing Up in Medieval London: The Experience of Childhood in
History (Oxford UP, 1993).
Nicholas Orme, "The Culture of Children in Medieval England" Past and Present 148 (1995)
Nicholas Orme, Medieval Children (Yale UP, 2001)
Shulamith Shahar, Childhood in the Middle Ages (Routledge, 1990)
Women's Helath and Beauty at Home
Although ancient and medieval medicine deals primarily with conditions of the male body, then considered the accomplished form of a human being, women's health was also addressed by some of the earliest sources, as marginal descriptions touching reproduction, cosmetics, corrective surgery, and virginity. Advice and recipes about female health and housekeeping were often transmitted orally in times when only few women could read, and our written sources on daily medicine and hygiene are scarce. It changed with the School of Salerno. A treatise for women, the Trotula, compiled recipes from different traditions and was soon spreading in multiple languages. The Secrets of Women, attributed to Albertus Magnus, also circulated throughout the whole of Europe. These collections of advice and tips do not differ greatly from our current women's magazines. They tell us about conception and birth, beauty enhancements, seduction techniques, and cover specific concerns like the signs of aging, whitening a smile, animating the eyes, erasing warts, and concealing pilosity. They reveal the order of gender in recommended daily health practices, shared at the home (balanced diet, herbal teas, decoctions, unguents, massages, sexuality, harmony and hierarchy within the family) and between women (epilation, birth and after-birth care, virginity proofs and "sophistication"). In sum, they vividly document family life. This talk will present the state of research on these sources and some excerpts from the two collections, which kept being published and read up to the last century, as "Medical Advice for young couples."
Full PDF of presentation can be viewed here
Bedazzled and Bedevilled: The Medieval Bed
Beds in medieval households were, at the same time, the most practical and most symbolic of all practical household objects, and their images abound in late-medieval European and Islamic illuminated manuscripts. Depictions of beds are found in virtually every manuscript genre —scripture and commentaries, devotional works, saints lives, histories, legends, and romances. While these images of beds give us real information about period sleeping habits– in Europe people slept sitting up rather than laying down, and many men and women might share the same bed at the same time– they also give us a great deal of other information. In this presentation we will explore not only the practical side of beds but will also see how these many representations also broadcast and affirmed fundamental biblical, historical, and moral truths. We will examine how such images of beds conveyed well-understood, and often gendered, messages of piety, sinfulness, stages of life, charity, prophecy, and rank/status.
The following are interesting resources if you'd like to learn more about the fascinating topic of the medieval bed.
The Muslim Home as Religious Architecture in the Medieval Anatolia
During the medieval period, Muslims in Anatolia (Western Asia) prayed, performed ritual ablutions, studied the Qur'an and religious verse, maintained traditions surrounding food and family life, and shared stories of prophets, saints, and pious exemplars in the home. At times, the home may have been an appropriate or preferable site of religious practice, where the efficacy of domestic piety could be attended to in privacy and comfort. In some communities, it was the only available or the most accessible site of religious life, especially for women, children, the elderly, and groups operating outside the growing mainstream approaches to Islam that were crystallizing under Islamic rulers and scholars. The dwelling was the centre of a particular type of religious expression that ran parallel to the learning and devotions happening in mosques, Sufi lodges, and schools.
Yet, unlike the monumental spaces commissioned by the new Muslim elite and spiritual confraternities for religious learning, prayer, and education, medieval homes do not provide evidence such as façade inscriptions or decorative tiles to recount their role as spaces for religious life. This talk will look to discussions of the home in poetry, epics, court documents, and religious texts to find insights into this aspect of Muslim life and architecture.
Bibliography
Angela Andersen, "The Muslim Home as Religious Architecture in Medieval Anatolia"

Angela Andersen, "

The Anecdotal Archive: Building Design, Oral History, and the Notion of An Alevi Place of Worship," International Journal of Islamic Architecture 11.1 (2022): 25–43.
Carlos Grenier, The Spiritual Vernacular of the Early Ottoman Frontier: The Yazıcıoğlu Family (Edinburgh: Edinburgh University Press, 2021).
Leslie Pierce, Morality Tales: Law and Gender in the Ottoman Court of Aintab (Berkeley: University of California Press, 2003).
Megan Reid, Law and Piety in Medieval Islam (Cambridge: Cambridge University Press, 2013).
University of Victoria Libraries, "An'am-i Sharif, Manuscript," (catalogue entry and selected digital images), https://www.uvic.ca/library/locations/home/spcoll/collections/medieval/ms-victoria-1995-014.php.
Keeping it Kosher: Using Zooarchaeology to study Medieval Jewish communities
One of the elements that distinguished medieval Jews from their neighbors was their food. Jewish food was governed by a set of religious laws called "Kashrut" which limits both the kinds of foods Jews could consume, and the methods of preparing it. This difference from the past can be used as a resource to study Medieval Jewish communities today.
In this talk I will explore a number of studies that make use of the traces left by the practice of kashrut to uncover more about three Medieval Jewish communities: those of Oxford, Catalonia and Cologne.
Musical Presentations
With the lack of written records, the music enjoyed by the common people of the Middle Ages in daily life is probably lost to us. So any compilation that purports to present that music must be speculative in nature.
We have come up with a program that reflects the range of music being listened to by at least some segments of society on a regular basis. It includes sacred music, which must have formed a big part of medieval daily life. An important function of music was, and still is, the accompaniment of dance, so we have included two instrumental dances. The secular songs in our set were likely written for courtly settings, but, given their simplicity and catchy tunefulness, it is likely that the tunes of some or all of them would have been borrowed or derived in part from popular songs of the time. Lastly, we've included music written for travellers to inspire them on their way to pilgrimage sites such as Santiago de Compostela, certainly a common experience for many.