Field School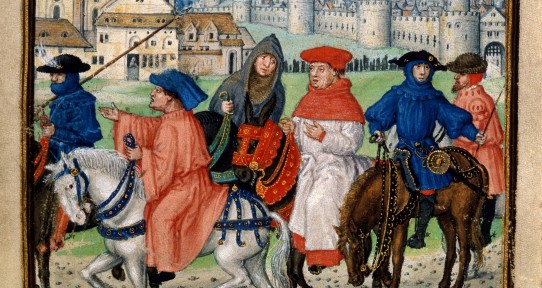 The Medieval Studies Program is expecting to offer a new field school in May - June 2024, an intensive summer course in an exciting foreign destination. Our focus for the next one is pilgrimage in medieval Europe. Plans are shaping up for this rare opportunity to study medieval religious culture "in the field," so check back here for details as they become available. Our field school satisfies part of the Humanities Global Language and Culture (GLC) Requirement.
Students will register for MEDI 495, a 3-unit summer course with two main components: pre-departure classes on campus followed by around ten days of site visits abroad. During field trips to cathedrals and castles, students will be guided through object lessons on stained glass, stone monuments, and manuscripts. We may walk part of an old pilgrimage route!
The prerequisite for the course is upper-year standing and permission of the director. Prospective students will need to fill out an application form and sit for an interview. If accepted into the course, you must pay a deposit in the fall term.
Contact Dr. Allan Mitchell at dirmedi@uvic.ca for more information.
Watch the video for the Humanities Field school