Heather Tapley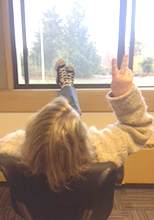 Position
Associate Professor
Gender Studies
Credentials
PhD 2003, English, University of Alberta
Contact
Office: CLE B123
On leave January 1 to December 31, 2017

Joined UVic Gender Studies in 2007
My research focuses on the relationship between class and sexuality since the 19th century.  At this intersection of sexuality and class, I am most interested in exposing gender, sex, sexuality and race as discursive productions of bourgeois ab/normality.  My scholarship employs the term 'queer' to refer to non-normative practices rather than as an identity sign.  I contend that understanding queer as particular practices actually enables various connections in queer history that a history based solely in identity politics does not.
Research Interests
Queer Theory/Queer Materialism
Feminist Theory
Cultural Studies
Monster Theory
Courses Designed and Taught
GNDR 206 (WS 212) Monstrous Women
GNDR 320 (WS 321A) Queer Desire
GNDR 330 (WS 321A) Feminist Thought, Past and Present
GNDR 331 (WS 333A) Queering the Undead
GNDR 334 (WS 337) Bodies Out of Bounds
GNDR 342 (WS 345) Queer Literature
Selected Publications
"The Making of Hobo Masculinities", Canadian Review of American Studies, Vol. 44 (1), 2014, pp. 25-43.  

"Queering Paradise: Toni Morrison's anti-capitalist production", Feminist Theory, Vol. 14 (21), 2013, pp.  21-37.

"Mapping the HoboSexual: a Queer Materialism", Sexualities, Vol. 15 (3/4), 2012, pp. 373 – 390.

"Schulman's Urban Lesbian: a HoboSexual Pedestrian Rhetoric", Journal of Lesbian Studies, Vol. 16, 2012, pp. 238 – 251.